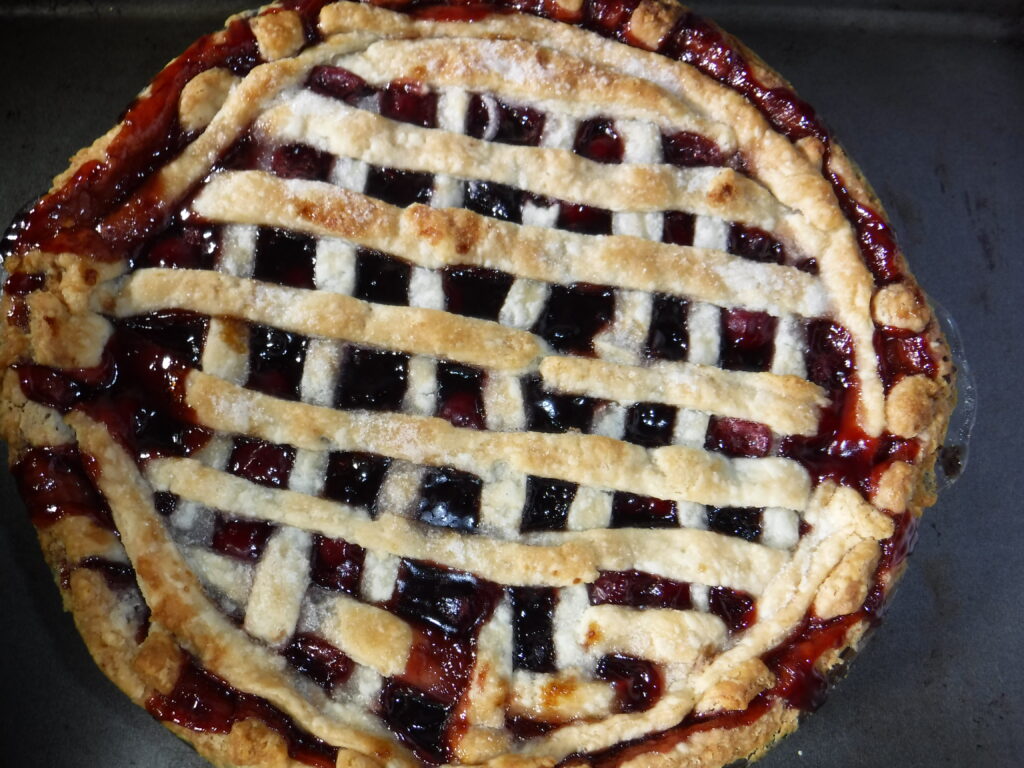 I was assigned to bake two piece for this year's Thanksgiving dinner. For one I made Cane Sugar Pecan Pie . For the other, I decided to make a cherry pie and to follow a recipe in Bernard Clayton's The Complete Book of Pastry: Sweet & Savory. It turned out well.
Pie dough for a double-crusted pie, such as Flaky Pie Crust
2 24 oz. jars of sour cherries, drained and with the juice reserved
1 cup granulated sugar, plus more for dusting the crust
1/4 cup cornstarch
½ tsp. lemon juice
¼ tsp. salt
1/8 tsp. almond extract
Preheat the oven to 400 degrees.
In a medium saucepan, combine the sour cherry juice, sugar, cornstarch, lemon juice, salt and almond extract. Bring to a boil over medium heat. Stir constantly until it thickens. Remove from the heat and stir in the sour cherries.
Roll out a pie crust and put it in the pie pan. With a slotted spoon, fill the crust with the cherries. Add as much of the thickened liquid as seems necessary for a juicy but not liquid filling. You may not need it all. Roll out the top crust and cut it into ½ inch strips. Make a lattice pattern on the top. Dust the top of the pie with about 1 Tbs. of sugar.
Put the pie pan on a cookie sheet (to protect against boil over) and bake at 400 degrees for 15 minutes. Then reduce the temperature to 350 degrees and cook another 40 minutes until the filling in the pie in the center is hot and bubbling and the crust is nicely browned. If the edges are browning too much, cover them with strips of aluminum foil.
Remove from the oven and cool completely before serving.