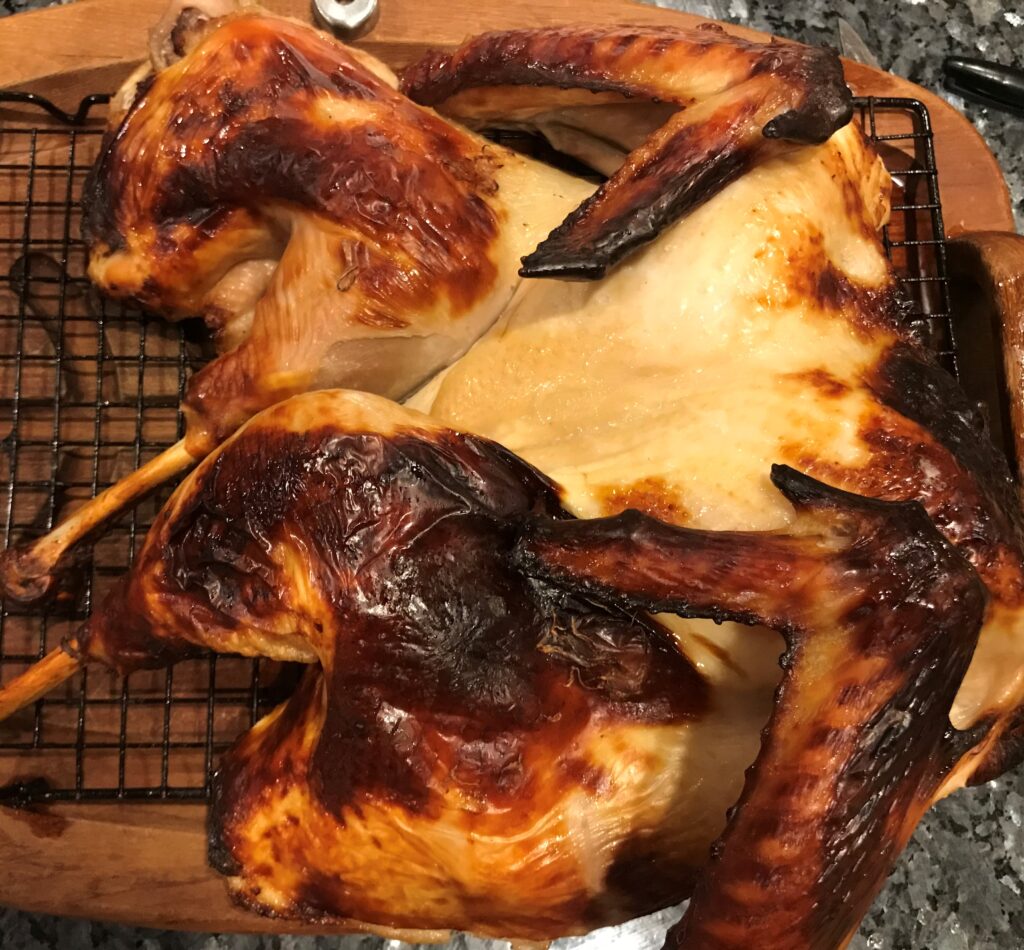 A signature dish in Samin Nosrat's cookbook Salt Fat Acid Heat is Buttermilk-Marinated Roast Chicken.  In the run up to Thanksgiving, a variation of this recipe for turkey was everywhere, including the New York Times.  We used this approach for our small turkey this year, and it turned out very well.  Carol was particularly impressed by a turkey wing which she ate.  As promised, the meat was very moist.  The skin on the legs was very nicely browned and crispy, but as shown on the photo the skin on the breast was not.  Lactose in the buttermilk was responsible for the browning.
This recipe needs to be started two days before the turkey is roasted.
3 quarts buttermilk (I used whole fat)
128 grams kosher salt
10-14 lb. turkey
2.5 gallon ziplock baggie
Spatchcock the turkey (i.e. remove the backbone and flatten the turkey. Use the backbone to make turkey stock for gravy.).
Put the ziplock baggie in a supportive pan, like a jelly roll or lasagna pan. Put the buttermilk and salt in the 2.5 gallon ziplock baggie and mix until the salt is dissolved. Carefully add the turkey and zip the baggie, squeezing out all the air. Ensure that the seal is up to prevent potential leakage. I did this by tying the bag with butcher's twine. Every 12 hours or so adjust the bag to ensure that all parts of the turkey are in the brine.
About 5 hours before serving time, remove the turkey from the refrigerator and discard the buttermilk brine. Scrape the buttermilk off the turkey with a rubber spatula and pat it dry with paper towels. Put the turkey on a rack on a rimmed cookie sheet in spatchcock position and allow to warm to room temperature. About 2.5 hours before serving time, preheat the oven to 400 degrees. About 2 hours before serving time put the turkey in the oven, preferably with a temperature probe in the breast. Roast until the breast is 155 degrees, which will take 80 to 100 minutes depending on the size of the bird. After an hour or so check to see if parts are browning too fast, and if so, cover them with aluminum foil.
When the breast reaches 155 degrees, remove the turkey from the oven and tent it with aluminum foil for at least 15 minutes before carving it.