This is a quick and easy fish stew which gets its special character from preserved lemons (or as an alternative 24 Hour Salted Lemon Spread ) and green olives. This is an adaptation of a recipe in Cook's Illustrated. It will serve 4 people with rice, and will take about 40 minutes.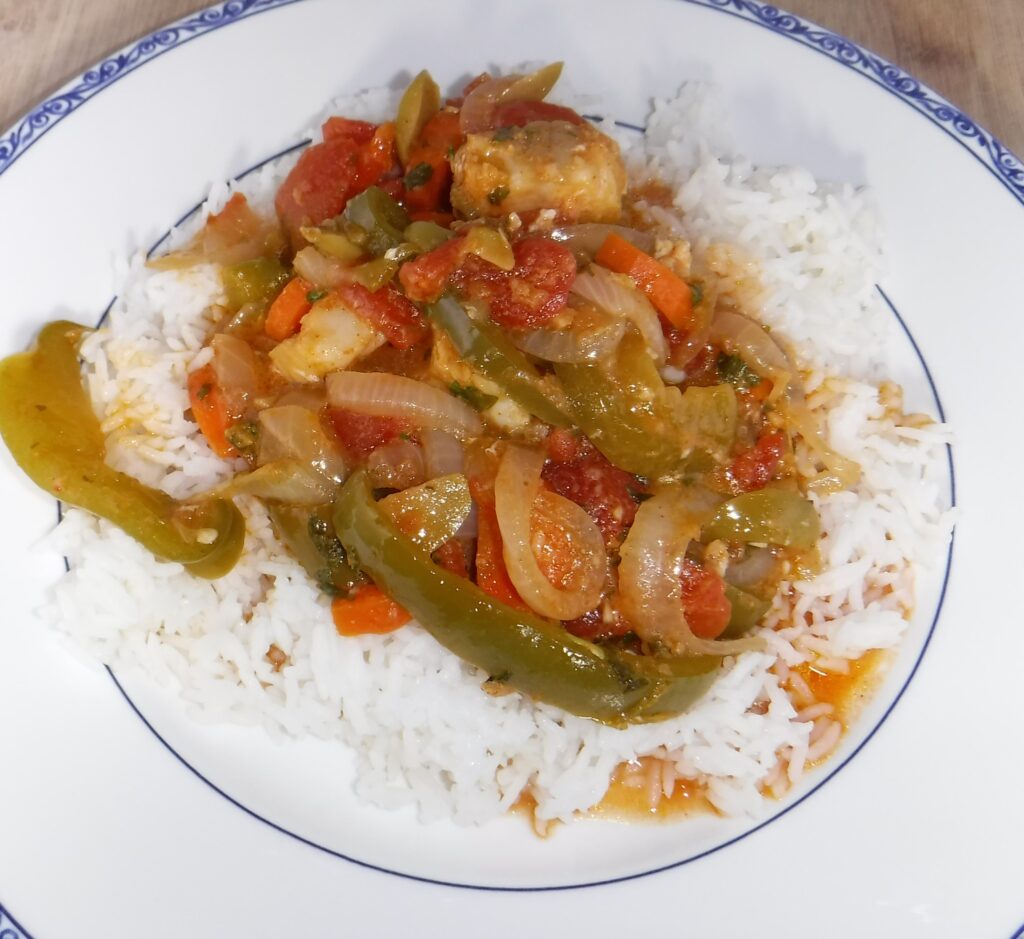 1.5 lb. cod filets, cut into 1 inch pieces
¾ tsp. salt, divided
½ cup cilantro leaves, plus ¼ cup chopped cilantro
4 cloves garlic
1.25 tsp. ground cumin
1.25 tsp. paprika
¼ tsp. cayenne pepper
1.5 Tbs. lemon juice
6 Tbs. olive oil, divided
1 onion, sliced
1 green pepper, cut into strips
1 carrot, peeled and cut into ¼ inch slices
14.5 oz. can diced tomatoes with juice
½ cup green olive pieces (without pits)
2 Tbs. preserved lemons or 24 Hour Salted Lemon Spread
In a bowl, sprinkle ¼ tsp. of salt on the cod pieces.
In the bowl of a food processor, chop the garlic and then the ½ cup of cilantro leaves.  Add the cumin, paprika, cayenne and the remaining 1/2 tsp. of salt, and mix well.  Add the lemon juice and mix well.  Put the contents in a small bowl with 2 Tbs. of the olive oil.
In a Dutch oven, heat the remaining 4 Tbs. of olive oil. When hot, add the onion, pepper strips and carrot. Saute until the vegetables are soft. Add the tomatoes, green olives and preserved lemons and mix. Put the garlic/cilantro mixture with the cod and mix to coat the fish pieces. Spoon the fish over the vegetables in the pot. Cover and cook until the cod flakes. Remove the pot from the heat and allow to rest for a few minutes. Serve over steamed rice, and sprinkle with the chopped cilantro.