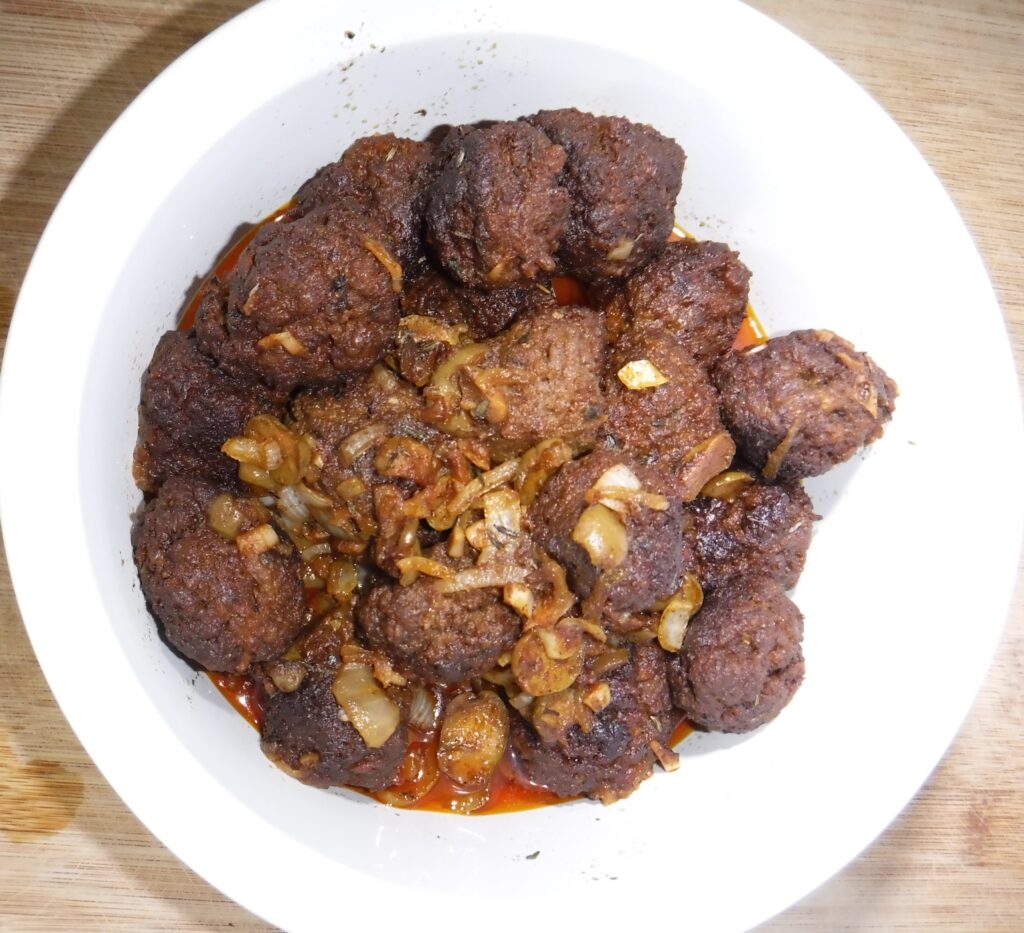 This was my first recipe based on Cookish, from Milk Street, which is a book of ideas for quick meals suitable for weekdays. This turned out well, although Carol thought it may be a little too salty, so I may cut that back next time. (The recipe calls for kosher salt. I used Krogers, which is equivalent to Morton's, vs. the less dense Diamond Crystal, which might be what they had in mind.) I added some onion to the sauce. I served it with Sourdough Baguettes and a salad. This will make 4 servings in about half an hour.
1 lb. 90/10 ground beef
2/3 cup panko
5 garlic cloves, divided (2 minced and 3 thinly sliced)
¼ onion, thinly sliced
2 Tbs. smoked paprika, divided
3 tsp. fresh thyme plus 3 thyme sprigs (or ½ tsp. dried thyme, divided)
Kosher salt and black pepper
2 Tbs. extra virgin olive oil
½ cup pitted green olives, chopped
In a bowl, mix together the ground beef, panko, 2 minced garlic cloves, 1 Tbs. smoked paprika, ¼ tsp. dried thyme, 2 tsp. kosher salt (or a bit less), and 1 tsp. freshly ground black pepper. Form into 1-inch meatballs. There will be 18-20.
In a large skillet, heat the olive oil until shimmering. Add the meatballs and brown the bottoms. Add 2 Tbs. of water, cover, and cook until none of the exterior is pink, which will take a few minutes. Remove the cover and cook, stirring frequently until browned all over. Add ½ cup of water, 1 Tbs. of smoked paprika, the sliced garlic, the onion, another ¼ tsp. of dried thyme, and the pitted green olives. Cook, stirring frequently, until the sauce lightly glazes the meatballs.