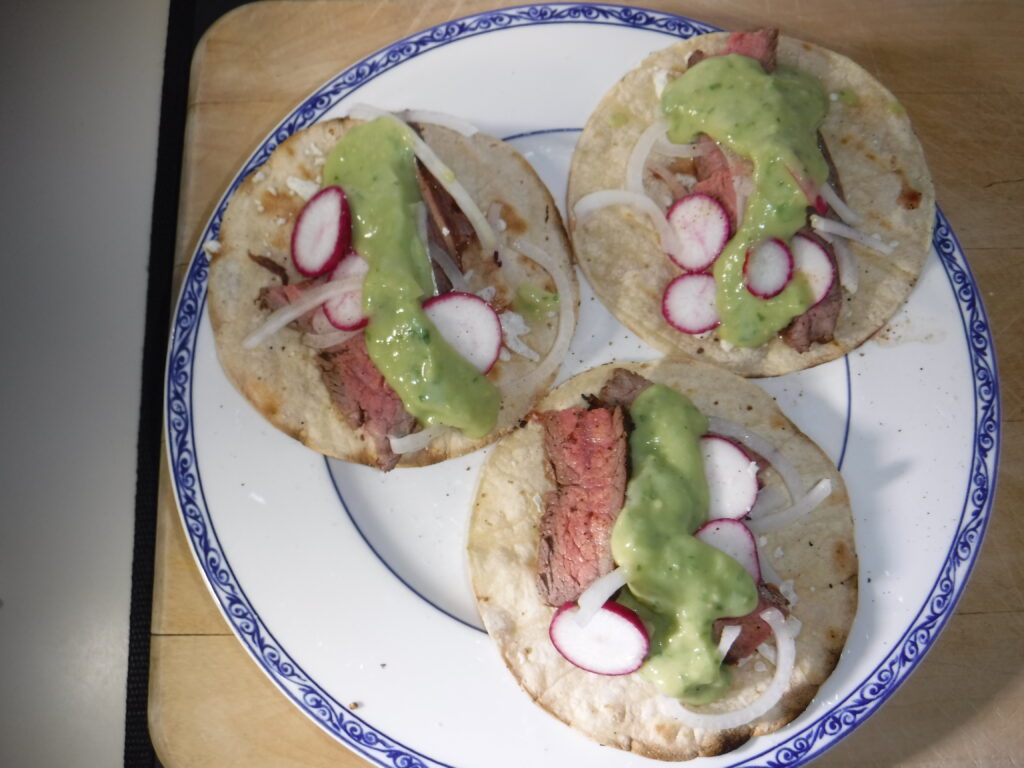 This is a form of taco with carne asada in which the tortilla is grilled with some cheese before being topped with the meat, salsa, etc.  This version is based on a recipe in Eseban Castillo's cookbook Chicano Eats.  This will serve at least 4 people.
For the Marinated Steak
½ cup fresh lime juice
¼ cup fresh orange juice
1 Tbs. Worcestershire Sauce
½ Tbs. vegetable oil
¼ cup chopped cilantro
2 green onions, sliced
2 cloves garlic, sliced
3 Tbs. Esteban's Steak Seasoning , divided
1-1/2 lbs. flank steak
For serving
3 corn torillas per person
3 Tbs. grated Oaxaca or mozzarella cheese per person
Shredded cabbage
Shredded onion
Sliced radishes
About 2 hours before grilling, put in a gallon ziplock baggie the marinade ingredients, including 1 Tbs. of the steak seasoning. Add the steak and then seal the bag expelling any air. Refrigerate for 2 hours, flipping the bag a few times.
Remove the steak from the bag and pat dry. Sprinkle 1 Tbs. of the steak seasoning on each side. Grill the steak to medium. Then allow it to rest for 10 minutes in a warming oven before slicing.
Grill the tortillas over medium heat, about 2-3 minutes on a side. When the first side has blistered and turned brown on the edges, flip it over and put 3 Tbs. of cheese on it while grilling the other side for 2-3 minutes. The tortillas should be slightly crispy, but not as much as a tostada.
Top each tortilla with some sliced meat, some avocado salsa, and some of the vegetables. Serve immediately.