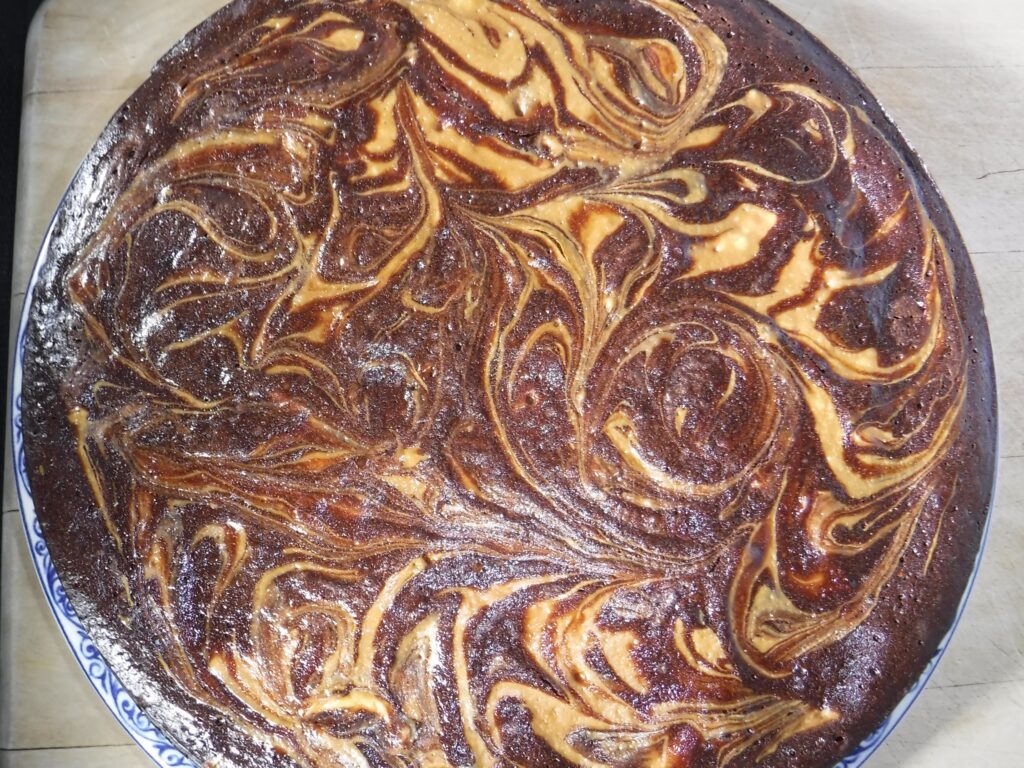 This is a very pretty dessert I which there are swirls of cheese cake within a brownie. This is adapted from Esteban Casillo's cookbook Chicano Eats. The original recipe called for cajeta which I could not find, so I used the similar and easier to find dulce de leche. Abuelita chocolate is a brand of hot chocolate mix sold in Mexico by Nestle. One disk makes about ½ cup when grated.
For the brownie base
¼ cup coffee
½ cup grated Abuelita chocolate
¾ cup sugar
8 Tbs. unsalted butter, cubed
½ cup unsweetened cocoa powder
2 large eggs
1 tsp. vanilla extract
¼ tsp. Diamond Crystal kosher salt
1/3 cup all purpose flour
For the cheese cake swirl
8 oz. cream cheese, softened
½ cup dulce de leche or cajeta
1 large egg
½ tsp. vanilla extract
Preheat the oven to 350 degrees. Grease with cooking spray a 10 inch tart pan with a removable bottom. Put the pan on a cookie sheet.
Put the coffee, Abuelita chocolate, and sugar in a medium saucepan. Over medium heat bring to a boil, and then remove from the heat. Add the butter and stir it in. Let it cool for 5 minutes. Add the cocoa powder and mix well. Add the eggs, vanilla, and salt and mix well. Last add the flour and mix well.
Put the cream cheese in the bowl of a stand mixer and mix with the paddle attachment for about a minute until light and fluffy. Mix in the dulche de leche. Then mix in the egg and the vanilla until just combined.
Reserve ¼ cup of the brownie batter and put the rest on the bottom of the tart pan. Put the cream cheese filling on top of the brownie batter. Put the reserved brownie batter on top of the cream cheese. Using a knife, create a swirling pattern in the batter.
Bake for 20-25 minutes until the tart is slightly puffed and is set. Allow to cool to room temperature and then filling cooling in the refrigerator.