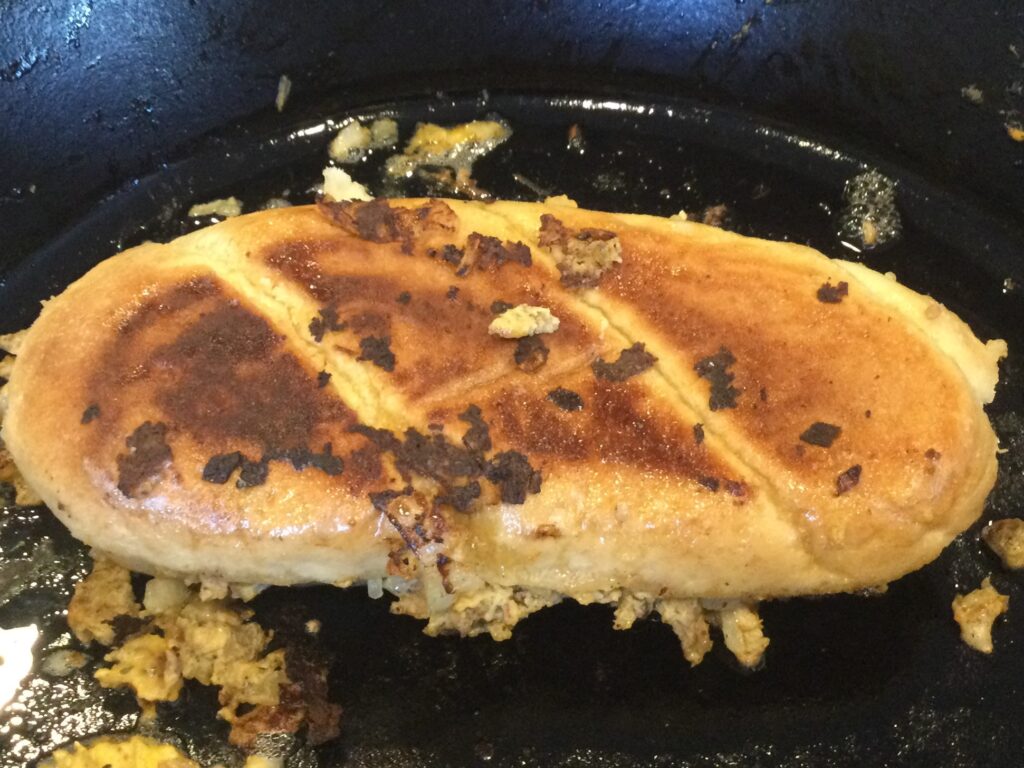 I read on 196flavors that a popular street food in Malaysia and Singapore was roti john. The legend is that this dish was invented in the 1960s when a hawker was asked for a hamburger, which he did not have. Instead, he improvised a dish with ground meat and egg in a baguette, and it was a hit.
I made this for lunch today, but had trouble with the appearance since I do not have a good griddle to work with. Here was the basic idea for lunch for 2 people. I think the next time I make it I will use bolito rolls, or some other very light roll. In South East Asia they would use a very light roll.
12 inches of baguette, cut lengthwise most of the way through, or 2 sandwich rolls
3 eggs
4 oz. ground beef
1 Tbs. sambal
½ onion, finely chopped
Salt and pepper
1 Tbs. vegetable oil
Mix together the eggs, ground beef, sambal, onion, and salt and pepper. Heat a griddle or large frying pan. When hot, add the egg mixture, putting the open baguette on top of the egg mixture. As the egg cooks, tuck the cooked egg under the baguette. When the egg is fully cooked, fold the baguette back together with the egg filling and toast the outsides. Cut and serve.
Sometimes this is eaten plain and sometimes with a sweet and spicy sauce. I mixed together approximately equal amounts of ketchup, SriRacha sauce, and Thai sweet chili sauce, and that was very good with the sandwich.