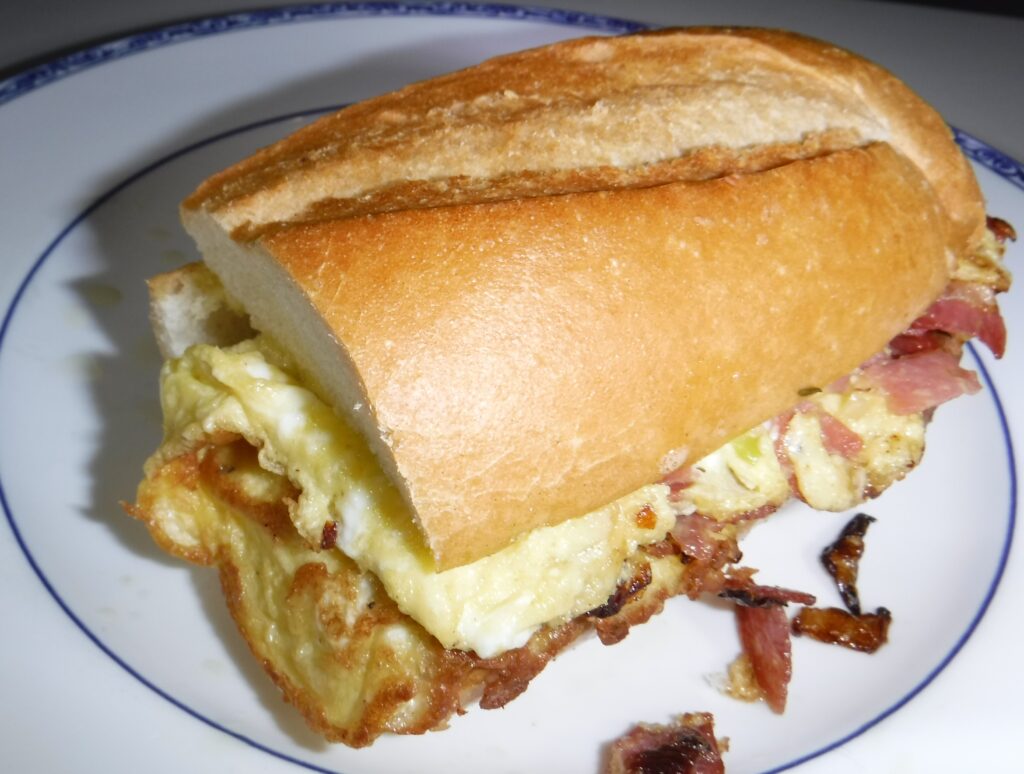 After I learned about a popular Malaysian egg sandwich called Roti John, I
experimented with the same idea using ingredients from other cuisines. In this
case, it was a mixture of Italian and Mexican ingredients, and the result was
quick, tasty, and very cheap. Here is how I made a sandwich for 1 person today.
6 inch piece of Baguette, cut partway lengthwise
1 Tbs. olive oil
3 slices salami, cut into small pieces
1/4 cup chopped onion
1 egg beaten
1/4 cup queso fresco, crumbled
Salt and pepper to taste
Ketchup/SriRacha sauce mixture for dipping
Heat the olive oil in a large skillet.  Add the salami and onion and cook until the onion is translucent.  While the onion is cooking, mix together the egg, queso fresco, and salt and pepper.  Pour the egg and cheese mixture over the salami and onion.  Push the mixture into a shape about the size of the opened piece of baguette.

When the egg mixture is nearly cooked, put the baguette on top of it
until the egg is fully cooked.  Then using a spatula, pick up the bread and egg and fold the egg inside the bread.  Cook the outside of the baguette
in the skillet for a minute or so to crisp up the outside.
If desired, serve with a dipping sauce of ketchup and
SriRacha sauce.