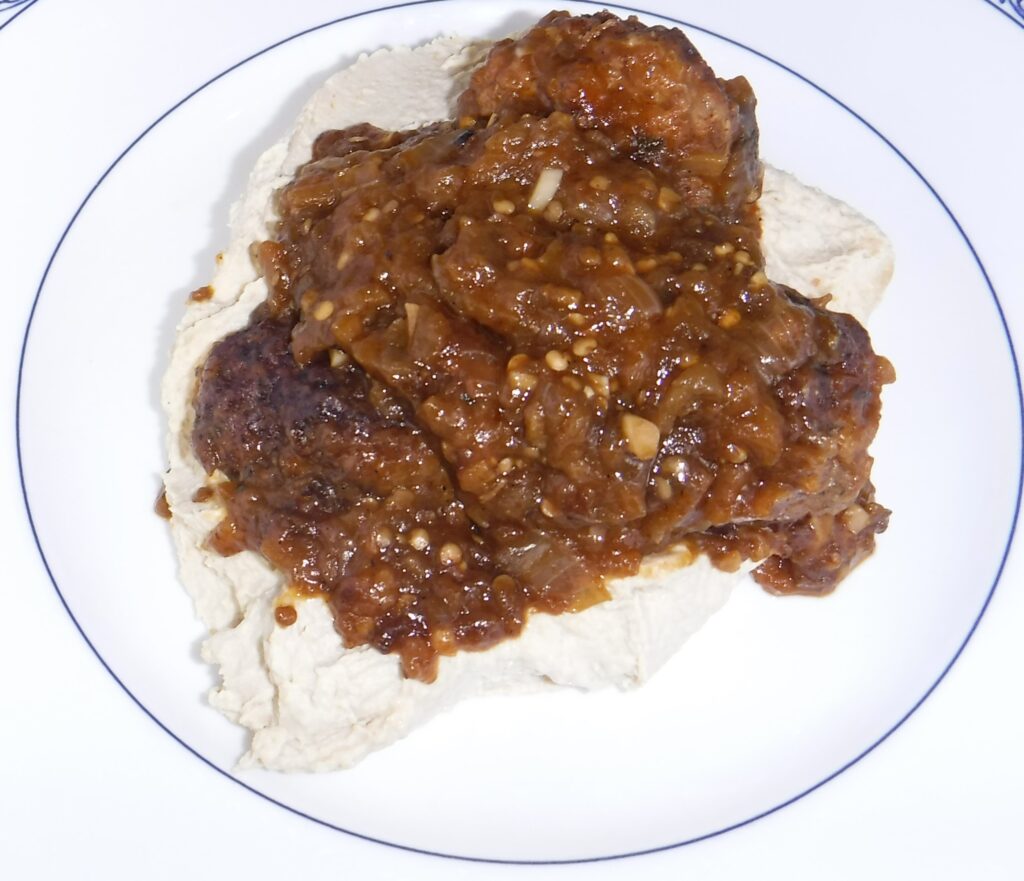 I was looking for a way to use some Italian meatballs in the freezer and hit on the idea of eating them with a sauce based on roasted eggplant. It turned out well, so I am documenting it here. We ate it on top of hummus. Michael Solomonov's cookbooks are filled with ideas for using hummus as a starchy base for meats and vegetables, so this seemed like a good idea, which it was. I grilled the eggplant in the barbeque and it burst before being fully cooked, so I finished it by roasting it with a drizzle of olive oil at 350 degrees in the oven for about 30 minutes. This made enough for 4 persons.
16 Italian or similar meatballs
1 Italian eggplant, roasted, peeled and chopped
2 Tbs. olive oil
1 Tbs. flour
1 onion, sliced
3 cloves garlic, chopped
1 cup beef broth
¼ cup pizza sauce (or other tomato sauce)
1 tsp. Worcestershire sauce
12 cup white wine
Heat the olive oil in a medium skillet. Add the onions and cook until translucent. Add the garlic and cook until fragrant. Sprinkle in the flour and saute until very lightly browned. Add the beef broth, stirring and scraping the bottom to make a gravy. Add the chopped eggplant, meatballs, pizza sauce, Worcestershire, and white wine. Stir well. Bring to a boil and reduce to a simmer. Cover and cook for 15-30 minutes until the meatballs are heated through and the flavors have melded.
We served this on Five Minute Hummus, but it would be good with rice, crusty bread, or pasta.