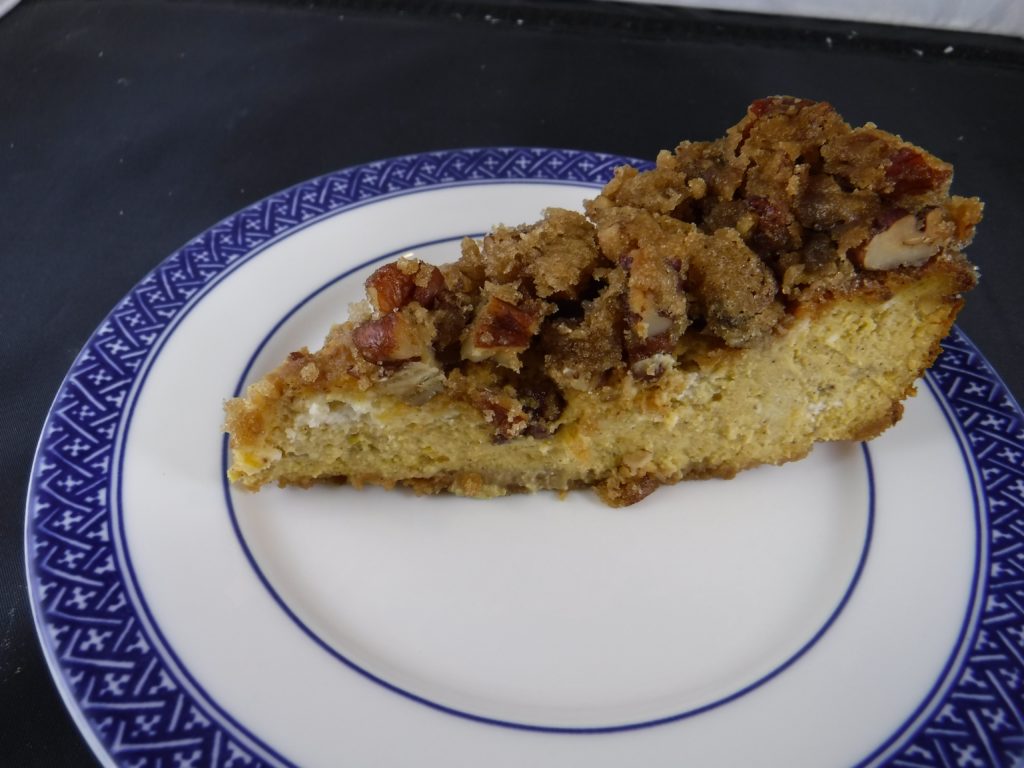 This recipe originated in the long defunct Houston Home and Garden magazine in 1982.  We have served it for Christmas several times over the years.  This recipe makes a large cheesecake which can generously serve 12 people.  Most recently I actually made it with pecans vs. walnuts because that is what I had on hand.
One tip is to line the spring-form pan with baking parchment to make it easier to serve the cheesecake.
Crust
1-1/2 cups crushed vanilla wafers
¼ cup sugar
6 Tbs. melted butter
Filling
3 8 oz. packages of cream cheese, at room temperature
¾ cup sugar
¾ cup brown sugar, firmly packed
5 eggs
¼ cup heavy cream
1 tsp. cinnamon
½ tsp. ground nutmeg
¼ tsp. ground cloves
1 lb. pumpkin puree (canned or from a roasted pie pumpkin
Topping
6 Tbs. butter
1 cup brown sugar, firmly packed
1 cup coarsely chopped walnuts.
Preheat the oven to 350 degrees.
Line a 9-inch spring-form pan with baking parchment. Make the crust by mixing together in a bowl the crushed vanilla wafers, sugar, and melted butter. Press the crust mixture firmly on the bottom and part-way up the sides of the spring-form pan.
To make the filling, cream the cream cheese and sugars in a mixing bowl until fluffy. Beat in the eggs, one at a time, until well incorporated. Add the cream, spices, and pumpkin, and mix well. Pour the filling into the prepared spring-form pan. Bake for an hour.
While the cheesecake is baking, make the topping by creaming the butter with the brown sugar, and then mixing in the chopped nuts.
Carefully spoon the topping on to the cheesecake after it has baked for an hour, and bake for another 15 minutes, until the topping is melted and the cheesecake is set.
Remove from the oven and allow to fully cool before serving, preferably by refrigerating overnight.