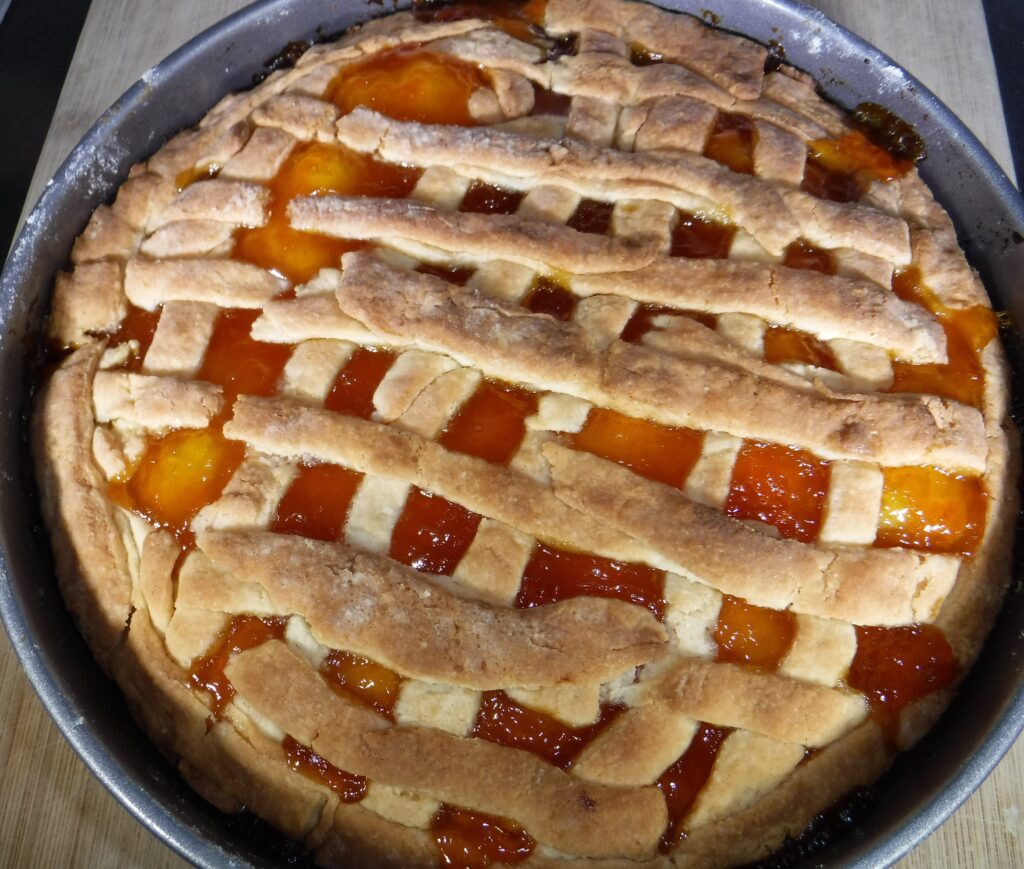 This Armenian cake is a bit like a large Linzer cookie, since it has a base layer, a jam layer, and a lattice top. This version is adapted from thekitchn.com. The next time I make it, I will need to work some more flour into the lattice layer, since the pastry strands were fragile and hard to work with. Apricot is the traditional jam, but other jams would be fine. This will make 8 servings.
3 cups (13 oz.) all-purpose flour (plus more for lattice top)
2 tsp. baking powder
½ tsp. salt
2 sticks (1 cup) salted butter, cut into little pieces
1 cup sugar
1 whole egg
2 egg yolks
1 tsp. vanilla
1 cup sour cream (or plain whole milk yogurt)
1 cup apricot preserves
Preheat the oven to 350 degrees. Grease a 9 inch cake pan
In a bowl mix together the flour, baking powder, and salt.
In the bowl of a stand mixer, cream together the butter and sugar until fluffy. Add the egg, egg yolks, vanilla, and sour cream and mix well. Stir in the flour mixture. It will be more like a very soft dough than a batter. Put all but a handful of the dough into the greased cake pan and spread it into an even layer. Spread the cup of apricot preserves on top of the dough in the pan.
On a pastry cloth, heavily flour the reserved handful of dough, and mix in the flour until the dough is stiff enough to be rolled out to about a 9 inch circle. Cut the dough into ½ inch strips and form them into a lattice.
Bake for 50 minutes, until the lattice is golden brown and the dough is cooked through. Cool on a wire rack before cutting and serving.