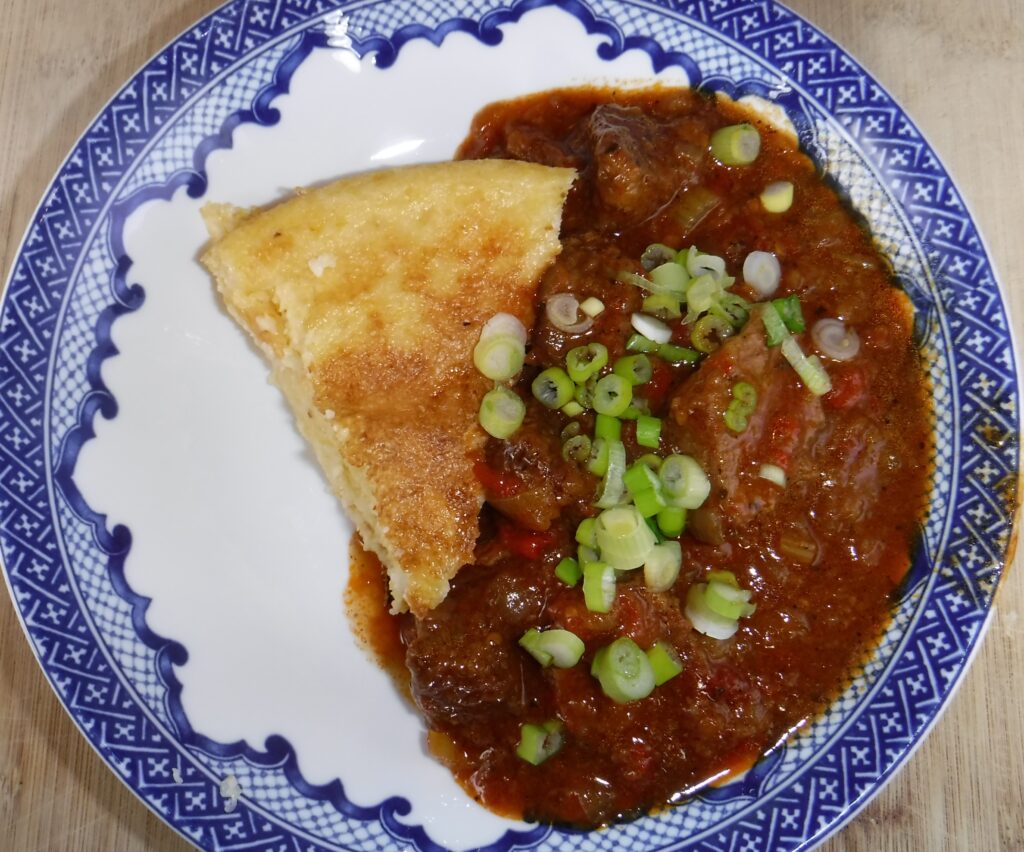 Text to follow
This beef stew is a classic breakfast or brunch dish in New Orleans. It is a slow-cooked dish of beef braised with onions, bell peppers, and celery, so as a breakfast dish it would be prepared in advance. We enjoyed it for dinner. This version will make about 6 servings and is adapted from Cooking up a Storm; Recipes Lost and Found from The Times-Picayune of New Orleans.
Grillards
2 lbs. beef chuck, round or brisket
1.5 tsp. salt
½ tsp. cayenne pepper
¼ tsp. black pepper
¼ tsp. garlic powder
¼ cup all-purpose flour
¼ cup vegetable oil
1.5 medium onions, chopped
1 medium bell pepper, chopped
1.5 stalks of celery, chopped
1.5 cups whole canned tomatoes, crushed by hand with juice
1 cup beef broth
¼ cup dry red wine
1 bay leaf
¼ tsp. dried tarragon
¼ tsp. dried basil
¼ cup green onions (green part only)
1.5 Tbs. fresh parsley
Baked Grits
1 cup grits, cooked per package instruction (I used Quaker Quick 5 minutes Grits)
2 large eggs, lightly beaten
4 oz. grated cheddar cheese
½ cup whole milk
¼ cup (1/2 stick) butter
Cut fat from the beef, and cut the beef into 1 inch cubes.
In a small bowl, mix together the salt, cayenne, black pepper, garlic powder, and flour.
Dredge the meat in the flour mixture.
In a large Dutch oven, heat the oil over medium heat. When hot, cook the beef in two batches until well browned on both sides, putting the browned beef on a plate. Add the onions, bell pepper, celery, and any of the flour mixture which remains to the pan, and cook, scrapping the bottom of the pan, until the vegetables are softened. Add the tomatoes, beef broth, and red wine, and thoroughly scrap the bottom of the pan to make sure all the browned bits are dissolved. Add back the beef and add the bay leaf, tarragon, and basil. Bring to a boil and reduce to a simmer, and cook for 2-3 hours until the beef is falling-apart tender. Check for seasoning.
While the grillards are cooking, make the baked grits. Preheat the oven to 350 degrees. Prepare the cup of grits per the package instructions. Mix into the cooked grits the cheese, milk, and butter, and stir until dissolved. Add the egg and stir until well mixed. Grease a 2 quart ovenproof casserole dish and pour in the grits mixture. Bake for 45 until browned and cooked through, about 45 minutes.
Sprinkle the grillards with the green onions and parsley and serve with the baked grits.