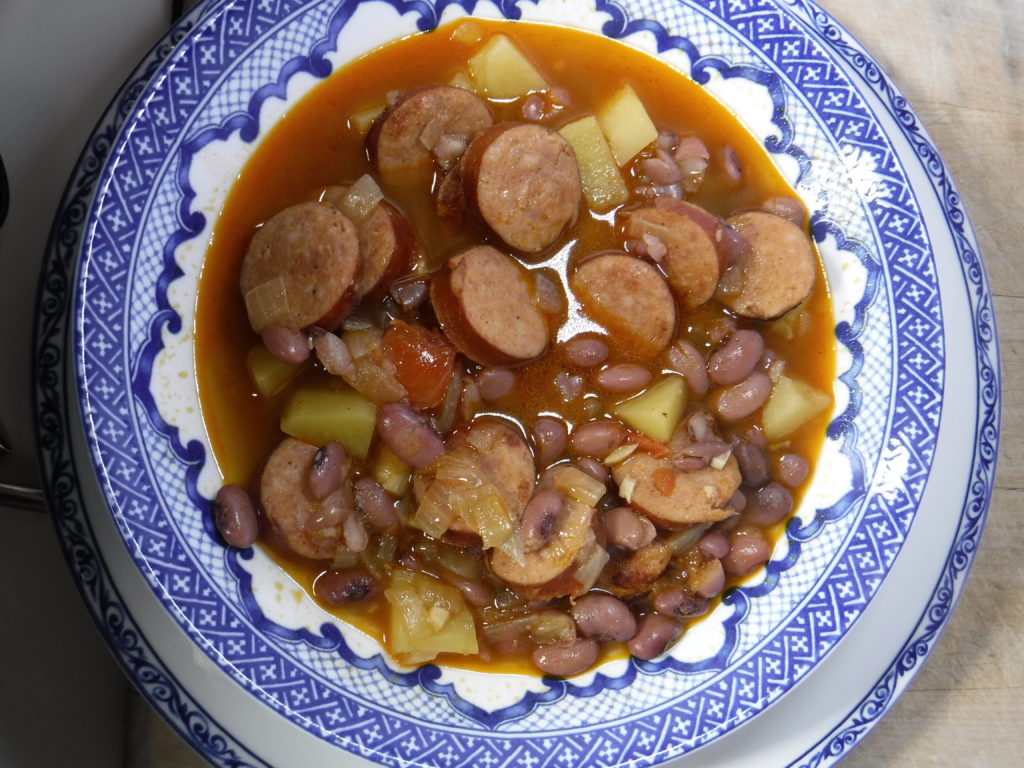 There are many versions of bean and sausage stews (feijoada) in Portugal and Brazil. This is a simple version from Portugal which is suitable for car camping in winter weather. This version was adapted from Ana Patuleia Ortins' Portuguese Homestyle Cooking. I will discuss below the basic recipe and how I plan to adapt it to camping.
½ lb. dried kidney beans
4 Tbs. olive oil
1-1/2 lb. linguica or other smoked sausage, cut into ¼ inch slices
1 medium onion, chopped
1 medium tomato chopped
1 medium carrot, peeled and diced
1Tbs. paprika
1 clove garlic, chopped
1 bay leaf
¼ cup red wine (optional)
2 medium waxy potatoes, peeled and cut into small cubes
Salt to taste
Soak and cook the beans. (I used a two hour hot soak.) Leave them in their cooking water while preparing the rest of the dish.
Heat the olive oil in a large pot.  Saute the sausage until browned.  Remove the sausage to a bowl leaving the oil in the pot.  Add the onion and cook until translucent.  Add the tomato, carrot, paprika, garlic, and bay leaf and cook until the tomatoes are dissolved into a mush.  Add back the sausage to the pot.  Add the red wine, if using.  Add the potatoes and add enough cold water to cover the potatoes.  Bring to a boil and reduce to a simmer, and cook 15 minutes until the potatoes are tender.  Using a slotted spoon, add the cooked beans and enough of their cooking liquid to barely cover the beans, etc.  Cook uncovered about 15 more minutes to blend the ingredients.  Check for seasoning and serve.  Very good with a crusty bread.
Car Camping Adaptation
Make the beans at home and bring in a ziplock baggie or use canned beans.
Cook sausage in advance and bring in a ziplock baggie
Omit wine.