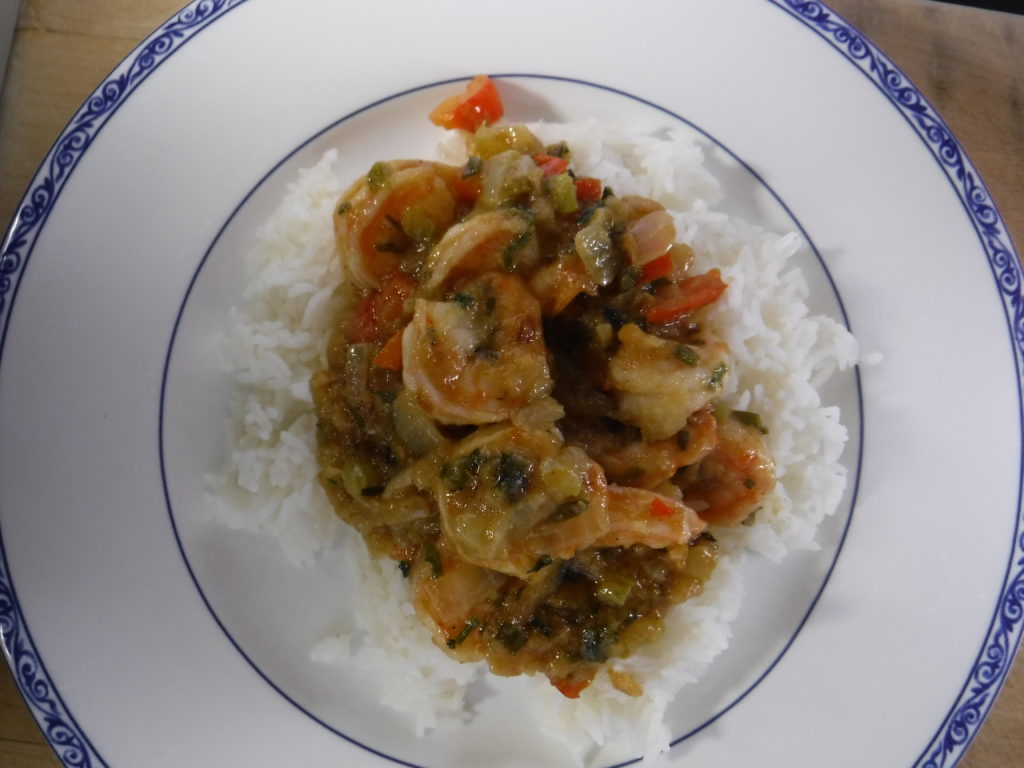 Shrimp Etouffee, or smothered shrimp, is a Louisiana classic. This is a rather simple, low spice version, suitable for family dining midweek and is adapted from an Ann Maloney recipe in the Washington Post which was reprinted in the Richmond Times-Dispatch. Carol liked it quite a bit. I pumped up the heat in my bowl at the table with some Sri Racha sauce. This makes 4 servings with rice. Note that as a time saver, the roux is made in a separate pot while the vegetables saute.
½ cup extra virgin olive oil
3 cloves garlic, chopped
1 large onion, chopped
1 rib celery, diced
¼ cup diced red bell pepper
3 scallions, thinly sliced
2 Tbs. chopped fresh parsley
3 Tbs. unsalted butter
3 Tbs. all-purpose flour
1-1/2 lbs. shrimp, peeled and deveined (smaller shrimp are preferable)
¼ tsp. Cayenne pepper
1 tsp. Creole seasoning
In a Dutch oven or other large pot, heat the olive oil over medium heat. When hot, saute the garlic until fragrant. Add the onion, celery, bell pepper, scallions, and parsley, and cook until the onions are translucent, about 10 minutes.
While the vegetables are cooking, make the roux in a small saucepan with a whisk. Melt the butter over medium heat, and then whisk in the flour. Cook, stirring frequently, until the roux reaches a medium brown color, like coffee with milk. Be careful not to burn the roux. If burned, the only thing to do is to throw it out and start over.
Add the cooked roux to the Dutch oven with the vegetables, and stir to blend. (Be careful, since the roux may spatter. Hot roux is Cajun napalm!) Add the shrimp, cayenne, and Creole seasoning, and mix in . Cover the pot, reduce the heat to simmer, and cook until the shrimp are done, about 10 minutes. Do not overcook the shrimp.
Serve with steamed rice and hot sauce at the table.