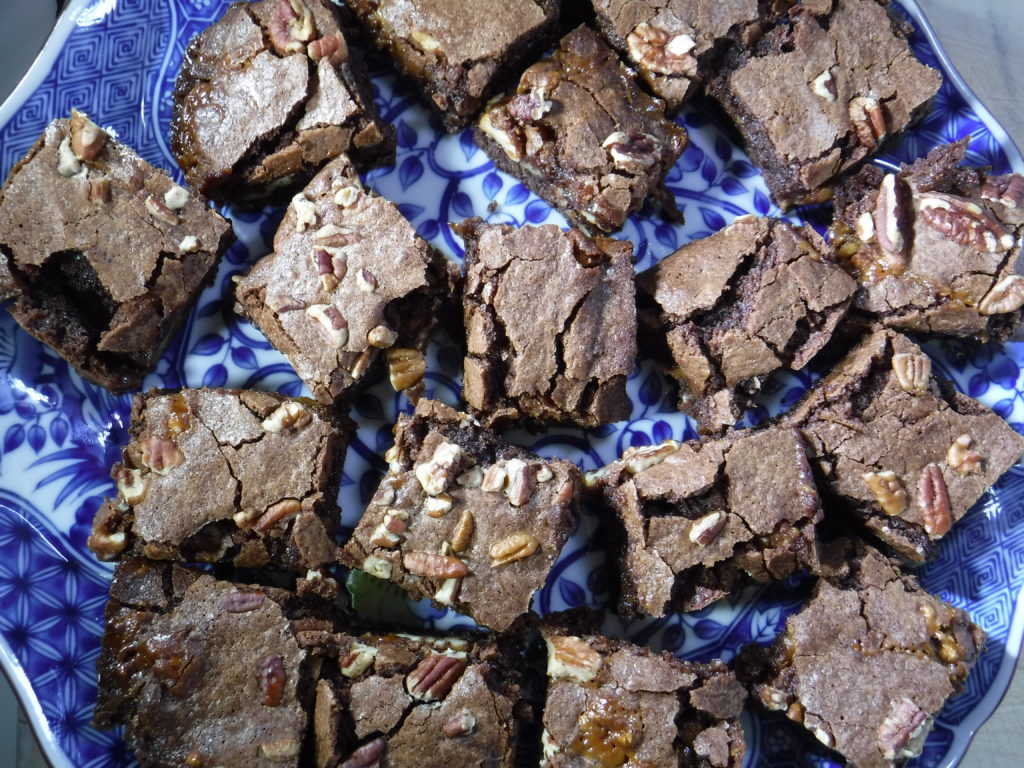 These brownies were a hit at last night's choir party. They are essentially a brownie sandwich, consisting of a brownie layer, a caramel-pecan layer, a second brownie layer, and a topping of nuts. This is an adaptation of the recipe which is on the package of Kraft caramels, and which is also very similar to what Kraft has online at www.myfoodandfamily.com. It was pretty clearly developed by test kitchen professionals to be easy and foolproof.
4 oz. unsweetened chocolate (I used Baker's), broken into pieces
¾ cup butter
2 cups sugar
4 eggs
1 cup all-purpose flour
1 package (11 oz.) Kraft caramels, unwrapped
1/3 cup heavy cream
2 cups pecan halves or pieces, divided
Preheat the oven to 350 degrees.
Line a 13 x 9 inch lasagna pan with two pieces of aluminum foil, which extend up the sides. Heavily grease the foil with cooking spray. (The caramel will tend to stick.)
Put the chocolate and butter into a large microwavable bowl, and heat on high for two minutes, or until the contents are melted. Mix well. Add the sugar and eggs and mix well. Add the flour and mix well. Pour half of the batter into the prepared baking dish. Bake 25 minutes, or until the top is firm to the touch.
When this first layer is almost done, put the caramels and cream into another microwavable bowl. Heat on high for 2 minutes or until the caramels are completely melted. Stir to mix together the caramels and cream until well blended. Mix in 1-1/2 cups of pecans.
When the first layer of the brownie has finished baking, remove the pan from the oven and spoon as evenly as possible the caramel-pecan mixture over the baked layer. Then pour the remaining batter evenly over the caramel-pecan layer. Sprinkle with the remaining ½ cup of pecans. Return the pan to the oven for 30 minutes, or until the top is firm to the touch.
Remove from the oven and cool the brownies in the pan on a wire rack. When completely cool, remove from the pan using the aluminum foil as handles, remove the foil and cut into pieces to serve.