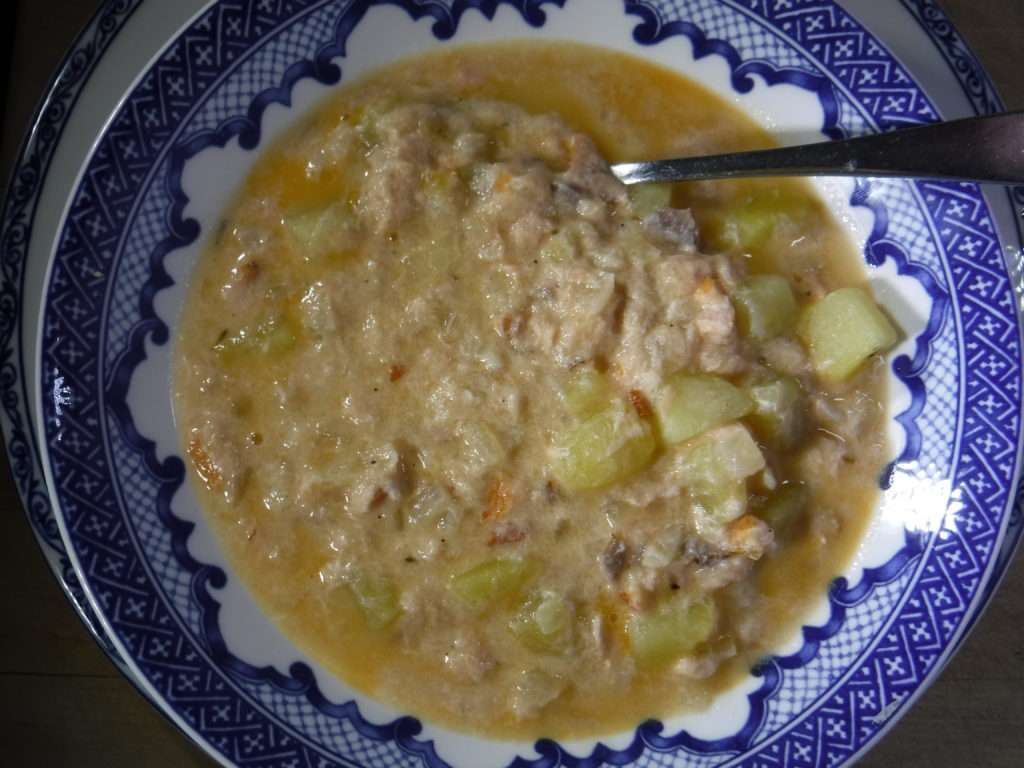 We just got home from a week in the Caribbean and were looking for an Ash Wednesday dinner which would be easy on our stomachs, which are a little worse for the traveling.  This was a successful improvisation using "Char's Maine Fish Chowder" in Cook's Country: Best Lost Suppers as a starting point.  Many fish chowders start with bacon, and using hot smoked salmon was a way to get the smokiness of bacon while keeping this a Lenten dish. This makes 2-3 servings.
2 Tbs. salted butter
1 large onion, diced
1 Tbs. all-purpose flour
¼ cup dry white wine
8 oz. clam juice
12 oz. Yukon gold potatoes, peeled and diced
12 oz. whole milk
8 oz. hot smoked salmon, skinned and shredded
1 Tbs. dry sherry
¼ tsp. dried thyme
1 bay leaf
1 tsp. fish sauce
Salt and pepper to taste
Hot sauce (optional)
In a small saucepan, boil the cubes potatoes in salted water until tender. Drain.
In a large saucepan, melt the butter over medium heat and saute the onions until translucent. Stir in the flour, and cook for another 2 minutes, stirring frequently. Add the white wine, mix well, and cook for a minute. Mix in the clam juice, and stir well. Add the cooked potatoes, milk, hot smoked salmon, sherry, thyme, bay leaf, and fish sauce. Heat the soup until it is just below boiling, and simmer for 5-10 minutes until all the flavors are blended. Season to taste with salt and pepper. Add a little hot sauce at the table, if desired.