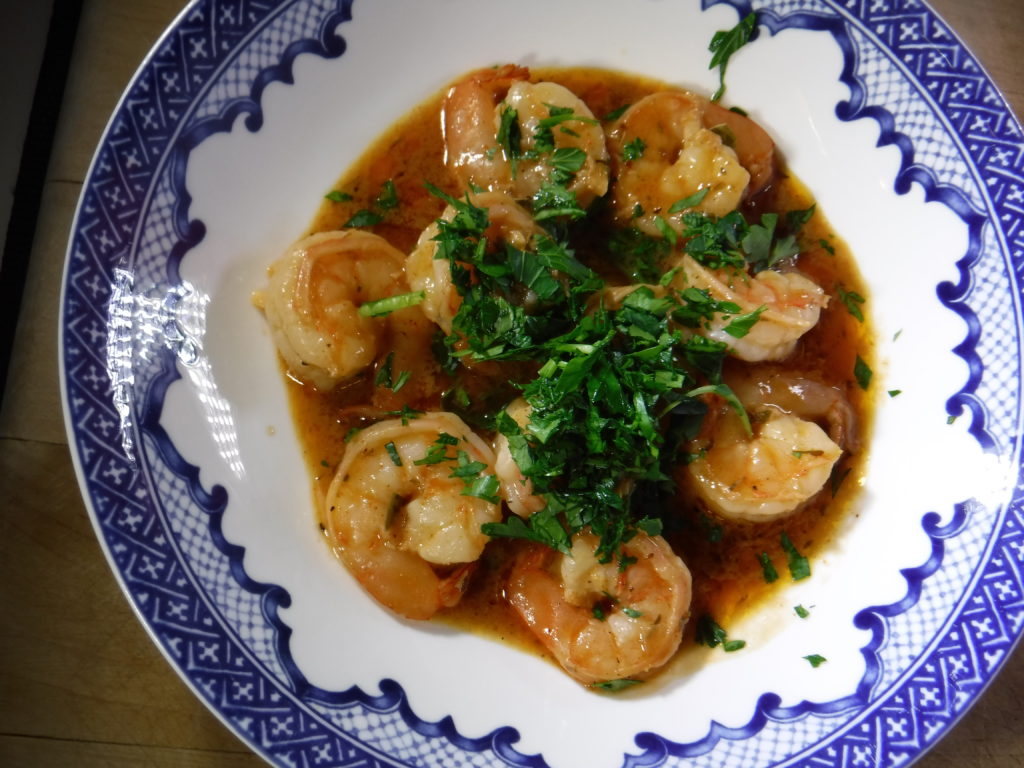 Louisiana barbecued shrimp are very tasty, but they are not at all what their name describes, since they are actually shrimp cooked in a skillet with a spicy and buttery sauce.  This version is adapted from a recipe in Food52, which I noticed because it used a moderate amount of butter vs. the extravagant amount used in some recipes.  The list of ingredients is long, but they are nearly all pantry items, and the actual preparation is very quick.  This will make 4 or more small appetizer servings, or 3 main course servings with crusty bread and a salad. 
1 lb. shell-on shrimp
½ tsp. cayenne pepper
¼ tsp. black pepper
½ tsp. salt
¼ tsp. crushed red pepper flakes
½ tsp. dried thyme
½ tsp. dried oregano
¼ tsp. paprika
2 bay leaves, crushed
4 Tbs. salted butter
2 garlic cloves, chopped
¼ cup dry white wine
2 Tbs. lemon juice
2 Tbs. Worcestershire sauce
2 Tbs. chopped fresh parsley
½ tsp. cornstarch
Shell the shrimp. Put the shells in a small saucepan with about ¾ cup of water. Bring to a boil and cook for about 5 minutes. Strain out the shells and reserve the shrimp stock.
Combine all of the spices in a small bowl.
Combine the white wine, lemon juice, Worcestershire sauce, and ½ cup of the shrimp broth in a bowl.
Combine the cornstarch with 1 Tbs. of water in a small bowl.
Melt the butter in a skillet over medium heat. Add the garlic and saute for 2 minutes or until fragrant, stirring frequently. Add the spices, and saute for another minute, or until fragrant. Add the liquids and stir well. Bring to a boil and reduce to a simmer. Cook for around 7 minutes to slightly reduce the sauce. Stir in the cornstarch mixture and the shrimp, and stir well. Cook over medium heat for about 3-5 minutes, until the shrimp are cooked through and the sauce has slightly thickened. Sprinkle with parsley and serve immediately with crusty bread.