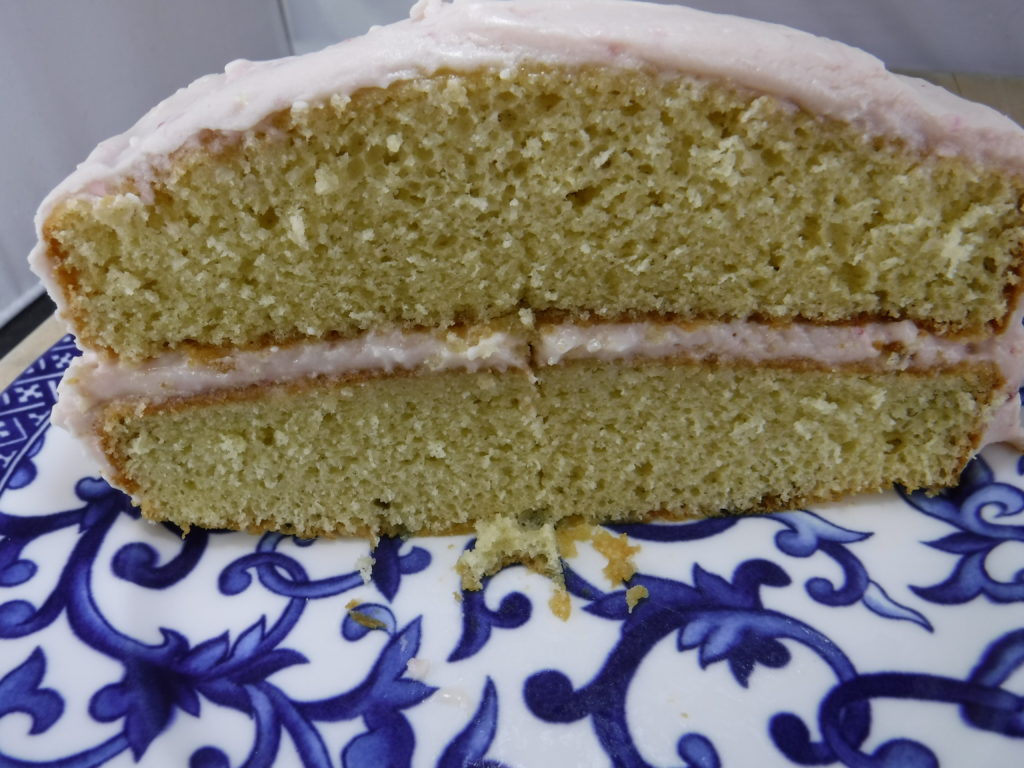 My birthday this year was on a Friday, and we are going to have a family birthday party on Sunday to fit everyone's calendar better. We thought it would be nice to have a small cake for my actual birthday, and looked at the options in America's Test Kitchen's The Complete Cooking for Two Cookbook. We made the Fluffy Yellow Layer Cake, which was quite good, but for us it really is 4 servings vs. 2 servings. The photo shows half a cake, which is 6 inches in diameter. The one unusual requirement for the recipe is having 6 inch cake pans, which I was able to buy at Kroger. We frosted the cake with a mixture of an old frosting in the refrigerator which contained some pureed berries, plus some cream cheese frosting.
2 large egg yolks plus one large egg white, at room temperature
½ cup sugar, divided
¾ cup (3 oz.) cake flour
½ tsp. baking powder
1/8 tsp. baking soda
¼ tsp. salt
1/3 cup buttermilk, at room temperature
3 Tbs. unsalted butter, melted and cooled
1 Tbs. vegetable oil
¾ tsp. vanilla extract
2 cups frosting
Preheat the oven to 350 degrees. Put circles of baking parchment in the bottoms of two 6 inch cake pans, and spray the pans with cooking spray.
Beat the egg white in a medium bowl until soft peaks, and then add 2 Tbs. of the sugar and beat until it forms stiff peaks. We did this with a whisk in a copper bowl. We do not have a hand mixer, which would have been an alternative. (This amount of egg white is too small for our large stand mixer to handle well.)
In a second medium bowl, whisk together the flour, baking powder, baking soda, salt, and the remaining 6 Tbs. of sugar.
In a small bowl, mix together the buttermilk, melted butter, oil, vanilla, and egg yolks.
Add the liquids to the dry mixture and mix until combined. Fold in the whipped egg white. Pour the batter evenly into the two prepared pans. Bake for 16-18 minutes, until a toothpick put in the center of the cake comes out clean. Cool the cakes in the pans on a wire rack for 10 minutes, and then remove from the pans. Let the cakes fully cool on the wire rack before frosting them