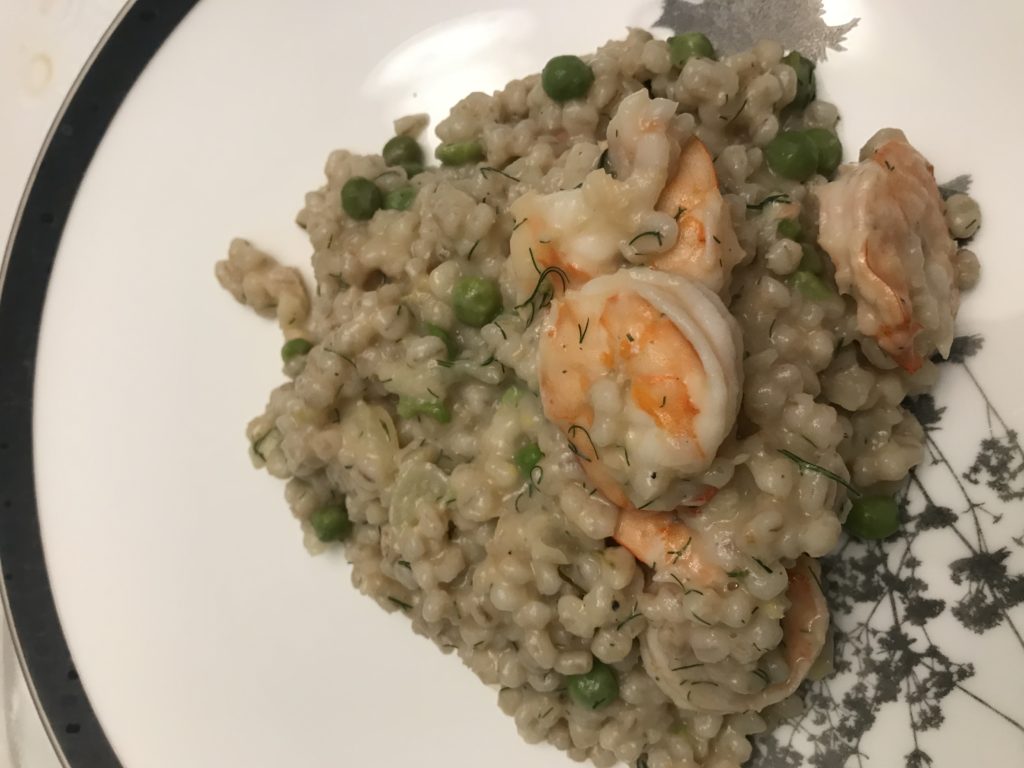 I spotted a recipe in the Food Network Magazine which I thought was worth trying since Carol likes barley, which is a low-glycemic and high fiber alternative to rice. It turned out well, including being surprisingly creamy. Since we had whole barley (vs. the quick-cooking pearl barley in the original recipe), that is what I used, and I modified the recipe a bit to accommodate the longer cooking time of whole barley. This quantity will make about 5 servings.
Also the original used chicken broth. To make the dish Lenten, I made a stock out of the shrimp shells.
Both of these changes made this a weekend dish, vs. the quicker-cooking weeknight dish originally envisioned by the Food Network.
1-1/2 lbs. peel on shrimp
5 Tbs. unsalted butter, divided
4 cloves garlic, chopped
1 bulb fennel
1 tsp. fresh rosemary, chopped
1-1/2 cups whole barley
¾ cup frozen peas
½ tsp. grated lemon zest
Juice of 1 lemon
½ cup grated Parmesan
Salt and pepper to taste
Peel the shrimp. Make a stock by boiling the shrimp shells in about 3 cups of water for about 10 minutes. Drain the shells and reserve the stock. Add salt to season. (Optionally, start with a Tbs. of olive oil and a chopped clove of garlic. Saute the shells and garlic first before adding the water. End by adding some concentrated vegetable broth.)
Bring 2 cups of the stock to a boil in a medium saucepan. Add the barley. Bring back to a boil and reduce to a simmer. Cook, stirring occasionally, until the barley is tender, adding additional stock (or water) from time to time as needed.
Chop the fennel bulb into small pieces, and chop 2 Tbs. of the fennel fronds.
When the barley is done, melt 3 Tbs. of the butter over medium heat in a large saucepan. Add the garlic, fennel, and rosemary, and cook until fragrant. Add the barley and its cooking liquid, and stir well. Cook for about 10 minutes to blend the flavors, adding more water if necessary to make it creamy vs. dry. Mix in the shrimp and frozen peas and cook until the shrimp turns pink, about 5 minutes. Mix in the lemon zest, lemon juice, 2 Tbs. of butter, the fennel fronds, and the grated Parmesan. Add salt and pepper to taste. Serve.