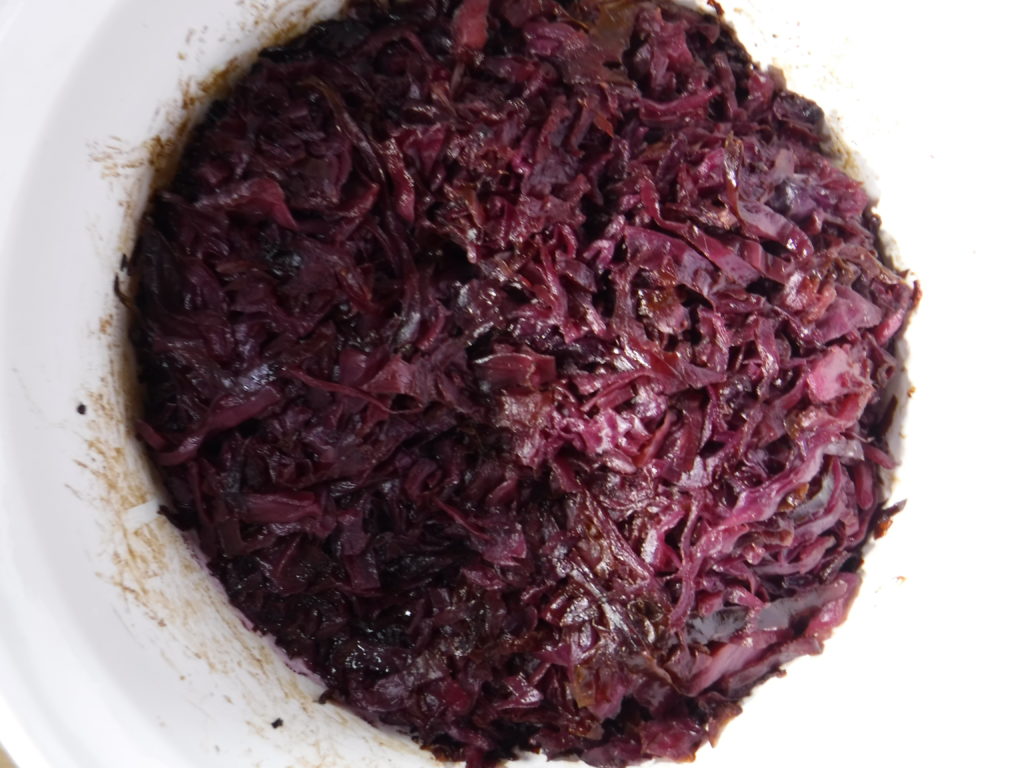 This Central European classic was an accompaniment to a pork roast, the comfort food of Carol's childhood. It was easy and very good. Note that this was started the day before, rested overnight in the refrigerator to meld the flavors, and then reheated the second day. This version is adapted from a favorite cookbook, The Time-Life International Cookbook.
1 medium head of red cabbage (2 to 2-1/2 lbs.)
4 Tbs. butter, cut into small pieces
1 Tbs. sugar
1 tsp. salt
1/3 cup water
1/3 cup white vinegar
¼ cup red currant jelly (or a similar jelly or preserve)
2 Tbs. grated apple.
Wash the head of red cabbage. Remove the tough outer leaves, and cut out the hard core. Cut into thin shreds. There will be about 9 cups of shredded cabbage.
Preheat the oven to 325 degrees.
In a large ovenproof pot, combine the butter, sugar, salt, water, and vinegar, and bring to a boil. Add the cabbage, and toss to coat the cabbage with the liquid. Bring back to a boil, and then remove from the stove, cover the pot, and place it in the oven to cook for two hours. Check periodically to stir it and to make sure that it does not need any additional water. Add the jelly and grated apple and cook for 10 more minutes. You can serve it now, but it is even better if you keep it overnight in the refrigerator and reheat it the next day.