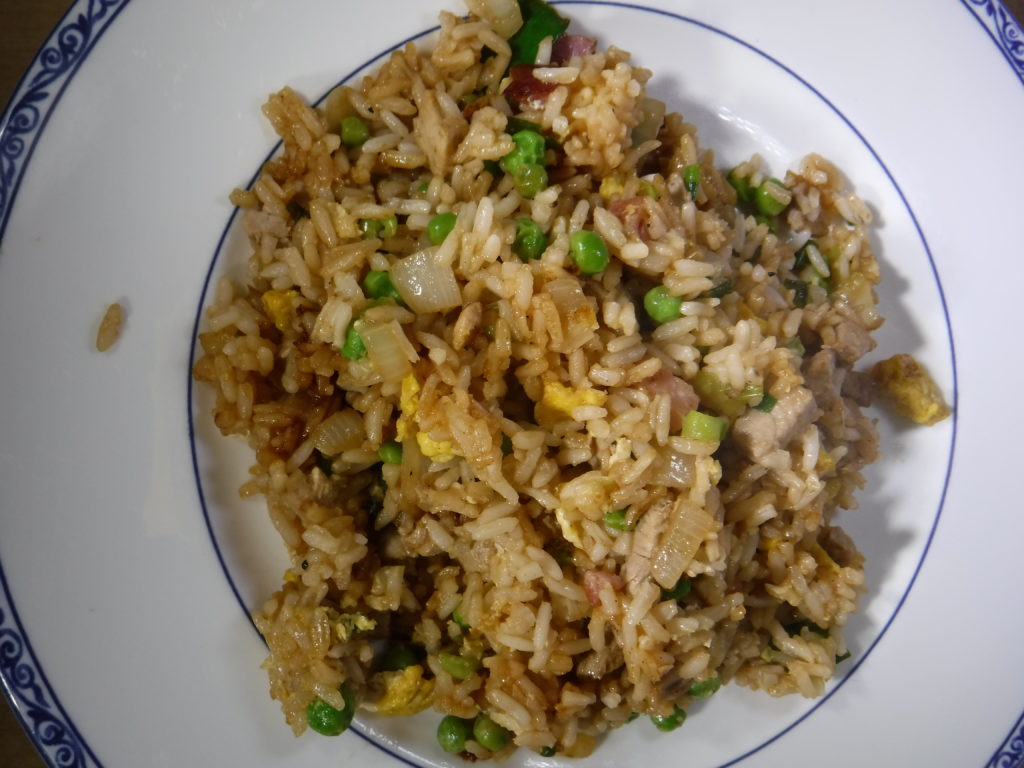 The key insight to this version of fried rice is to boil the rice in lots of water like pasta, rather than steaming it in a precise amount of water as usual. This is a way to use freshly cooked rice and have each of the rice grains separate vs. the natural tendency to form clumps. I had some boil-in-the-bag rice left over from a camping trip, but in the recipe below, will describe how to use ordinary rice. Also, I had some left over roast pork and ham which I used up, vs. starting from scratch with the pork, as described below. This makes about 3 servings and is adapted from Cook's Illustrated "All-Time Best Chinese Recipes".
8 oz. country pork ribs, cut into ½ inch pieces
4 tsp. soy sauce, divided
1 Tbs. brown sugar
1 tsp. cornstarch
½ tsp. baking soda
2 Tbs. oyster sauce
1 Tbs. dry sherry
1 Tbs. ketchup
1 tsp. salt
¼ tbs. freshly ground black pepper
2 cups long grain rice
3 Tbs. vegetable oil, divided
2 large eggs, lightly beaten
6 scallions, white and green parts separated, and thinly sliced
2 cloves garlic, finely chopped
¼ cup frozen peas, thawed.
In a medium bowl, combine the ribs with 2 tsp. of soy sauce, and the sugar, cornstarch, and baking soda, and marinade for 15 minutes.
In a small bowl, combine the oyster sauce, sherry, ketchup, salt and pepper.
Bring 3 quarts of water to boil in a large pot, and boil the rice until just cooked, about 12 minutes. Drain the rice in a fine mesh strainer.
Heat 1 Tbs. of oil in a large skillet over high heat until about smoking. Add the pork in a single layer and cook without stirring, until browned, about 2 minutes. Stir and cook until brown all over, about 3 more minutes. Remove the cooked pork to a clean bowl.
Add another Tbs. of oil to the skillet over high heat. When very hot, add the eggs. Cook until set but still wet, and move them to the side of the skillet. Add the last Tbs. of oil to the skillet, and saute the scallion whites and garlic until fragrant. Add the rice, and break up any large clumps. Cook until the rice sizzles in the oil. Mix in the small bowl of seasonings, the cooked pork, the cooked egg, and scallion greens. Cook, stirring constantly, until well combined and heated, about 2 minutes. Serve.