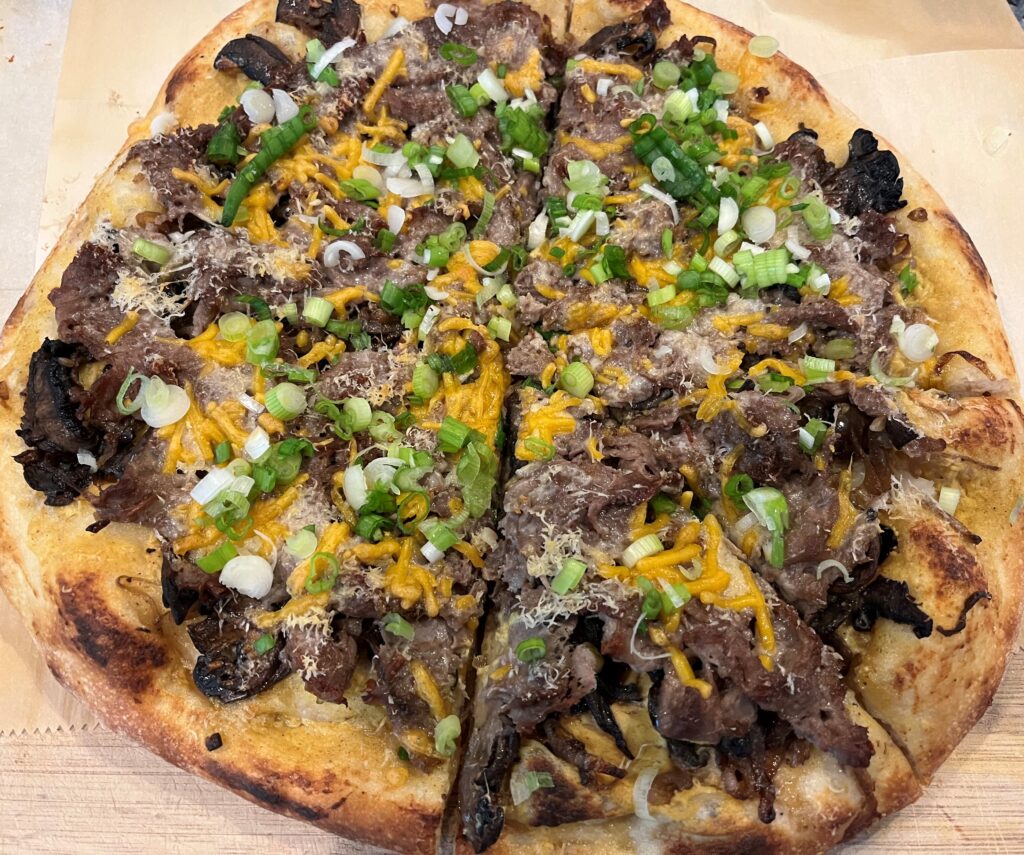 I was culling through recipes I have saved over the years and spotted one from www.aspicyperspective.com which I had saved in 2014.  I made my adaptation of the original recipe using a half-recipe of Pizza Dough from The Pizza Bible which weighed 14 oz. vs. 16 oz. of dough in the original recipe.  (One change I made was to substitute some Flourish high-fiber flour for some of the high gluten flour.) Carol liked this very much and said it tasted like a cheesesteak.  This will make 2 to 4 servings depending on how hungry you are.
The original recipe called for thinly slicing a NY strip steak. I successfully used shaved steak which I bought at the supermarket which was intended for cheesesteaks.
14-16 oz. pizza dough
8 oz. mushrooms, thinly sliced
4 shallots, thinly sliced
4 cloves garlic, chopped
2 Tbs. butter
1 Tbs. olive oil
¼ cup Dijon mustard
8 oz. thinly sliced sleak
½ cup grated Parmesan cheese
¼ cup grated cheddar cheese
¼ cup thinly sliced scallions
Salt and pepper to taste
Preheat the oven to 475 degrees with a pizza steel or stone. Stretch the dough into a 14 inch round on a piece of baking parchment.
Heat the butter in a large skillet and sauté the mushrooms, shallots, and garlic until the vegetables are fully cooked. Season to taste with salt and pepper and cool. (This step can be done in advance.)
Brush the olive oil on the dough. Spread the mustard on the dough. Sprinkle the mushroom/onion mixture and then sprinkle the sliced steak. Top by sprinkling the cheeses. Bake about 10 minutes until the crust is fully cooked. Sprinkle with the scallions and serve immediately.