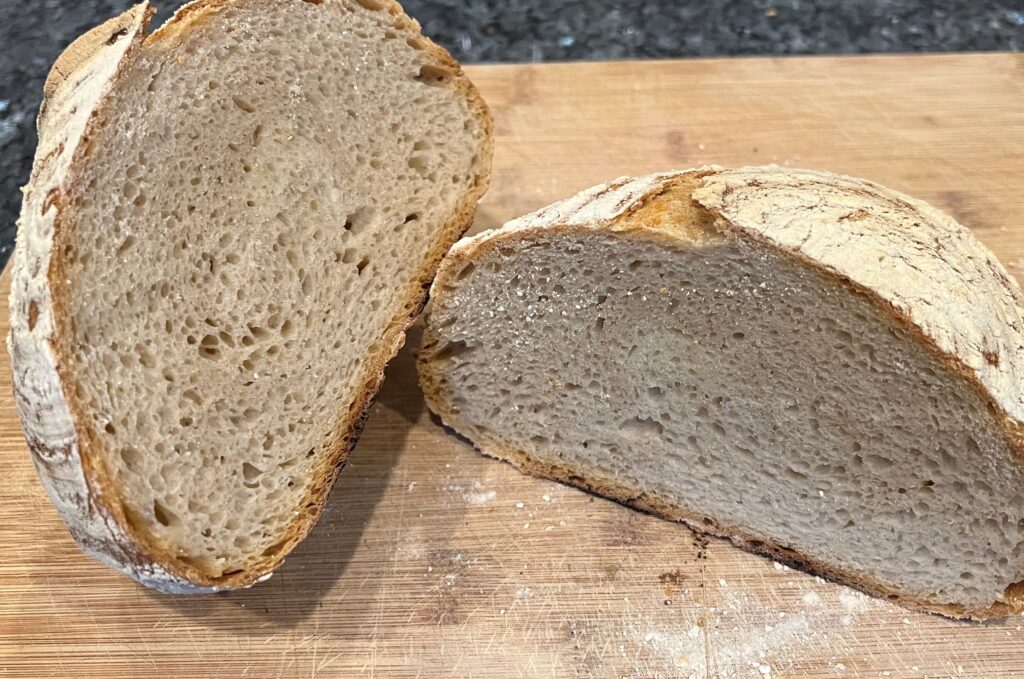 I have made several experiments making No-Knead bread with the high-fiber Flourish AP flour. When successful, the resulting bread will have higher fiber and a lower glycemic index than typical breads. The two problems are: First, the manufacturer warns that high-fiber flour needs some additional water, but does not specify how much water. Second, it is unclear how much protein is in the Flourish flour, and the No-Knead bread is based on high protein flour.
Yesterday, I made the following loaf, and for the first time I seem to have gotten the quantities right. I also changed a bit the order in which I did things, incorporating what I have learned from Michael Kalanty's books
2 g. yeast
325 g. warm water
100 g. whole wheat flour
150 g. Flourish flour
150 g. KAF high protein flour
8 g. salt.
In the mixing bowl, whisk together the yeast and water and let it sit for 5 minutes.
In another bowl, mix together the 3 flours.
Add the flours to the mixing bowl and combine with a dough whisk. Cover and let rest for 15 minutes. Sprinkle in the salt and briefly knead until the salt is incorporated and the dough is smooth. Put the dough in a doubling container to ferment for about 12-18 hours until doubled.
When the dough is doubled, heavily flour a banneton. Punch down the dough and form into a disk on a floured work surface. Fold in half and then in half again and form into a ball. Put the dough into the banneton smooth side down, cover and allow to proof for 1-2 hours, until doubled.
About 30 minutes before the second rising is complete, put a heavy oven-proof pot and lid (~5 quart in size) separately into the oven and heat to 475 degrees. When the rising is complete and everything is preheated, carefully turn the banneton upside down over the empty pot. After the dough falls into the pot, put the lid on and bake for 30 minutes. Remove the lid and bake for another 15-30 minutes until the crust is nicely browned but not burned. Remove the pot from the oven and with a spatula, remove the bread from the pot and allow to fully cool on a wire rack.