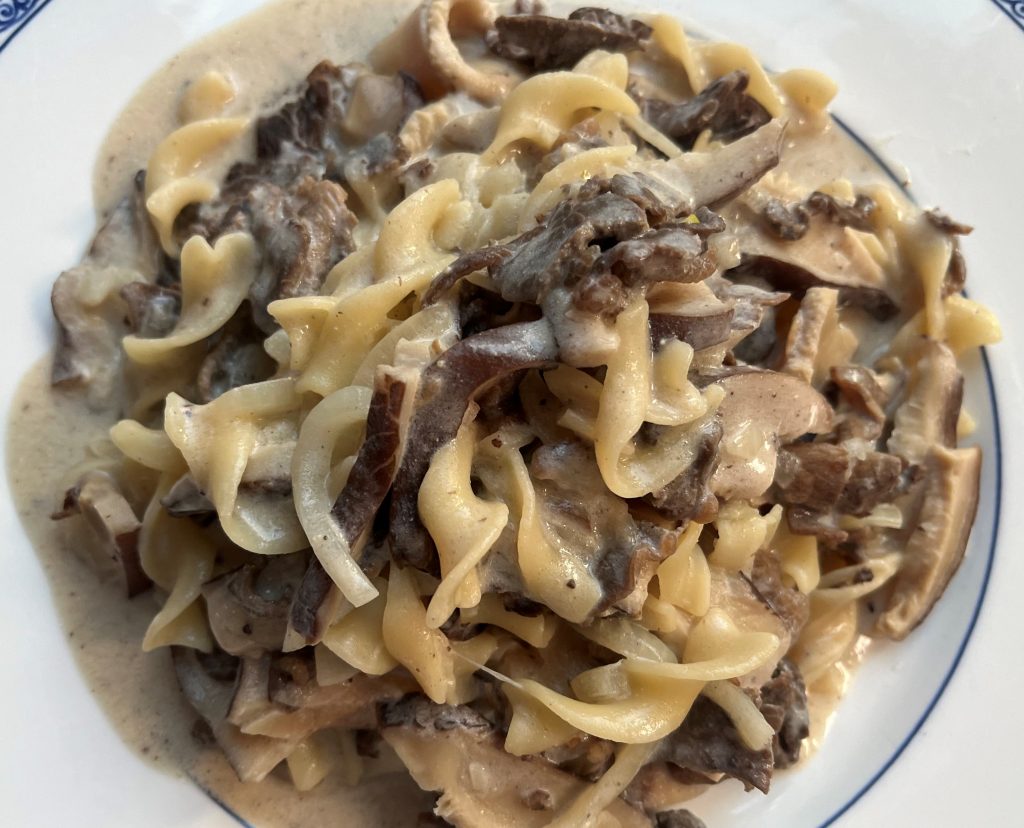 Carol has been advocating beef stroganoff for this year's canoe trip and also for using pieces of beef rather than ground beef. Mulling this over, I thought about the thinly sliced rib eye which is sold by Asian grocery stores like the New Grand for use in yakiniku, sukiyaki, etc. The photo shows our proof of concept made at home, which was a success. This recipe is sized for a 9-person crew. It can be easily scaled up or down.
6 Tbs. cooking oil, divided
2.25 lbs. thinly sliced beef rib eye
2.25 large onions, chopped
5 cloves garlic, chopped
4 tsp. Maggi seasoning
6.75 oz. dried sliced shiitake mushrooms (available at Asian groceries)
18 oz. egg noodles
22.5 Tbs. (11.25 fl. Oz.) sour cream powder
3 tsp. mustard powder
3 tsp. sugar
1 Tbs. cornstarch – optional if necessary
At home, begin by preparing the meat. Cut each of the slices of rib eye into 3 pieces. Heat 2 Tbs. of oil in a large skillet and sauté the meat until cooked through. Drain the meat on paper towels and then put it in a dehydrator and dry it at 160 degrees until fully dry. Vacuum seal the meat in a bag.
In a large skillet, heat 4 Tbs. of oil and sauté the onions and garlic until translucent. Mix in the Maggi seasoning. Put the onion and garlic in a dehydrator and dry them at 160 degrees until fully dry. Vacuum seal in a bag.
Put in one small baggie the sour cream powder and in another small baggie the mustard powder and sugar.
Put the optional corn starch in a third small baggie. 
At camp empty the bags containing the meat, onions, and mushrooms into a large pot and barely cover with water.  Heat the pot until the water is hot and then remove from the heat, cover and allow to rehydrate for about 30 minutes.  Return the pot to the fire/camp stove. Add the baggie with the mustard powder and the sugar, and add the egg noodles.  Add enough water so that the noodles are barely covered.  Cook over medium heat stirring frequently and adding water as necessary as it is absorbed by the noodles.  The idea is to have just enough water so that the noodles rehydrate as they cook and do not stick and burn, but not enough to be soupy.  When the noodles are done, mix in the sour cream powder until fully dissolved and distributed.  (If too soupy , dissolve the optional corn starch in a tablespoon of cold water.  Add to the pot and cook about 3 minutes to thicken.)  Check for seasoning and serve.
Variation for a crew with a pescatarian: Rehydrate the meat separately in a small pot, so that the main pot is vegetarian. Have a tuna packet for each pescatarian. Have each person add meat or tuna to their own bowl before adding the stroganoff mixture from the main pot.