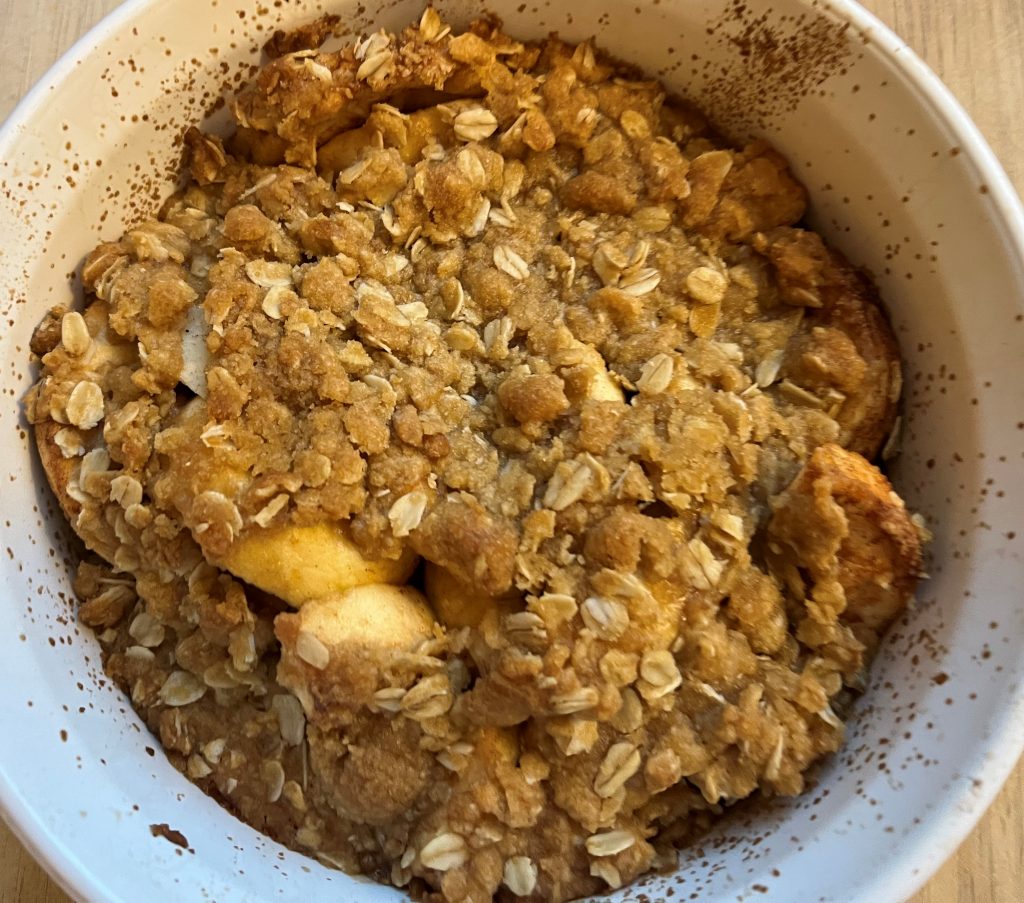 For this year's camping trip, I decided to try to modify Apple Crisp – Camping Version to use dried vs. fresh apples, which would reduce weight and volume, and would also avoid the risk of bruising the fruit during portaging, etc. Last night I made a proof-of-concept in my home oven, which was a success. The photo shows a half recipe (4 servings), but the quantities below are for 8 servings.
The dried apples I used were Dried Apple Rings from Torn and Glasser, and I bought them at Kroger.
9 oz. dried apples, with rings cut in 4 pieces
½ cup frozen apple juice concentrate, dehydrated
2 cups water
1 Tbs. cinnamon
½ tsp. corn starch
¾ cups old-fashioned oats
½ cup all-purpose flour
¾ cup brown sugar
½ cup (1 stick) butter
At home, make up 4 baggies:
The apples and dehydrated apple juice
The cinnamon and corn starch
The oats, flour, and brown sugar
The stick of butter
In camp, at least an hour before baking, add the 2 cups of water to the apple baggie to rehydrate the apples.
When the apples are hydrated, mix in the cinnamon and corn starch and mix well. Pour the apples and liquid into the bottom of the baking pan.
Mix the butter in with the oats/flour/brown sugar mixture to form a dough. Spoon the dough on top of the apples.
Bake at a moderate temperature until the apples are soft and the top is browned. At home this took about 35 minutes at 350 degrees.