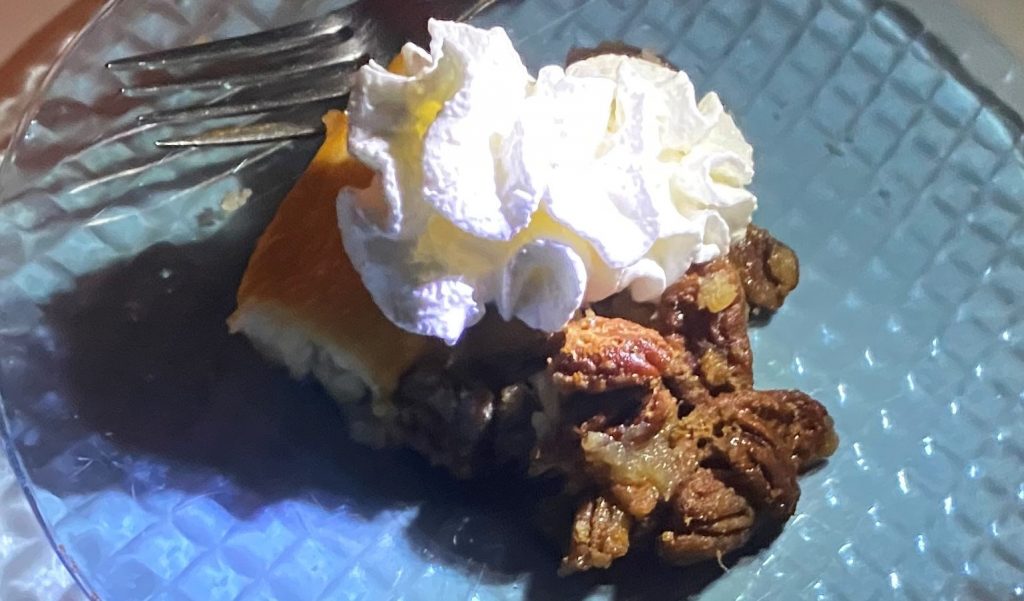 This is a variation on Pecan Pie Cobbler v2 to make it a little easier for a canoe trip, such as by using salted butter instead of unsalted butter plus salt. I have also rewritten the directions. I will be baking this in an Omnia stove-top oven.
Cobbler Batter
1 stick (1/2 cup) salted butter
1 cup all-purpose flour
¼ cup Nido whole milk powder
1 cup water
1 cup granulated sugar
1-1/2 tsp. baking powder
Pecan Filling
½ cup brown sugar
13 g. egg powder
2-1/2 or 2-2/3 Tbs. water, depending on brand of egg powder
1 tsp. vanilla extract
¼ tsp. kosher salt
1-1/2 cups pecan halves
At home prepare 3 baggies:
Baggie No. 1 – the butter
Baggie No. 2 – The dry ingredients for the batter, i.e. flour, milk powder, sugar, and baking powder
Baggie No, 3 – Everything except the water for the pecan filling, i.e. brown sugar, egg powder, vanilla, salt, and pecan halves.
At camp
Melt the butter in the baking pan.
Add the water to Baggie No. 2 and mix together. Pour the resulting batter into the middle of the pan. Do not mix it with the melted butter which will surround the batter on the bottom, sides, and much of the top.
Add the water to Baggie No. 3 and mix well. Spoon them on top of the cobbler batter in the center of the pan. Again, do not stir.
Bake until the cobbler is firm to the touch and a cake tester comes out clean. This would be 30-35 minutes in a 375 degree oven.