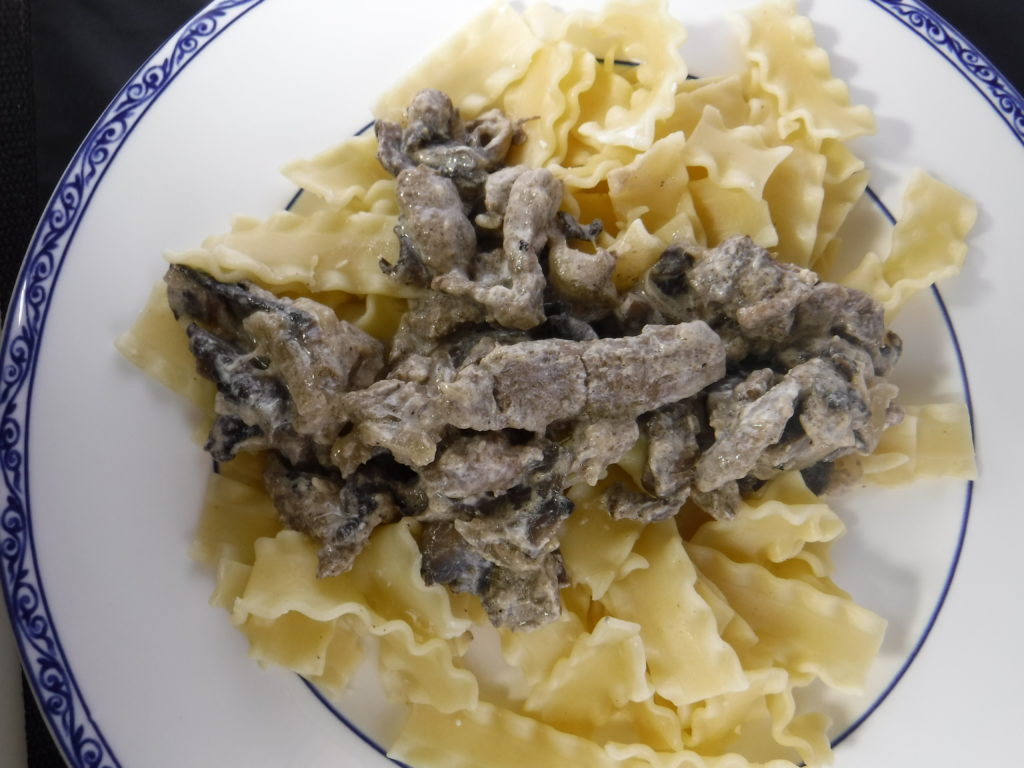 This recipe is based on the excellent Time-Life International Cookbook. It was one of the first cookbooks we ever received, and our copy is now literally falling apart from heavy use. As the book points out in its introduction to its version of the recipe, in the US the name beef stroganoff is sometimes used to refer to any beef dish with a mushroom cream sauce, even if made from stew meat or ground beef, whereas the original concept of the dish used a cut up steak which is quickly sautéed. We usually serve it with egg noodles.
1 Tbs. powdered mustard
1 Tbs. sugar, divided
2 tsp. salt
4-5 Tbs. vegetable oil
4 cups thinly sliced onions, separated into rings
1 lb. fresh mushrooms, sliced
2 lbs. beef filet, trimmed of all fat and sliced into ¼ inch slices
1 tsp. freshly ground black pepper
1 pint sour cream
In a small bowl mix together the mustard, 1-1/2 tsp. of the sugar, a pinch of the salt, and about a tablespoon of hot water and form a paste. Allow to rest at room temperature for 15 minutes.
Heat 2 Tbs. of oil in a large skillet over high heat, and add the mushrooms and onions. Reduce the heat to low and cover, stirring occasionally, and cook for 20 minutes. Remove the lid and allow the vegetable juices to cook off, stirring more frequently as the mixture becomes drier.
In another skillet, heat the remaining 2 Tbs. of oil over high heat, and then quickly saute the beef until lightly browned. Fry in batches, if necessary, adding the cooked meat to the skillet with the vegetables. When all the meat is cooked and combined with the vegetables, add the mustard paste, the remaining salt and sugar, the pepper, and the sour cream. Cook over low heat for 2-3 minutes to combine. Check for seasoning. Serve with noodles.
Note: I have preserved above most of the two skillet method in the original recipe. My general instincts would be to use one skillet. In that case, cook first the beef, putting it aside in a bowl when cooked. Do not stir the beef frequently in order to create a frond on the pan. Then add the mushrooms and onions (and the additional oil) and stir well to dissolve the frond as the vegetables cook. When the vegetables are cooked and their liquid is absorbed, return the meat to heat it through, and add the remaining ingredients.