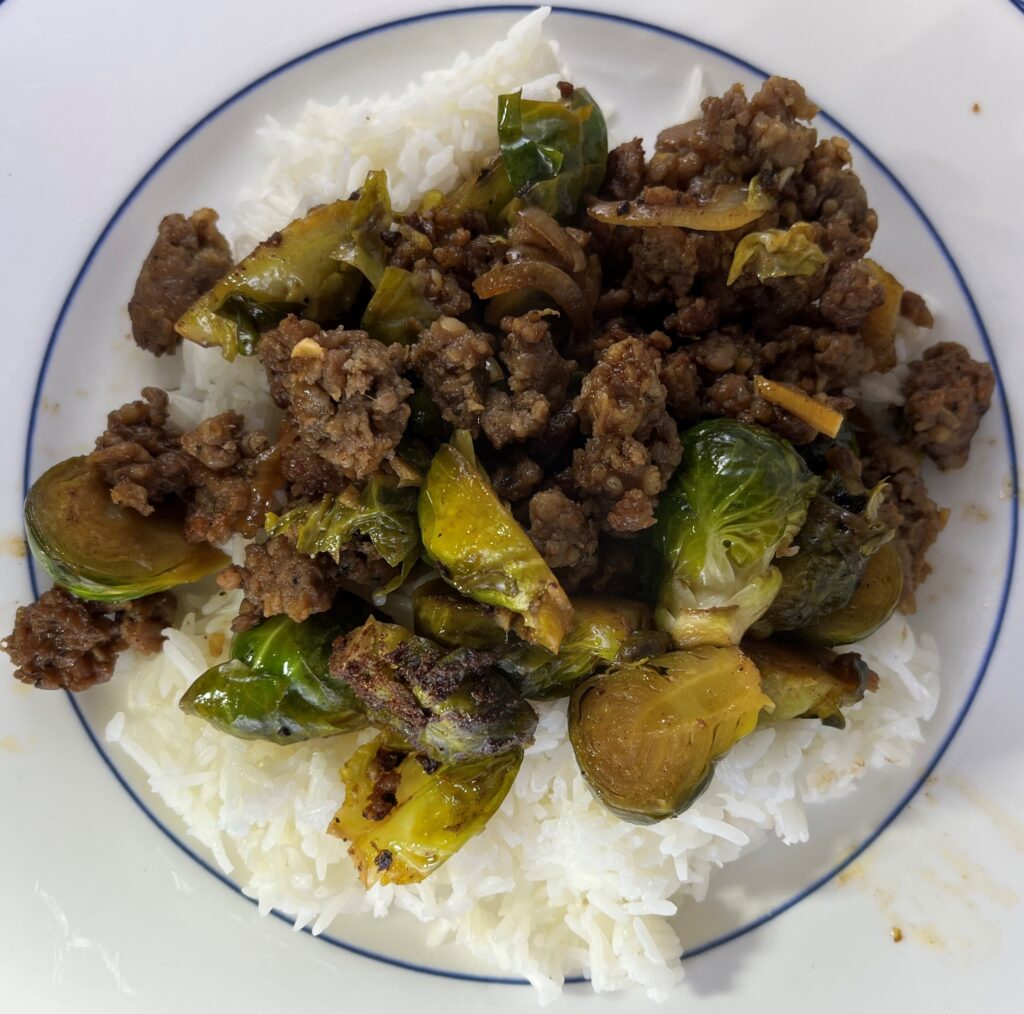 This is an adaptation of an idea in bonappetit.com and it made an easy and tasty midweek dinner. I chose it because Carol likes Brussels Sprouts, which are a main ingredient. In the original recipe, 2.25 tsp. of five-spice powder was added at the end. Carol is not a big fan of five-spice powder, so I only added it to my portion. I don't think it really contributed anything, so I have left it out of this recipe, which makes 4 servings and is done in less than 30 minutes.
1 Tbs. (or more) vegetable oil
1 lb. Italian sausage, with any casings removed
1 medium onion, thinly sliced
1 small jalapeno, chopped
4 cloves garlic, chopped
1 lb. Brussels sprouts, halved
2 Tbs. soy sauce
½ cup water
1 Tbs. sherry vinegar or red wine vinegar
Salt and pepper to taste
In a large skillet, heat the vegetable oil over medium heat. Add the sausage and cook until browned, breaking it up into small pieces. Put the cooked sausage in a bowl using a slotted spoon, and pour the fat in the pan into a small bowl.
Return 1 Tbs. of fat into the skillet and add the onion and jalapeno. Cook until softened, about 2 minutes. Add the garlic and cook about a minute. Put the cooked onion, jalapeno, and garlic in the bowl with the sausage.
Add 3 Tbs. of fat/oil to the skillet. Spread the brussels sprouts in the pan, maximizing the number with the cut side down. Cook without stirring for about 3 minutes to brown them. Then stir them, add the water and soy sauce, and add the meat, onions, jalapenos, and garlic on top of the brussels sprouts. Cover and cook until the brussels sprouts are cooked through, about 5 minutes. Stir in the vinegar, and check the seasoning.
Serve with steamed rice.