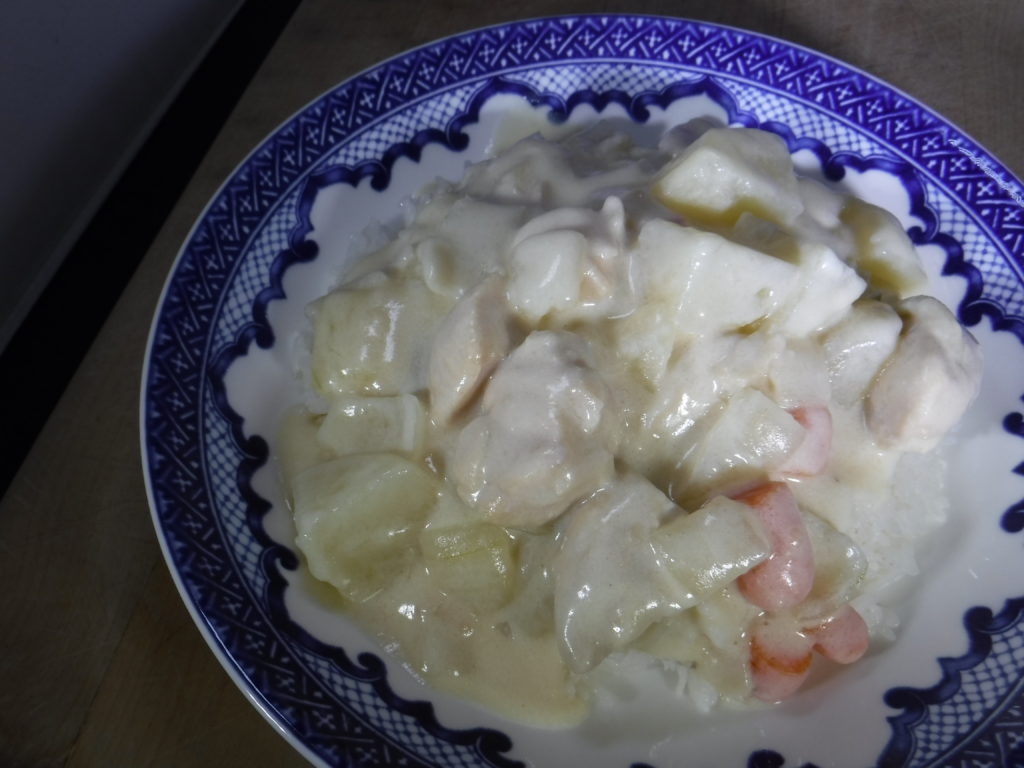 Chicken cream stew is an example of yoshoku, Japanese adaptations of Western food. It is a mild and tasty dish of chicken and vegetables in a milk-based white sauce. (Actually there is no cream in it.) The only uniquely Japanese ingredient is some white miso, which seemed to work behind the scenes to increase the umami of the dish. This is very child-friendly. This version is an adaptation from Ivan Orkin's The Gaijin Cookbook and will serve 4 with rice. In Japan it would be accompanied with pickled ginger on the side.
As shown by the photo, this is a very white dish. Everything should be cooked, and nothing should be browned.
1 lb. boneless chicken breast cut into 1 inch cubes
1-1/2 tsp. kosher salt
1 Tbs. vegetable oil
2 onions, cut in medium dice
1 large carrot, peeled and cut into ½ inch slices
2 Yukon Gold potatoes, peeled and cut into medium dice
5 Tbs. unsalted butter, cut into small pieces
1/3 cup all-purpose flour
3 cups whole milk
1 Tbs. white (shiro) miso
Salt to taste
Sprinkle the salt on the chicken breast pieces.
Heat the vegetable oil in a large pot over medium heat. When hot, add the onions and cook until translucent, stirring occasionally, about 5 minutes. Add the carrot and potatoes, and continue cooking another 3 minutes, stirring occasionally.
Add the chicken and cook until it is mostly white, about 3 minutes. Form a well in the middle of the pot and add the butter, melting it. Sprinkle the flour over the meat and vegetables, and cook, stirring constantly for about 1.5 minutes. The objective is to remove the raw taste from the flour, but not to brown it. Gradually add the milk, and stir to form a sauce, scraping any flour which has been stuck to the bottom of the pan.
In a small bowl, mix the miso with some of the liquid from the pot, and stir the mixture into the pot.  Bring to a simmer and then cover the pot and turn down as low as possible.  Stir every couple of minutes.  Cook for 10-15 minutes until the carrot and potato are tender.  Check seasoning. Serve over steamed rice.