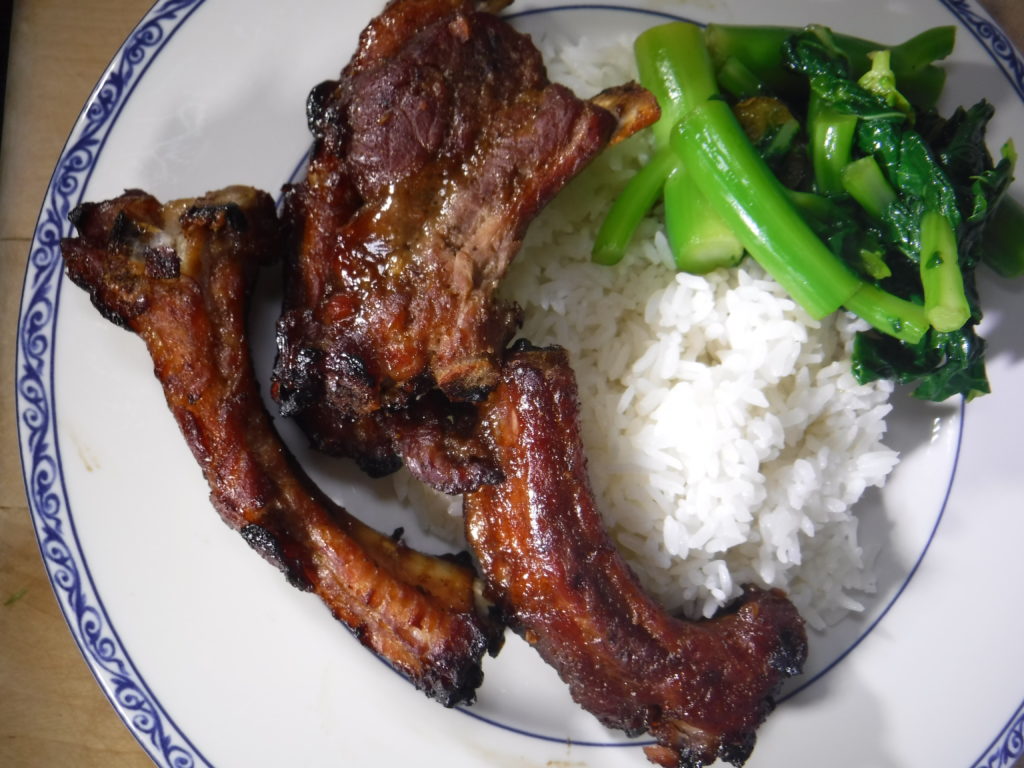 These roasted ribs are an adaptation of a recipe in Saveur magazine in 2008, which in turn was based on the Joyce Chen Cook Book from 1962. I left out the red food coloring from the original recipe as not necessary these days. The ribs took about 90 minutes to roast. 2.33 lbs. of ribs made a little over 3 servings. Very tasty.
~2 lbs. pork spare ribs
1/3 cup hoisin sauce
¼ cup soy sauce
3 Tbs. dry sherry
2 cloves garlic, finely chopped
2 Tbs. sugar
¼ tsp. Chinese 5 spice powder
Cut the pork spare ribs into individual ribs.
Mix together in a gallon ziplock baggie the hoisin, soy, sherry, garlic, sugar, and 5 spice powder. Add the cut ribs to the baggie. Squeeze out the air and massage the bag to coat the ribs with the marinade. Marinate for 1 hour at room temperature or longer in the refrigerator.
Preheat the oven to 350 degrees. Take a half sheet pan and line it with aluminum foil. Place a rack on top of the pan.
When ready to bake, drain the ribs, reserving the marinade, which will be used as a glaze. Spread the ribs on the rack, meaty side up. Add water to the sheet pan so that it is about half full and not touching the ribs. Bake for 35 minutes. Baste the ribs with the reserved marinade and turn them. Bake for another 35 minutes. Baste the ribs a second time with the reserved marinade and turn them. Bake for a final 20 minutes, at which time the ribs should be glazed, brown and tender.