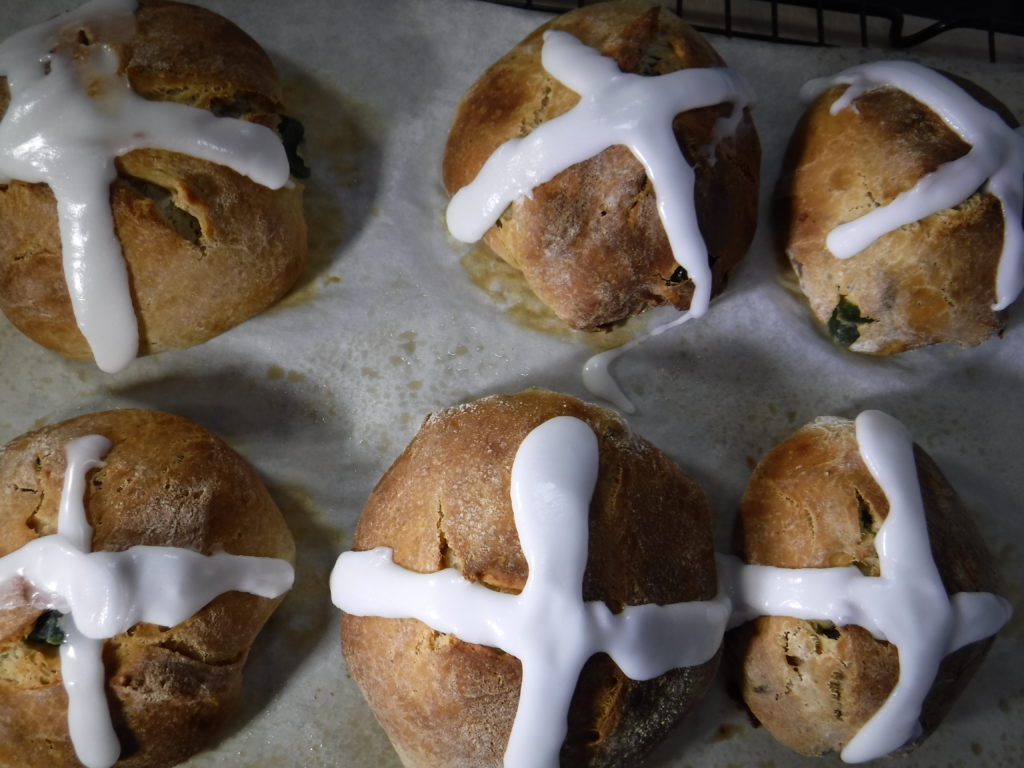 This is a traditional English bun for Easter. This version is an adaptation from Bernard Clayton's Complete Book of Small Breads. On Good Friday, I made the dough, gave it a first rise, and then split it in half. Half I formed into 6 rolls for Holy Saturday, and half I left in bulk, to form into rolls the afternoon of Holy Saturday. Both halves were stored in the refrigerator until baked in the morning of Holy Saturday or Easter.
Dough
¼ cup sugar
2-1/2 Tbs., melted butter
2 eggs separated
¾ cup whole milk, warmed
2-1/4 tsp. (1 package) dry yeast
2-1/2 cups (10.8 oz.) all-purpose flour, divided
1 tsp. salt
½ tsp. ground nutmeg
¼ tsp. ground cloves
½ cup raisins or currents
¼ cup chopped candied fruit
2 tsp. rum (optional)
Icing
1 cup confectioner's sugar
1 Tbs. whole milk
1 tsp. lemon juice
Put the raisins and candied fruit in a small bowl with the rum to soften for a few hours.
The afternoon before baking, make the dough.
In a large bowl, mix together the sugar, melted butter, egg yolks, warm milk, and yeast.
In a mixing bowl, mix together all but ~1/2 cup of the flour with the salt, nutmeg, and cloves. Mix in the wet ingredients, and then mix in the raisins and dried fruit with the soaking liquid. Beat the egg whites until frothy but not stiff, and fold them into the dough.
With the dough hook, knead the dough with the reserved ~1/2 cup of flour for about 8 minutes until it is an elastic dough. It will be relatively sticky.
Cover the dough and allow it to rise on the kitchen counter until doubled, about an hour. Divide it in 12 rolls. Place the rolls on baking parchment on a sheet tray. Spray with cooking spray, cover with plastic wrap, and place them in the refrigerator. (As stated in the introduction, it is possible to make half of the rolls one morning and half the next morning.)
The next morning, remove the buns from the refrigerator and preheat the oven to 375 degrees. Bake the buns for 20 minutes and then cool them on a wire rack.
Mix the icing ingredients together in a sandwich-sized ziplock baggie. Seal the bag and cut a small hole in one of the corners. When the rolls are close to room temperature, pipe a cross of icing on each roll.