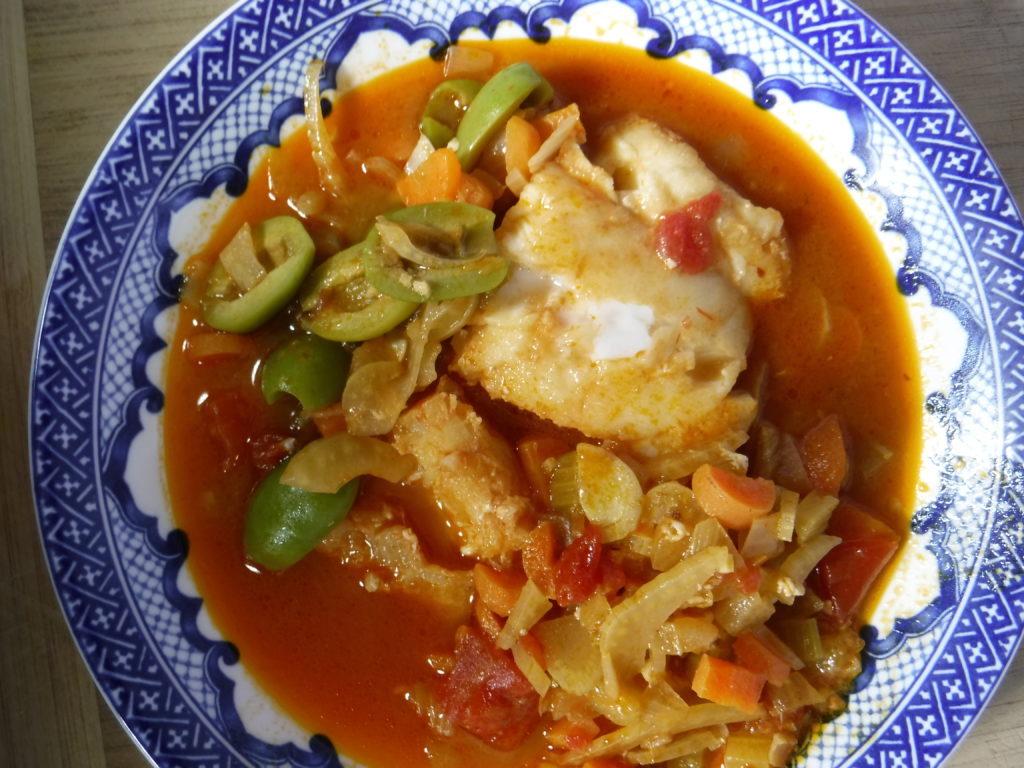 This fish stew goes very well with some crusty bread. The sauce can be made in advance and refrigerated or frozen. I made enough sauce for 4 servings, and froze half and made the stew for 2 servings. This is adapted from a recipe in SFGate which originally appeared in the Washington Post.
Amounts shown below are for 4 servings.
1 medium fennel bulb
1 well scrubbed navel orange
2 Tbs. olive oil
1 medium onion, diced
1 medium carrot, peeled and diced
2 ribs celery, diced
3 cloves garlic, minced
1 Tbs. tomato paste
14.5 oz. can no-salt-added diced tomatoes, including the juice
3 cups clam broth (or fish stock)
1 bay leaf
½ tsp. kosher salt
1.4 tsp. crushed red pepper flakes
2/3 cup pitted green olives, sliced
1-1/2 lbs. skinless cod fillets, cut into pieces
With a peeler, cut large sections of orange peel. Juice one half of the orange.
Cut the stalks from the fennel bulb and thinly slice the bulb, discarding the core and any other tough parts.
Heat the oil in a large skillet, and when hot, stir in the onions, carrot and celery. Cook for about 5 minutes until softened. Add the chopped fennel and garlic and cook another 30 seconds. Then stir in the tomato paste and cook another 30 seconds. Add the tomatoes with their juice, the orange zest pieces, the clam broth , the bay leaf, salt, and red pepper flakes. Bring to a boil, reduce to a simmer, cover and cook for 25 minutes. Remove the orange zest.
At this point the sauce can be refrigerated or frozen for future use.
When ready to cook, heat the sauce to a boil, add the olives and cod, and reduce to a simmer and cover. Cook about 5 minutes, or until the fish is opaque and flakes easily. Stir in 3 Tbs. of the orange juice. Serve with a crusty bread.