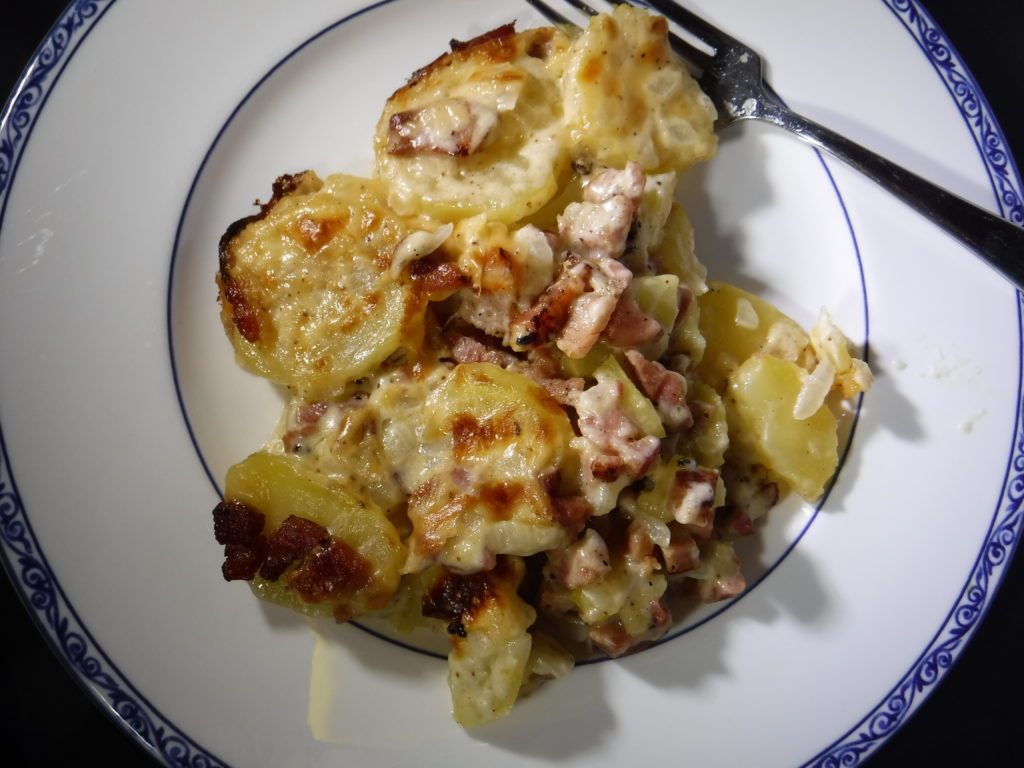 Carol challenged me to make a scalloped potato dish which has enough ham to be a main course vs. a side dish. This version was adapted from a recipe in Maria Luisa Scott & Jack Denton Scott's The Meat and Potatoes Cookbook, with twice as much ham and less salt to compensate. This made 6 servings.
The recipe calls for celery salt, which I did not have. I made it by grinding together in a mortar 1 part celery seed and 2 parts salt.
4 Tbs. (1/4 cup) unsalted butter
2 medium sized white onions, diced
3 Tbs. all-purpose flour
1 tsp. celery salt
½ tsp. freshly ground black pepper
2 cups half-and-half (or 1 cup whole milk and 1 cup cream)
1 cup grated sharp cheese
2 lbs. potatoes, peeled and sliced ¼ inch thick
4 cups diced ham
Preheat the oven to 375 degrees.
In a skillet over medium heat, melt the butter and saute the onions. When translucent, add the flour, celery salt, and black pepper and cook for another minute or two. Slowly whisk in the half-and-half and stir until it is well incorporated and has thickened slightly. Remove from the heat and stir in the cheese.
Grease a lasagna pan. Cover the bottom with a layer of potatoes and spoon some of the cream sauce and ham over the potato layer. Repeat until all of the potatoes are used us, reserving some of the cream sauce for the top. Cover the pan with aluminum foil and bake for 45 minutes. Remove the foil and bake for another 20 minutes, or until the top is nicely browned and the potatoes are cooked through.