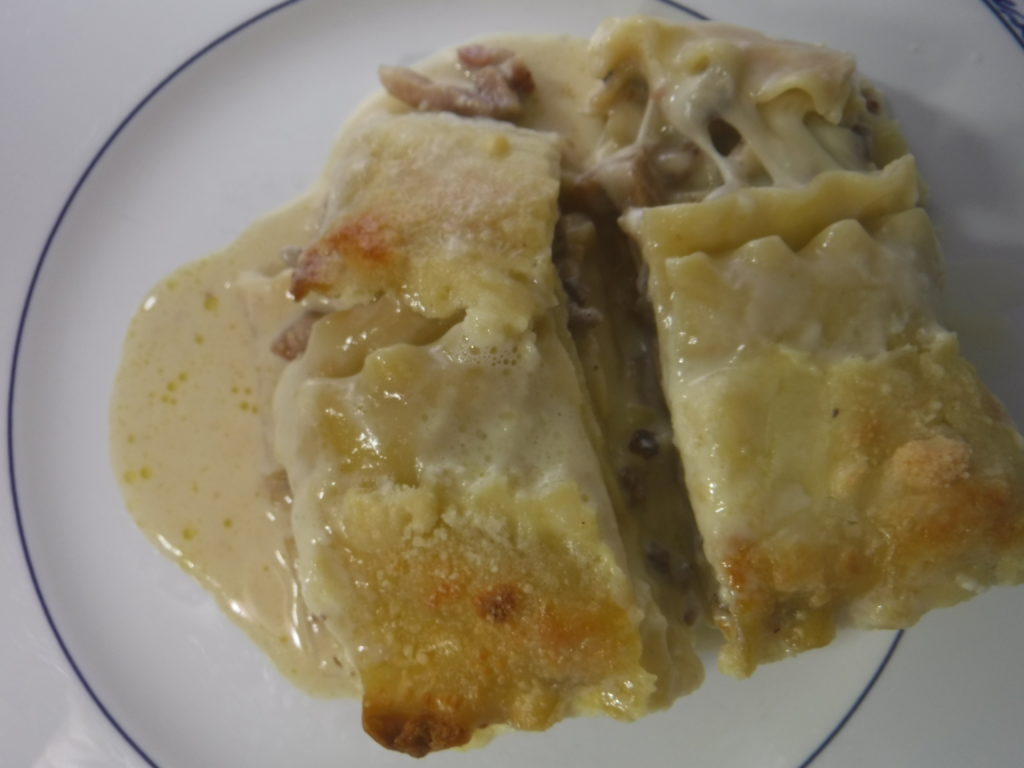 This recipe for a white lasagna with ham and mushrooms and a béchamel sauce is a bit of a work in progress. Many years ago, we clipped out a recipe for a white lasagna which was the signature dish of Ristorante Taverno Del Lupo in Umbria. I was looking around for a use for a ham which Wegmann's sold at a give-away price, and remembered this recipe. We made it, more or less per the original recipe and thought it was OK but too dry. We then tried to add a béchamel sauce to it, and re-bake it some, and that was much better. This recipe is how I think that would go if the béchamel was part of the dish from the beginning.
1 lb. lasagna noodles, cooked per package directions
1 lb. ham, diced
1 lb. mushrooms, chopped
1 clove garlic, finely chopped
2 Tbs. olive oil, plus additional for greasing the pan
1 lb. mozzarella, grated
6 Tbs. butter
3/8 cup flour
3 cups hot milk
3 large eggs
Salt and pepper to taste
Grated parmesan
Cook the mushrooms with the garlic in the olive oil until they have released, and re-absorbed their juices, and are nicely browned. Set aside to cool.
Make the béchamel sauce by first melting the butter in a medium saucepan. Add the flour and whisk into the melted butter. Cook for 5 minutes until light brown colored. Slowly whisk in the hot milk until smooth. Put the eggs in the bowl of a food processor, and process until foamy. With the motor running, slowly add the milk and flour mixture until well incorporated. Add salt and pepper to taste (around ½ tsp. of salt.)
Cook the lasagna noodles per the package instructions.
Preheat the oven to 350 degrees.
Grease a lasagna pan and count how many noodles there are. Three noodles will be used on each layer, so if there are 12 noodles, there will be 4 layers. Put a layer of noodles on the bottom of the pan. Spread a proportion of the ham, the mushrooms, the mozzarella, and a ladle-full of the béchamel. Add the next layer of noodles, and repeat spreading the ham, mushrooms, mozzarella, and béchamel. Repeat until all the noodles are used, reserving some of the béchamel to spread on the top layer of the noodles. Sprinkle grated parmesan on top. Bake for about 30 minutes until the béchamel is set and the lasagna is golden brown.
Allow to rest for 5 minutes and then serve.