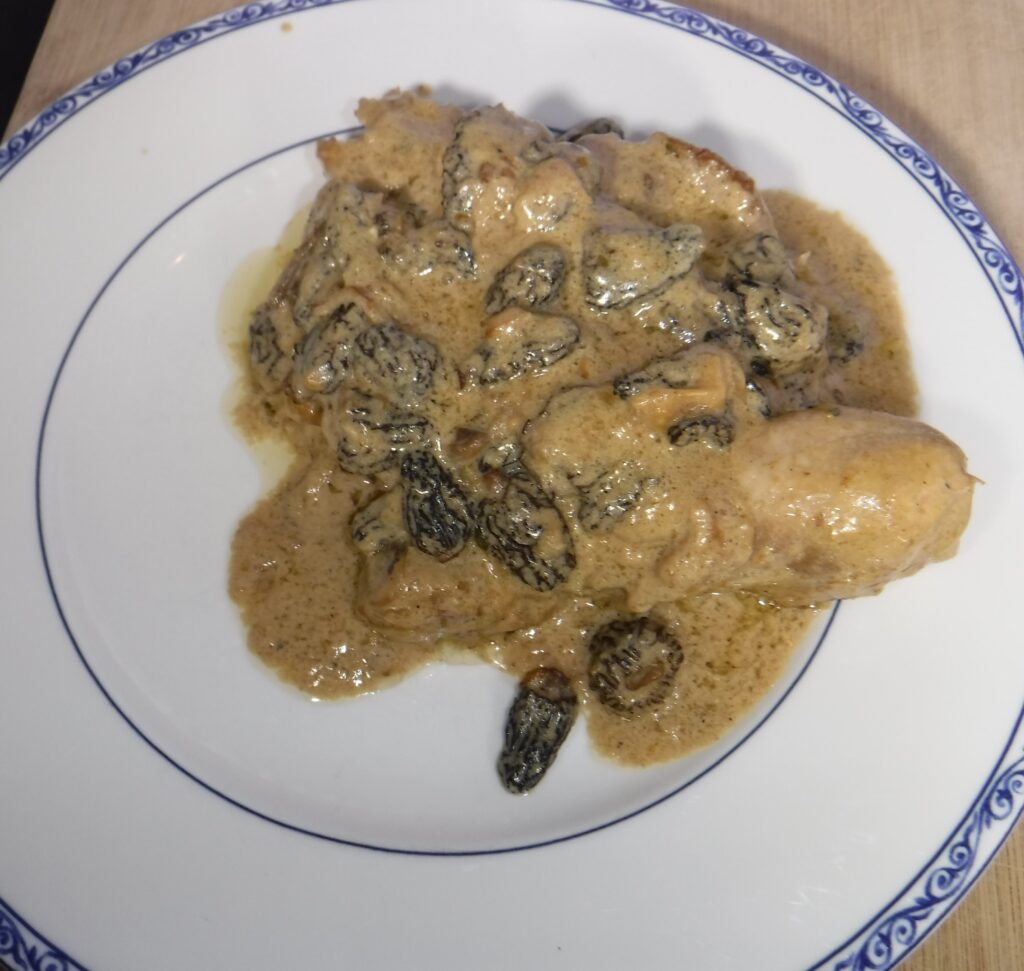 This is an adaptation of a recipe in Saveur of a traditional dish from the Jura region in eastern France. It is made with an unusual local wine (vin jaune de Jura) which is similar to a lower alcohol fino sherry. I therefore substituted fino sherry which is easy to get in Richmond. The recipe also calls for dried morel mushrooms, which are quite expensive. I was able to get them at Wegmans for ~$20 for the recipe. I suspect the recipe would be quite good with other mushrooms. This makes 4 good servings and will take about 2 hours.
1 oz. dried morels
¼ cup + 1 Tbs. all-purpose flour, divided
4 Tbs. unsalted butter, divided
3-4 lb. whole chicken cut into 8 pieces
1 large shallot, chopped
1 large garlic clove, chopped
2 cups fino sherry, divided
5 sprigs of fresh thyme
1 large bay leaf
8 oz. sour creame
Salt and pepper to taste
Soak the dried morels in a cup of hot water until fully rehydrated. Strain the liquid through a coffee filter and reserve.
Put the chicken pieces, ¼ cup of flour, and a sprinkling of salt and pepper in a large bowl and toss to coat the chicken.
Heat a large Dutch oven over medium-high heat. Add 3 Tbs. of the butter. Cook the chicken in two batches, until well browned, starting skin-side down. Remove the cooked chicken to a plate. Add the shallot and garlic and cook until softened, about 3-4 minutes, scraping the bottom of the pan. Add the drained morels and cook for another minute. Add 1.5 cups of the fino sherry and the mushroom liquid and scrap the bottom to fully dissolve the frond. Return the chicken to the pot, add the thyme and bay leaf, and reduce the temperature to low, cover the pot and simmer until the chicken is very tender, about 40-50 minutes.
Return the chicken pieces to a plate. Increase the heat and reduce the liquid by about a third. Check for seasoning.
Mash together in a small bowl the remaining Tbs. of flour and butter. Add to the Dutch oven and stir until the liquid is thickened, about 3 minutes. Add another ¼ cup of sherry, the sour cream, and the chicken. Cook for about 10 minutes, until the sauce coats a spoon. Remove and discard the thyme and bay leaf. Stir in the last ¼ cup of sherry and cook for about another minute before serving. (This last bit of wine is supposed to stand out, so do not cook it too long.) Check for seasoning.
Serve with crusty bread, noodles or rice.