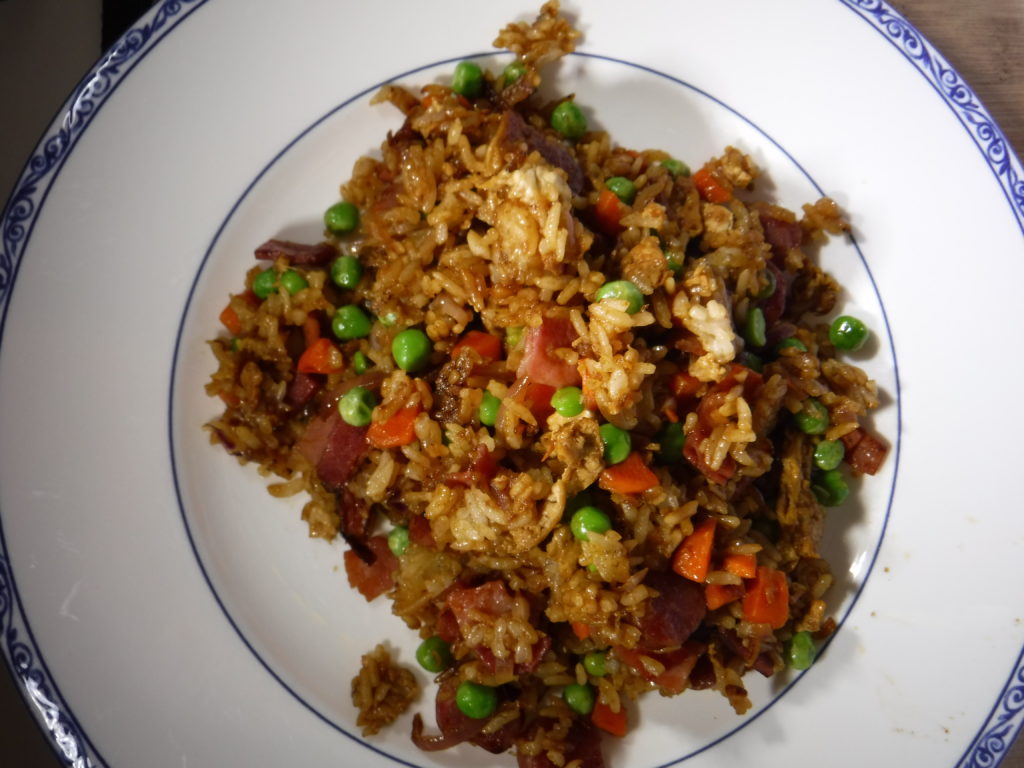 This easy version of fried rice is adapted from Serious Eats, one of my favorite sources of recipes. It makes 2 generous servings. A key part to the recipe is to have a large hot pan in which to fry the rice and then the other ingredients. Before cooking, have all the ingredients lined up on the counter. Like all stir fries, this goes very quickly once it starts. Break the rice into small lumps or individual grains before cooking. Mix together in a bowl the sauces and sesame oil. Have an extra bowl handy.
2 cups cooked white rice
2 Tbs. vegetable oil, divided
1 small onion, finely chopped (~4 oz.)
1 carrot, peeled and diced (~3 oz.)
2 scallions, finely chopped
2 medium cloves garlic, finely chopped
6 oz. cooked meat, diced (I used 3 oz. Chinese sausage and 3 oz. ham)
1 tsp. soy sauce
1 tsp. oyster sauce
1 tsp. toasted sesame oil
1 tsp. gochuang (optional)
1 large egg, beaten and seasoned with salt and pepper
4 oz. frozen peas
Heat ½ Tbs. of oil until very hot in a large frying pan or wok. Add half of the rice, and cook it, stirring and tossing until the rice is golden, about 3 minutes. Remove this first batch of rice to a bowl, and repeat with another ½ Tbs. of oil and the remaining rice.
Return the rice to the pan, and push it to the sides. Add another ½ Tbs. of oil to the center of the pan, and when hot add the onion, carrot, scallions, garlic, and meat. Cook until the vegetables are softened, 1 or 2 minutes. Add the sauces and sesame oil and toss to coat evenly. Push all the ingredients to the edge of the pan. Add the last ½ Tbs. of oil to the center of the pan. When hot, add the egg, and scramble it. When the egg is cooked, mix it with the other ingredients. Add the frozen peas, and toss and stir until the peas are thawed and everything is well mixed. Serve immediately.