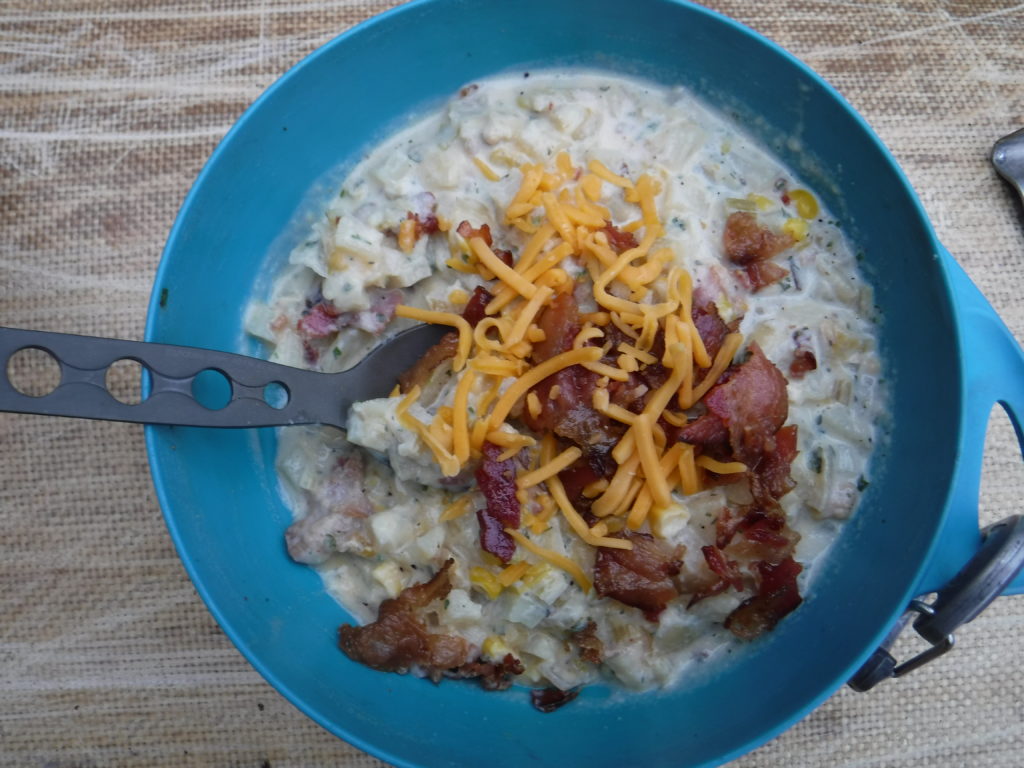 This recipe is courtesy of Carol, who likes potato soups and wanted to develop a recipe suitable for our annual trip to the Boundary Waters Canoe Area. The recipe below was sized for our 7 person crew, and can be scaled up or down. We kept the bacon separate since one member of the crew is a semi-vegetarian, but it could easily have been fried up as the first thing in the cooking pot at camp.
Serves 7 (2 cups each)    to make 14 cups or 3.5 quarts  660 calories / serving (with cheese and bacon bits)
2 T Fruit Fresh Produce (Vitamin C powder)
3 lbs. russet potatoes (Red waxy potatoes taste like French fries when rehydrated.  Not good for this purpose.)
18 oz. onion
12 oz. celery
6 large garlic cloves
1 cup corn
2 T oil
1.5 Cups dried shiitake mushrooms (21 grams) chopped and bagged.
4 tsp. Better Than Bouillon Chicken Broth or Bouillon cubes to make 1 quart.
¾ cup potato flakes divided into ½ cup and ¼ cup baggies.
¾ cup Nido milk powder placed in baggie.
3 T sour cream powder placed in baggie.
2 T dried chives placed in baggie (I actually used 3).
6 oz. package of Hormel Real Bacon Bits
8 oz. package of shredded cheddar cheese
AT HOME
Peel and dice the russet potatoes into ¼ cubes. Add potatoes and Fresh Produce powder to enough water to cover. Wait 5 minutes. Bring a pot of water to a boil. Add potatoes and cook for 5-6 minutes. Drain, cool and dehydrate.
Cut onion and celery into ¼ in cubes and sauté with the corn, crushed garlic and bouillon in 2 T oil. Cook until the onion is just transparent. Cool and dehydrate.
Chop dehydrated mushrooms into small pieces.
Measure out potato flakes, milk powder, sour cream powder and chives in separate bags.
IN CAMP
Bring 1 ½ quarts of water to a boil and add dried vegetables. Cover and turn off heat. Wait 30 minutes for vegetables to rehydrate.
Bring back to a simmer and cook for 10 minutes.
Add milk powder with enough additional water to make 3.5 quarts. Cook long enough to bring soup to boil.
Add sour cream powder and half the potato flakes. Stir and wait a few minutes to thicken. Add more potato flakes if necessary. Stir in dried chives. Ladle into bowls and serve hot.
Add ¼ cup bacon bits and ¼ cup shredded cheese to each serving as desired.