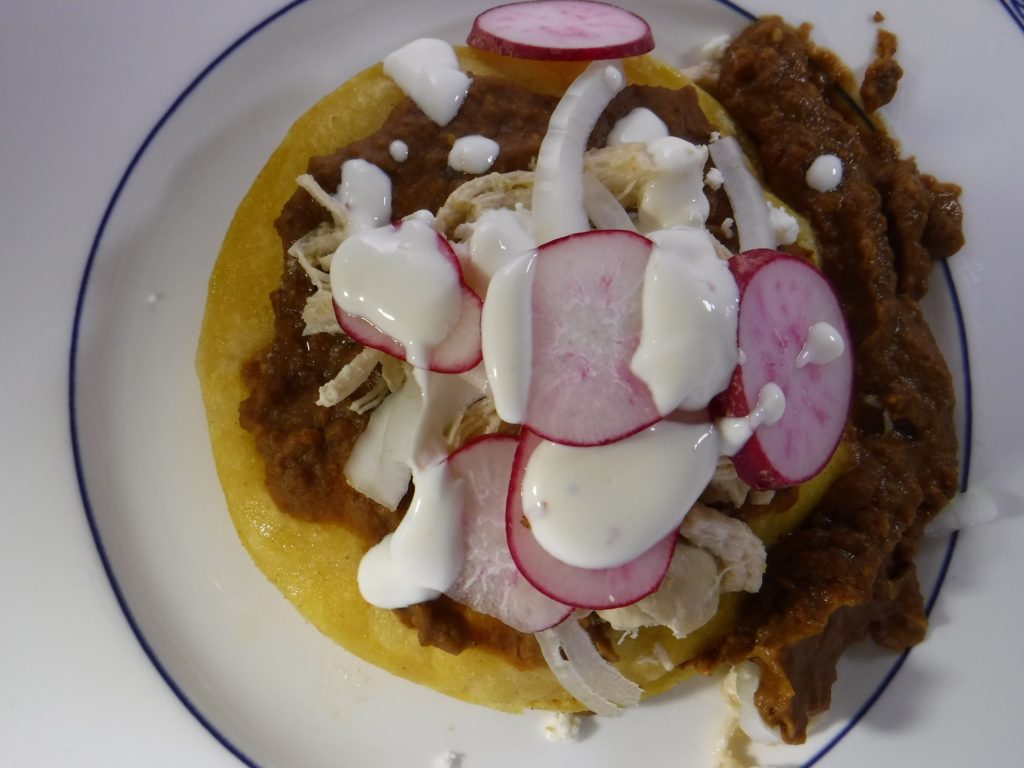 Enfrijoladas are a culinary cousin to enchiladas, in which the sauce for the tortillas is based on beans rather than on vegetables. This version is adapted from a recipe on www.weareneverfull.com, which was in turn adapted from Rick Bayless. I made two primary changes. First, since I had a lot of leftover refried beans, I used them rather than starting with a can of beans. Second, I used the New Mexico practice of stacking rather than rolling the enchiladas, since that was easier to handle. This is how we made three servings last night:
½ lb. Mexican chorizo
2 cloves garlic, finely chopped
2 cups refried beans
1-2 cups reduced sodium chicken broth
2 canned chipotle chiles
9 corn tortillas
½ lb. stewed chicken breasts (from Stewed Chicken Breast )
4 oz. Queso Fresco (fresh Mexican cheese)
¼ onion, thinly sliced
3 radishes, thinly sliced
¼ cup Mexican crema
1 Tbs. fresh lime juice
1 Tbs. olive oil
Fry the chorizo in a large skillet, breaking up the pieces as they brown. Add the garlic and fry it with the chorizo. When the chorizo is browned, pour off any excess fat, and add the beans, the chipotles, and about a cup of chicken broth. Mix well. Put the skillet contents in the bowl of a food processor or a blender, and whirl until smooth. Return the bean mixture to the skillet. Thin with more chicken broth until it has the consistency of a nice sauce. Keep warm.
Warm up the stewed chicken breasts. Mix together the crema and lime juice. Have set up in a row the skillet with the bean sauce, the plates tortillas, chicken, cheese, onion, radish, and crema.
To assemble the enfrijoladas, heat the oil in a large skillet over medium-high heat. Cook the torillas one at a time in the skillet, turning them once. They are each done when lightly brown and puffy. Put a spoonful of the bean mixture on a plate. Cover it with a cooked tortilla, some more bean mixture, some chicken and some cheese. Repeat with a second cooked tortilla, and then with a third, adding additional oil to the skillet if needed. Top the stack of three tortillas with the sliced onion and radishes and a drizzle of the crema. Repeat with the other plates. Spoon additional bean sauce on the side of the stack of tortillas. Serve immediately.