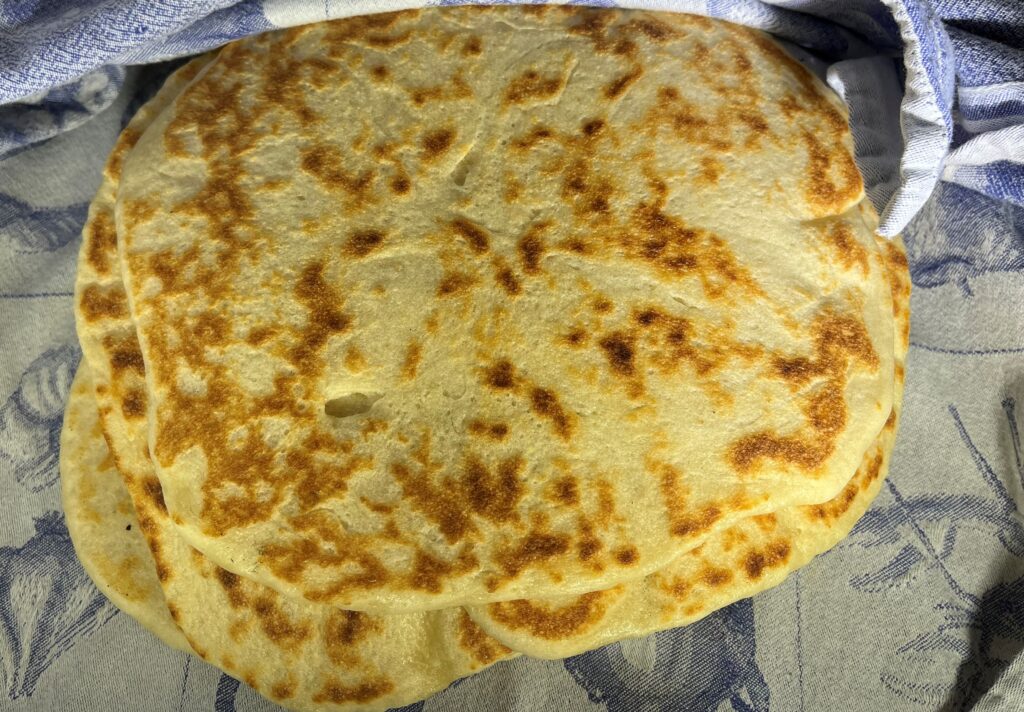 Usually when I make pitas, I am making a very lean bread. This is the opposite style of flatbread since it is enriched with milk, yogurt and olive oil. This version is adapted from a recipe in a UK YouTube channel "Meliz Cooks". It makes 6 flatbreads and takes about 2.5 hours. The flatbreads are cooked one by one in a large skillet, although they could also be baked in the oven on a baking steel or stone.
I made this with a 50/50 mixture of Flourish high fiber flour and KAF high gluten flour, and increased the water accordingly by 50 ml. The original recipe used bread flour and had 125 ml. of water vs. the 175 ml. in the recipe below.
175 ml. lukewarm water
100 ml. lukewarm whole milk
1 tsp. sugar
7 g. (one packet) active dry yeast
250 g. Flourish high fiber flour
250 g. KAF high gluten flour
1 tsp. salt
100 g. whole milk thick yogurt (such as Greek)
2 Tbs. olive oil (plus oil for coating the surface.
In a mixing bowl, mix together the water, milk, sugar, and yeast. Allow to bloom for 5 minutes to activate the yeast. Add half of the flour, whisk it in and allow it to rest for 15 minutes to start the development of a yeast colony in the dough. Add the remaining flour, the salt, yogurt, and olive oil. Mix with a dough whisk to form a dough. Knead by hand or with the dough hook of a stand mixer until a smooth dough is formed. Put the dough in a doubling container and coat lightly with olive oil. Allow to ferment for 1-1.5 hours until doubled in size.
When doubled, divide the dough into 6 pieces and form into balls. Cover and allow to proof another 20-30 minutes until they have nearly doubled in size. Because of the oil on the surface of the dough, no flour should be necessary.
Line a baking sheet with a clean kitchen towel.
Heat a large cast iron skillet over medium heat. On a silicon mat, roll out one of the dough balls into a 9 inch circle. Put the rolled-out dough in the skillet. Cook about 2 minutes on the first side, flip it, and cook about 45 seconds on the second side. Put the cooked bread in the towel lined baking sheet to keep warm while you cook the other flatbreads. You should be able to roll out the next flatbread while one is cooking in the skillet.
Serve with a Middle-Eastern meal and/or dips.