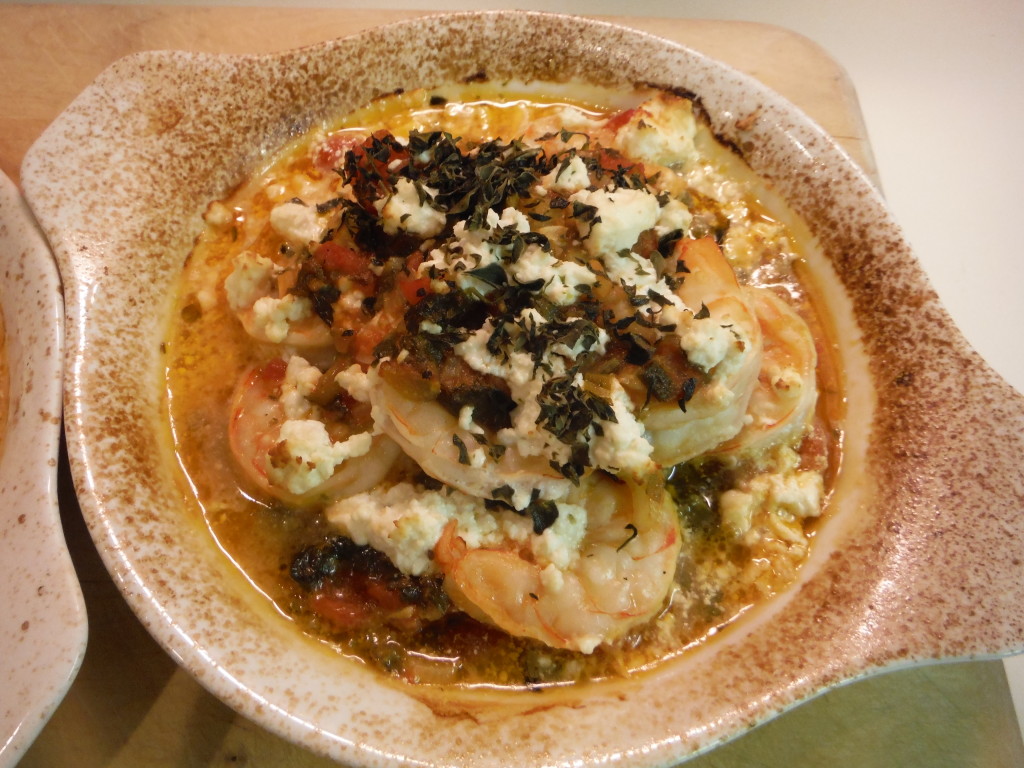 This baked shrimp and feta dish is a family favorite.  The recipe is an adaptation of a recipe in an excellent small cookbook which Georgia Lyras wrote for Krinos Foods in 1985. It can be baked in one large dish, or as shown in the photo in individual baking dishes.
Four Servings
1-1/2 lbs. shrimp
3 Tbs. lemon juice
¼ cup extra virgin olive oil
1 cup sliced scallions
½ cup chopped celery
½ cup chopped parsley
2 cloves garlic, crushed
2 cups (1 small can) petite diced tomatoes
½ cup chicken broth
½ cup white wine
½ tsp dried oregano
1 cup crumbled feta cheese
Salt and pepper to taste
Preheat the oven to 400 degrees.
Wash, peel, and devein the shrimp. Dry them with a paper towel and place in a bowl. Sprinkle with the lemon juice and mix.
Put the olive oil in a saute pan and saute the scallions, celery, parsley, and garlic until the scallions are tender. Add the tomatoes, bring to a boil, and then simmer for 20 minutes. Add the chicken broth and white wine. Stir well and simmer another 5 minutes. Check for seasoning.
Place half of the sauce in the bottom of a shallow baking dish. Add the shrimp. Add the other half of the sauce. Sprinkle with the oregano and then with the feta cheese. Bake for 15 minutes, or until the cheese melts.
Serve with crusty bread, a salad, and white wine.