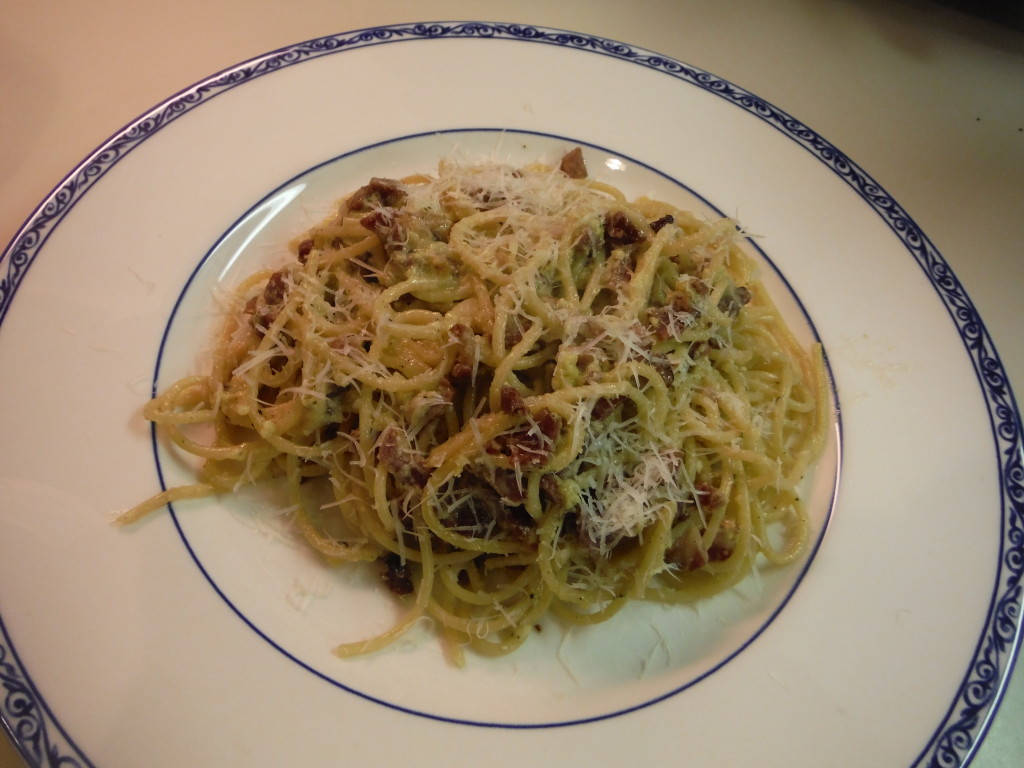 Spaghetti Carbonara
This is an adaptation of a recipe in the Wall St. Journal scaled down to 2 people. This Italian classic is quick and easy and makes a good weekday dinner. One difference from the traditional recipe is that I use bacon vs. pancella, since I like the smoky taste of bacon and it is more readily available. Like all simple dishes, good quality ingredients really shine through in this dish.  I had available homemade cottage bacon (see the post), and that worked very well in this dish.
2 tsp. olive oil
3 oz. good quality bacon, chopped
1 egg
1 egg yolk
1/3 cup parmesan or romano cheese (plus more for serving)
5 oz. spaghetti
2 tsp. salt
Freshly ground black pepper.
Put the 2 tsp. of salt in pot of water and bring to a boil.
Mix together in a bowl the egg, egg yolk, cheese, and a generous amount of black pepper.
In a large frying pan saute the bacon in the olive oil until lightly crisp. Leave in the pan.
Cook the spaghetti until just shy of al dente. Save a cup of pasta water. Drain the pasta and add it to the frying pan with the bacon and cook stirring frequently until the pasta is hot and al dente. Remove the pan from the heat and stir in the egg and cheese mixture so that the pasta is evenly coated. Add some of the pasta water as needed to form a creamy sauce. Serve with more grated cheese and black pepper.