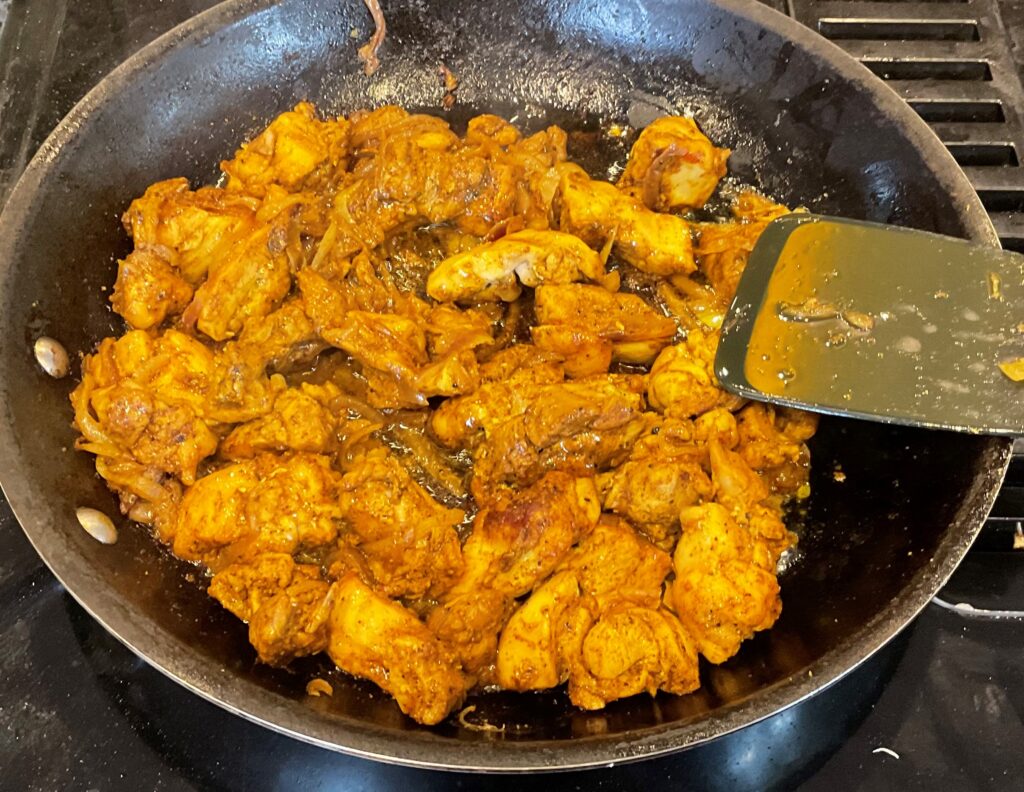 "Jerusalem Mixed Grill" is a popular Israeli street food with is made from a variety of meats, including offal. www.177milkstreet.com modified this dish to American tastes and kitchens so that it can be made with chicken thighs in a non-stick skillet on a stovetop. This is my adaptation of their approach. I served it with flour tortillas (which I had) rather than with the more traditional pitas (which I did not have). This makes 4 servings and is quick enough to be a midweek dinner. I served it with Israeli Lemony Cabbage Salad .
¼ cup white vinegar
½ tsp. sugar
Kosher salt and black pepper
1 large red onion, thinly sliced and divided
1/3 cup tahini
4 Tbs. lemon juice, divided
3 Tbs. olive oil, divided
1-1/2 tsp. ground coriander
1 tsp. ground allspice
1 tsp. ground turmeric
¾ tsp. ground cinnamon
2 lbs. skinless, boneless chicken thighs, cut into 1-1/2 inch pieces
Hot sauce (optional)
In a small bowl mix together the white vinegar, sugar and ¼ tsp. salt until dissolved. Add half of the sliced red onions and stir well to coat the onions. Set aside.
In another small bowl mix together the tahini with 2 Tbs. of lemon juice. Then mix in 6 Tbs. of water. Add salt and pepper to taste.
In a medium bowl put 2 Tbs. of the olive oil, the spices, the chicken and the remaining sliced onions. Stir well to coat the chicken and onions.
Heat a large skillet over medium-high heat and add the remaining Tbs. of olive oil. When almost smoking add the chicken and onions. Cook for about 12 minutes until the chicken is fully cooked through. Stir only every 2-3 minutes so that the chicken has an opportunity to brown nicely.
Off heat, sprinkle with the remaining 2 Tbs. of lemon juice and some of the tahini sauce.
Serve with the pickled onions, more tahini and optional hot sauce on pitas or flour tortillas.