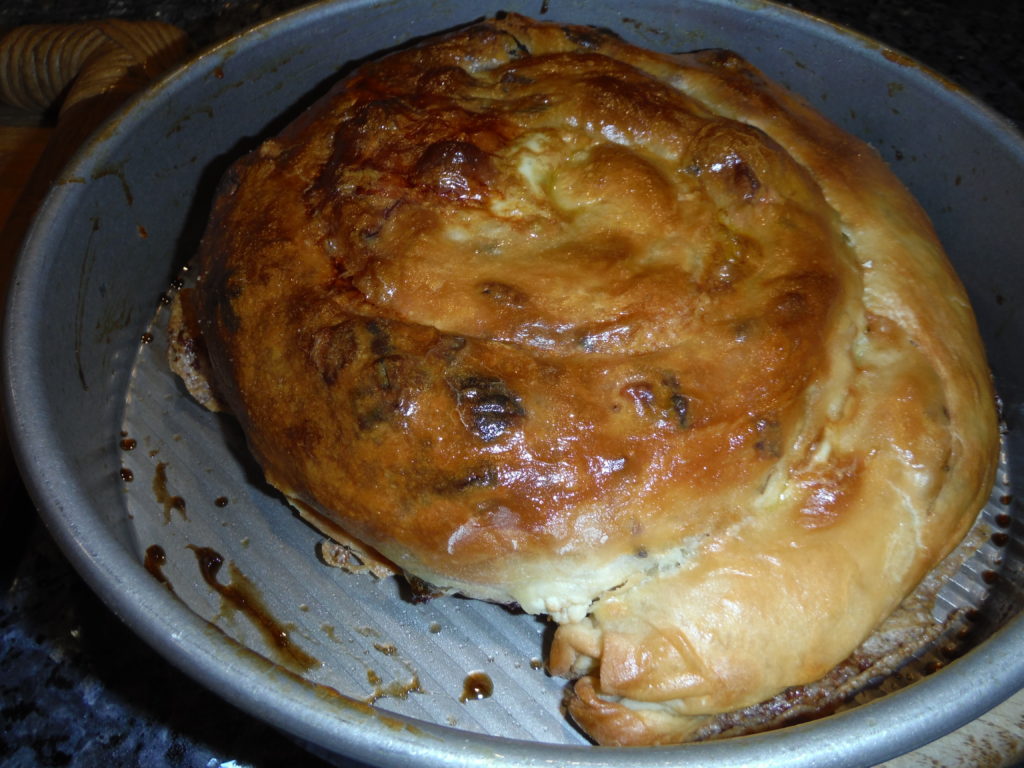 In Olia Hercules' Mamushka: A Cookbook on Ukrainian and Eastern European cooking, there is a very enticing set of photographs and recipe for a large spiral filled with feta cheese. I have now made this twice, and have basically figured out what to do. When done right, the result is a flaky filled bread, like a giant spanakopita.  I think this is also great practice for anyone who wants to make strudel, since that also involves being able to handle and stretch out pastry dough into a large, thin sheet. The one major change I made to the original recipe was to add a bit of variety to a filling which was only cheese ("syr", or since that was not available, feta). Another thing for anyone using the original cookbook to be aware of is, that in the original recipe, the flour measurements by weight are significantly more than the measurements by volume. I did not like the results of my first attempt by weight (dough too dry), and this recipe is therefore by volume, which worked much better.
2 eggs, lightly beaten, divided
¾ cup warm water
2-1/3 cups all purpose flour
5 Tbs. sunflower oil
2 scallions, chopped
5 oz. ham, chopped
¼ cup parsley, chopped
7 oz. feta cheese, crumbled
Cooking spray
Mix one of the beaten eggs with the warm water, and then mix the liquids with the flour to form a smooth dough. I used the paddle attachment of a Kitchen Aid mixer. Put in a bowl, cover with plastic wrap, and let rest in a refrigerator for at least 30 minutes.
Heat oven to 400 degrees. Grease a cake pan with cooking spray.
Make the filling: Put one Tbs. of oil in a frying pan and add the ham, scallions, and parsley. Cook over medium heat for around five minutes until the scallions and parsley have sweated some of their moisture. Allow to cool and then mix with the crumbled feta.
Divide the dough into two pieces, and on a well-floured surface, such as a large pastry cloth, roll each half into a disk about 24 inches in diameter. Then with well-floured hands, and no sharp objects (watches, rings, etc.) lift up the dough from underneath, and use its own weight to help stretch it until it is about 36 inches in diameter. Thinner is better. It is OK if there are a few tears.
Put disk back on the well-floured surface.
Brush the first disk with 2 Tbs. of oil,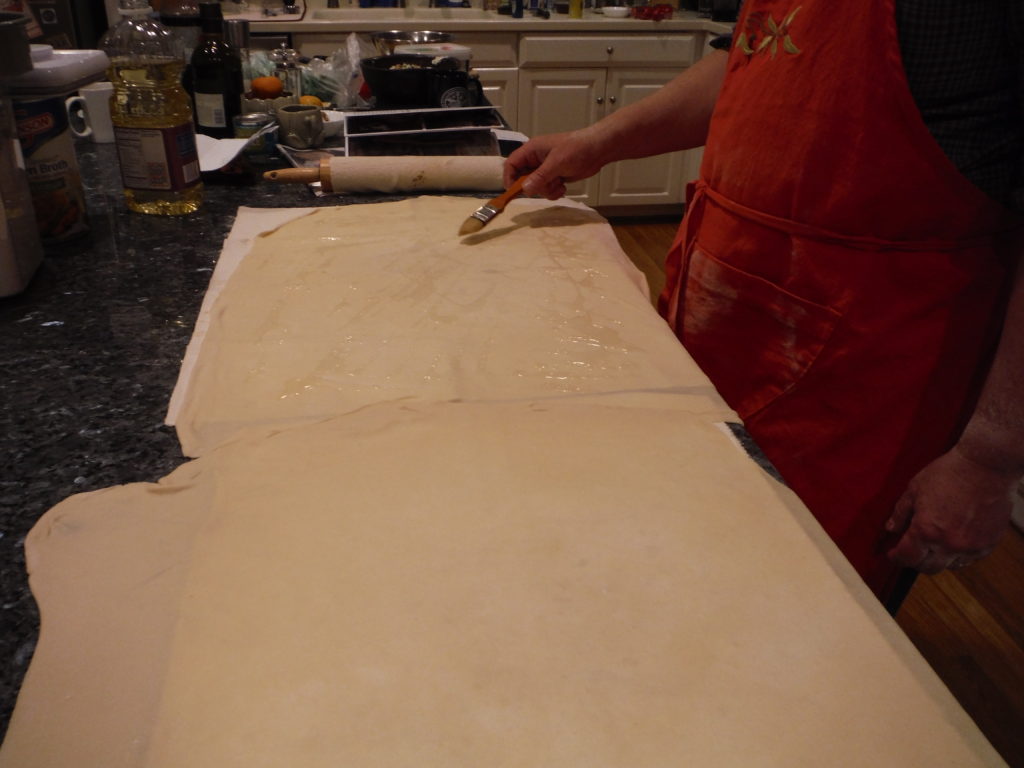 and spread with half of the filling.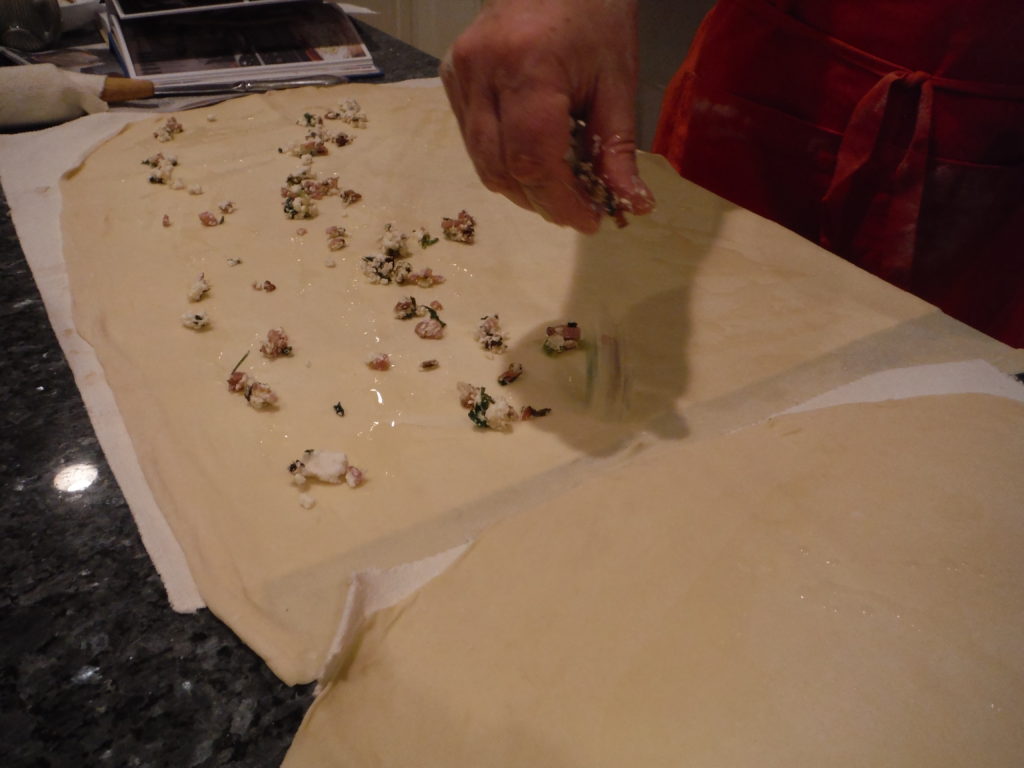 Spread the other disk with 2 Tbs. of oil and put it on top of the first disk. Cover it with the rest of the filling.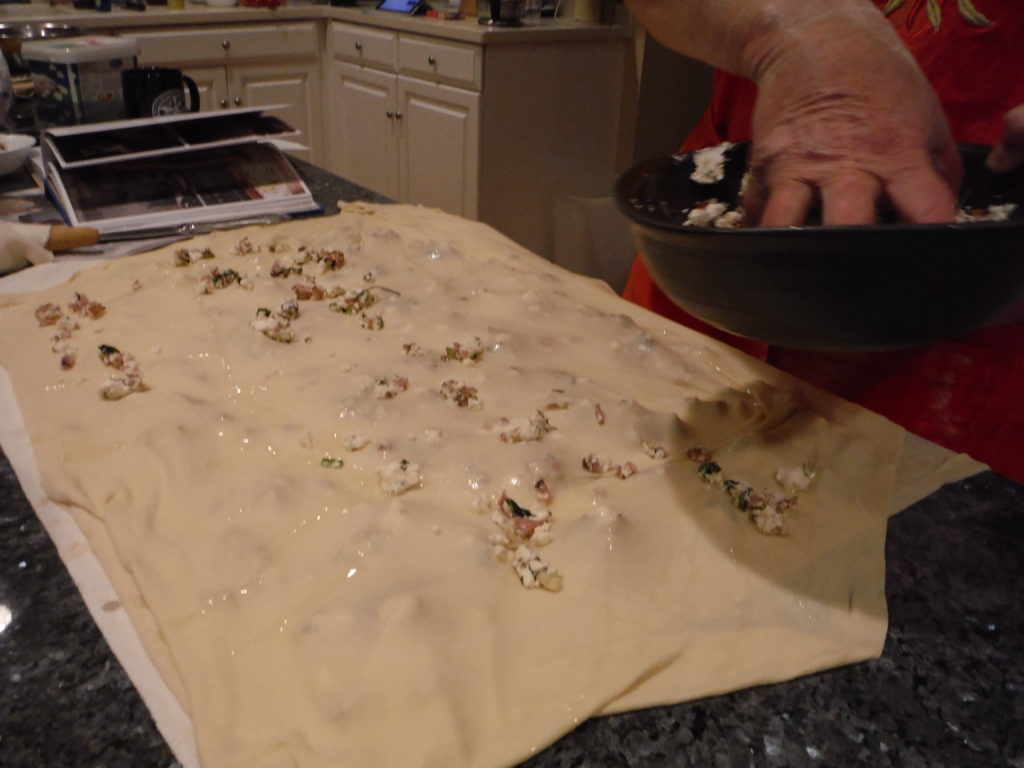 Roll the filled disks into a long tube. This is easy if the dough is on a pastry cloth.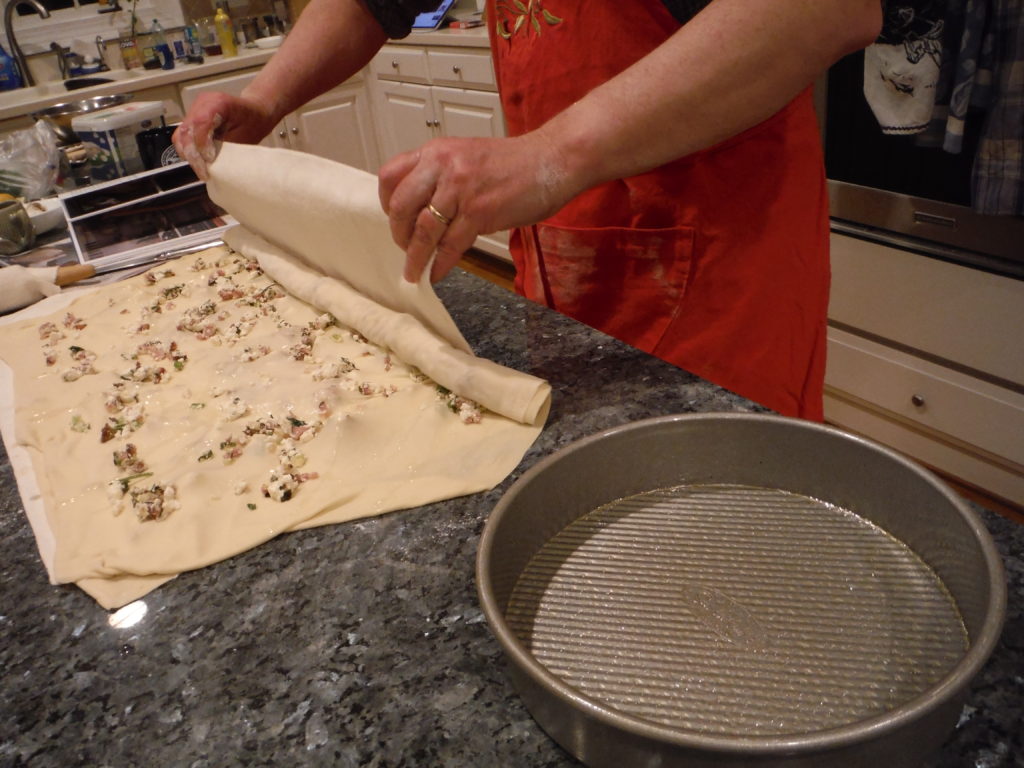 When rolled, stretch out the roll a little more if possible (thinner is better)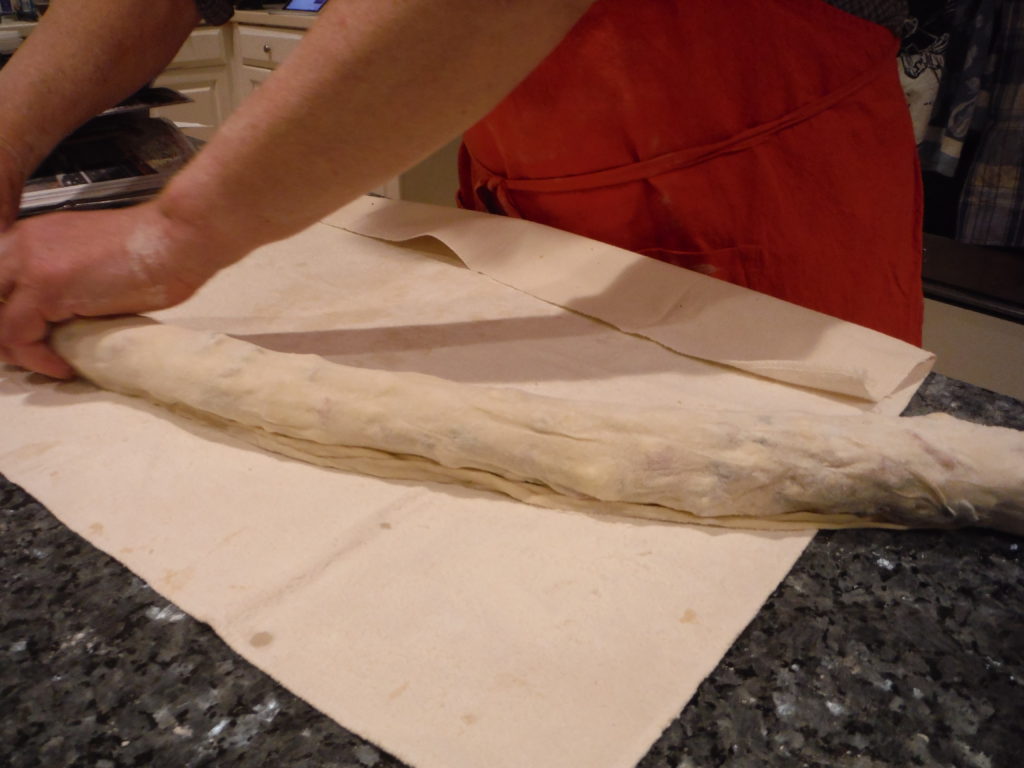 and trim off the ends if there is only dough and no filling there. Coil up the roll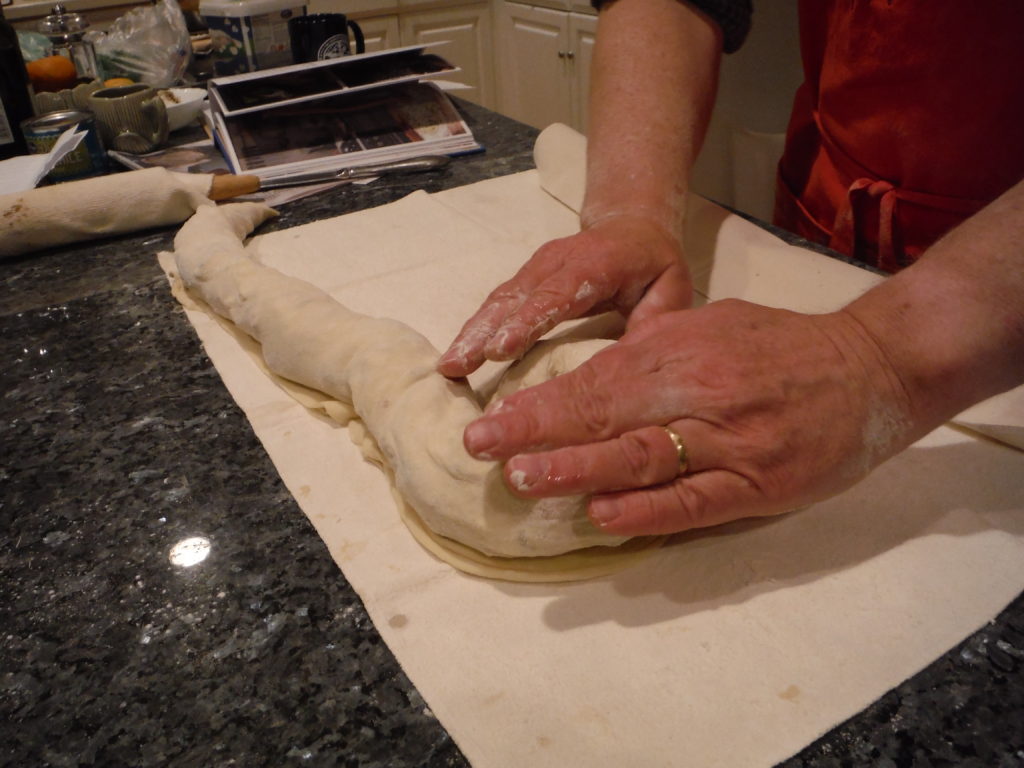 and put it into the greased cake pan.
Take the other beaten egg and with your hands spread it all over the coil.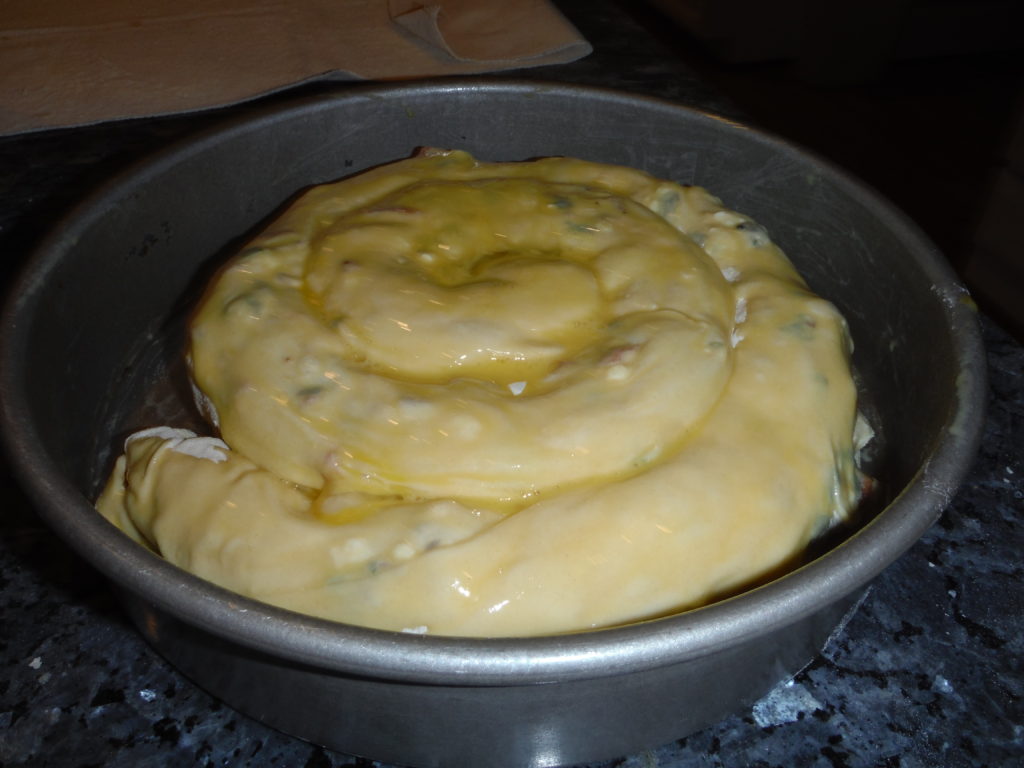 Bake for 40-45 minutes until golden brown and cooked through. Let cool for 10 minutes and then cut into wedges to serve.