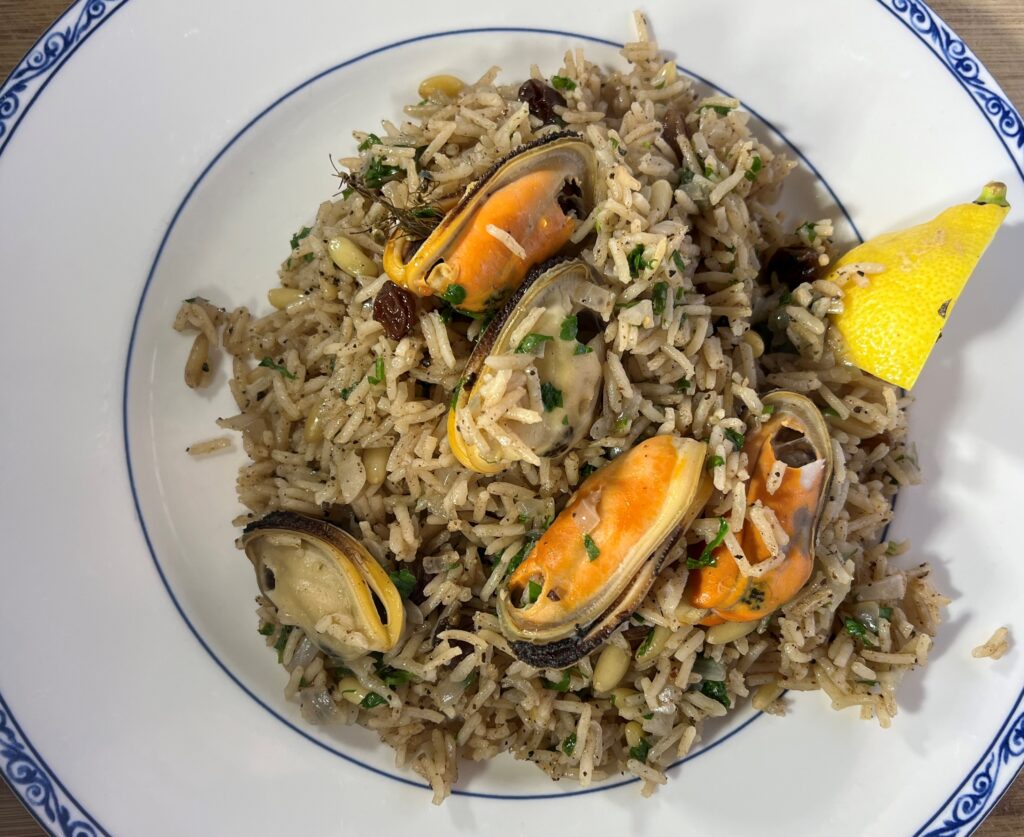 A very popular street food in Istanbul is mussels stuffed with rice.  This is a simpler deconstructed version in which the mussels are put on top of a bed of flavored rice.  It is adapted from John Gregory-Smith's book Turkish Delights and serves 4.  (Half it if serving 2 people.) I used frozen NZ mussels on the half-shell which I bought at the New Grand Mart.
1.5 lbs. of mussels
1.5 cups boiling water
2 Tbs. olive oil
1 onion, finely chopped
3 Tbs. pine nuts
2 cloves garlic, finely chopped
1/3 cup raisins
1.5 cups long grain rice (original recipe recommends basmati)
2 tsp. freshly ground black pepper
0.5 tsp. ground cinnamon
1.5 tsp. ground allspice
1 cup chopped parsley
Salt
Lemon wedges
Put mussels in a saucepan and add the boiling water. Boil for 1-2 minutes, which should be enough to open fresh mussels. (Discard fresh mussels which do not open.) Remove the mussels to a bowl and reserve the liquid in a quart measuring cup. Top it off as needed to have 3 cups of liquid. Keep the stock warm.
Heat the olive oil in the same saucepan over medium heat and sauté the onions and pine nuts until the onions are translucent and the pine nuts are golden, which will take about 4-5 minutes. Add the garlic and cook briefly until fragrant. Add the raisins and cook another 30 seconds. Add the rice and spices and stir well. Pour in the hot stock and stir to combine. Bring to a boil and reduce to a simmer and cook covered for about 12-15 minutes until the rice is cooked and the liquid is absorbed. Season to taste with salt and mix in the parsley.
Put the mussels on top of the rice to reheat and cover the pot. Allow to stand about 10 minutes until the mussels are warmed through. Serve with lemon wedges.