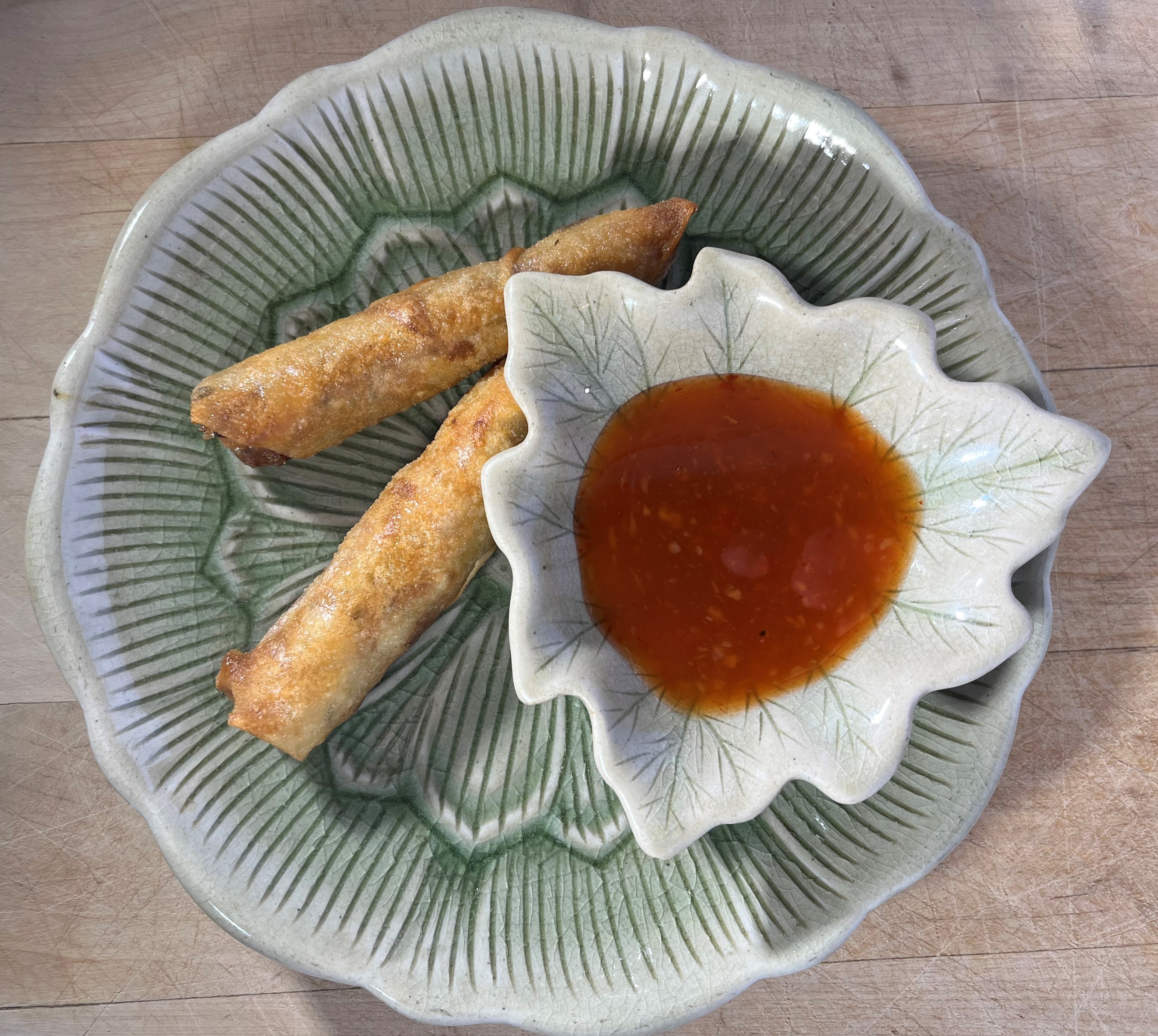 This year, the family will all be together at Nick and Anna's house for Christmas and the plan for Christmas Eve is a large variety of seafood dishes. Carol decided to contribute a batch of Thai fried spring rolls, substituting shrimp and imitation crab (krab) for the usual pork. This is how she made them based loosely on William Crawford and Kamolmal Pootaraks' Thai Home-Cooking: From Kamolmal's Kitchen. This will make 50 small spring rolls and will take about an hour to prepare. After the spring rolls are assembled, they can be frozen and cooked later directly from the freezer.
50 (5 in. x 5 in.) spring roll wrappers
3 oz. bean thread noodles
½ cup cilantro leaves and stems, finely chopped
1.5 Tbs. finely chopped garlic
¼ lb. shrimp, peeled, deveined and finely chopped
¼ lb. imitation crab (krab), finely chopped
¼ cup small dried shrimp
8 oz. fresh shitake mushrooms (Carol might use dried shitakes next time)
1 cup finely chopped cabbage
1 cup (4 oz.) bamboo shoots, chopped
1 stalk celery, finely chopped
2 green onions, finely chopped
1 small carrot, finely chopped
2 Tbs. fish sauce
2 Tbs. oyster sauce
2 egg, divided and then beaten separately
Oil for frying
Soak the bean thread noodles in warm water until soft. Then use kitchen shears to cut them into 1-inch pieces
Pound the cilantro and garlic in a mortar into a fine paste.
Cook the shrimp in a little oil until just cooked.
In a large frying pan, cook the mushrooms in a little oil until the moisture is released and dries out. Then add the other vegetables and cook for 5 minutes to draw out moisture.
In a large bowl, mix together the cilantro/garlic paste, shrimp, imitation crab, dried shrimp, vegetables, 1 beaten egg, fish sauce, and oyster sauce
Put the second egg in a small bowl and beat with a Tbs. of water.
To fill the wrappers, put each wrapper in front of you on a diagonal so that it looks like a diamond. Brush the edges near the top corner with a little of the egg wash. Put a spoonful of the filling about 30% of the way between the bottom and top points of the diamond, Cover the filling with the lower part of the wrapper. Tuck in the sides, and roll towards the top corner of the diamond. Put the completed roll on a cookie sheet, seam side down.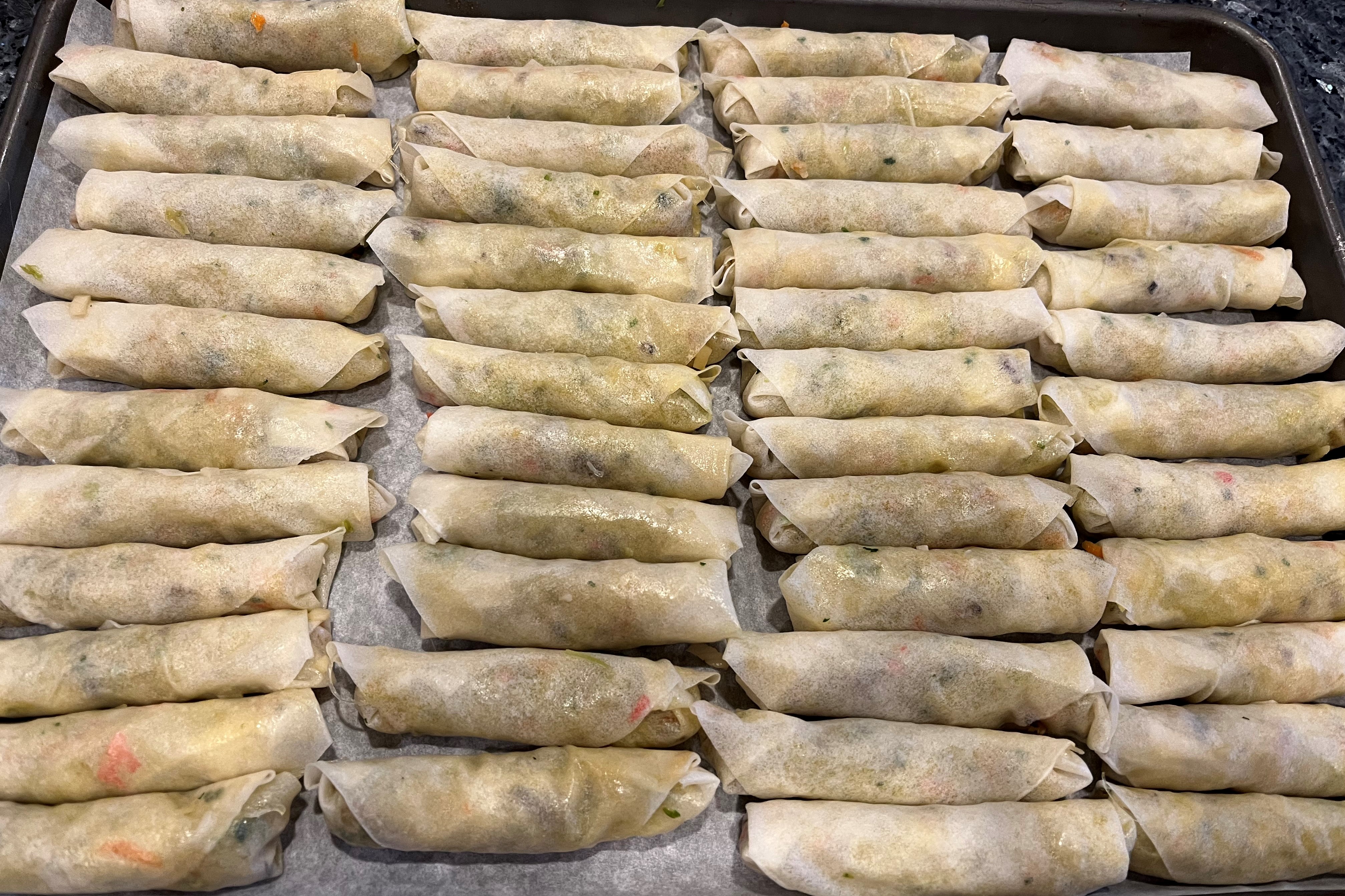 If you want to freeze the uncooked spring rolls, put the cookie sheet in the freezer until each of the rolls is frozen. Then put them into a ziplock or vacuum-sealed baggie and store them frozen.
These rolls can be cooked through either shallow or deep frying. Carol shallow fried them in about a half inch of oil in a frying pan, cooking them until the outside was nicely browned.
Serve them immediately with Thai sweet chili sauce.