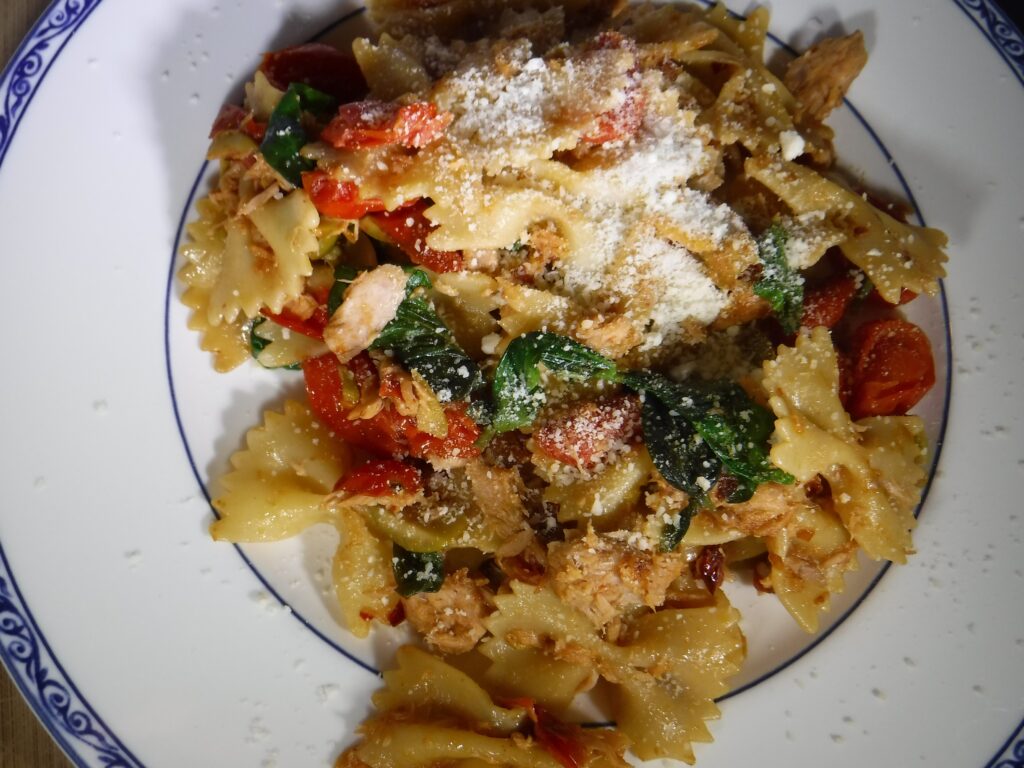 This is a good quick dish which is especially suitable for a weekday dinner. Almost all the ingredients are in a well-stocked pantry, except that you need fresh basil, which is currently plentiful in my garden. Use good oil-packed tuna – it makes a difference. This is adapted from a recipe in The Splendid Table, and it serves 4. There is enough vegetables and herbs in it that it is a one pot dish.
8 oz. bow tie pasta
2 Tbs. olive oil
1 shallot, minced
2 large cloves of garlic, minced
3 cups cherry tomatoes, halved
½ cup pitted and chopped Catelvetrano olives (or other suitable good olive)
Large handful fresh basil leaves
5.5 oz. can oil-packed tuna
½ tsp. red pepper flakes, or to taste
Parmesan cheese to taste
Cook and drain the bow tie pasta reserving some of the pasta water.
While the pasta is cooking, in a large pan saute the shallot, garlic, and cherry tomatoes in the olive oil, stirring ocasionally. They are done when the onion and garlic are well softened and the tomatoes have softened into a coarse sauce, about 15 minutes.
Add the drained pasta to the pan with the vegetables and add the olives, tuna, and red pepper flakes. Stir well to mix, adding a little pasta water if it seems too dry. Add the basil and let it wilt. Mix well. Serve immediately with a sprinkle of Parmesan.