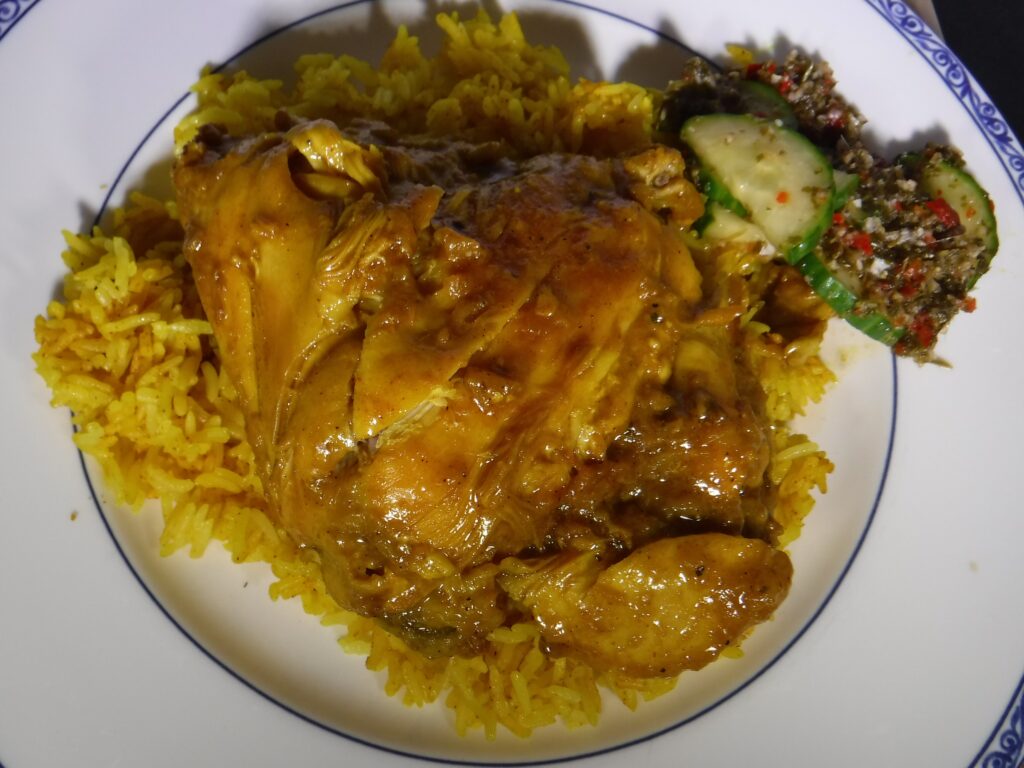 When I worked in Thailand in the early 1980's, I would frequently go out to lunch at informal little restaurants near the office with one of my Thai staff.  One of the restaurants in heavy rotation was a Thai Muslim restaurant (decorated with posters of Mecca) which specialized in serving chicken and rice with a chutney like accompaniment.  (In fact, I don't think they served anything else.)  I spotted a recipe in Leela Punyaratabandhu's book Bangkok for this dish, and I made it last night to great success.  The accompaniment is not exactly as I remember it from the restaurant years ago, but it is very good in its own way.  It reminds me of bread and butter pickles in a spicy herb sauce.
This recipe has three components – the chicken in a curry sauce, spiced rice, and the cucumber accompaniment.  These last two could be served with other dishes.
I bought whole chicken legs and cut them into thighs and drumsticks.
The Chicken
2 Tbs. ghee
2 inch piece (1.5 oz.) ginger, peeled and cut into small pieces
4 large cloves of garlic, peeled
1 large onion, chopped
2 tsp. garam masala
1 cup water
½ tsp. cayenne pepper
1 tsp. ground turmeric
1 Tbs. mild curry powder (SE Asian brand preferred)
2 tsp. salt
1 Tbs. sugar
2 Tbs. whole milk yogurt
4 bay leaves
4 skin on, bone in chicken thighs, excess fat removed
4 skin on, bone in chicken drumsticks, excess fat removed)
The Rice
2 cups Thai jasmine rice (3 measures for my rice cooker)
2 (3 inch) cinnamon sticks
1.5 tsp. turmeric
1 Tbs. ghee
½ tsp. salt
5 Siamese or green cardamom pods, cracked (or a heaping ¼ tsp. ground cardamom)
3 bay leaves
Water per the rice cooker instructions
Cucumber Relish
3 cloves garlic, peeled
2 inch piece (1.5 oz.) ginger, peeled and cut into small pieces
1 cup packed fresh mint leaves
1 cup packed fresh cilantro
2 jalapeno or red Fresno chilies
1/3 cup sugar
1/3 cup white vinegar
¾ tsp. salt
½ English cucumber
Start by cooking the chicken. Chop the ginger and garlic finely in a food processor. Heat the ghee in a large pot which ideally can hold all the chicken in a single layer. When hot, add the garlic, ginger, onion, and garam masala and fry until the onion is softened, about 2 minutes. Add the water, cayenne, turmeric, curry powder, salt, sugar, yogurt, and bay leaves and stir to combine. Add the chicken thighs in a single layer and add water as necessary to barely cover them. Bring to a boil, reduce to a simmer, and cook for 20 minutes. Add the drumsticks, stir the pot, cover, and cook for another 45 minutes. Remove the lid, and continue to simmer until the chicken is very tender and the liquid has been reduced to a thick sauce.
Wash the rice, and add it and the other ingredients to a rice cooker with the appropriate amount of water. Cook the rice. At the end, remove the cinnamon sticks and bay leaves and fluff the rice.
To make the relish, finely chop the garlic and ginger in a food processor. Then add the mint, cilantro, and chilies, and chop again. Last add the sugar, vinegar, and salt, and chop it all finely. Put the mixture in a small saucepan. Bring to a boil and then reduce to a simmer and cook for about a minute, stirring frequently. Remove from the heat and allow to cool to room temperature. Cut the cucumber into ¼ inch slices. When the sauce is cool, add the cucumbers and mix well.
Serve the dish by putting a mound of rice on a plate and topping it with the chicken. Put the cucumber relish on the side.