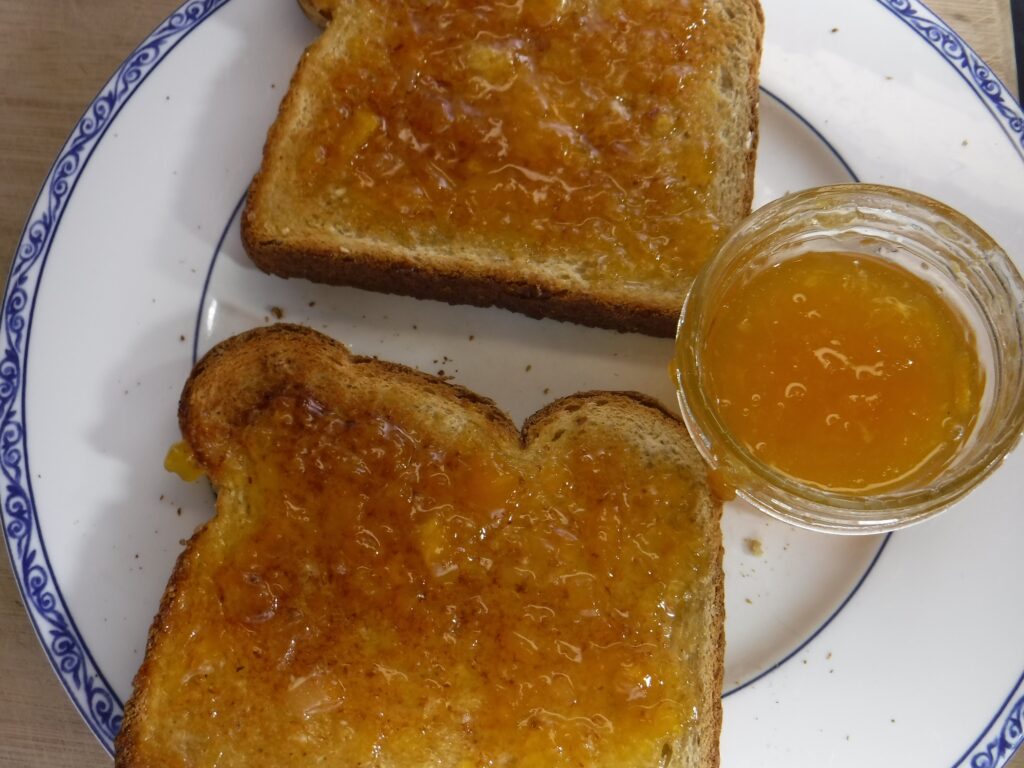 We recently bought a large quantity of peaches at a roadside stand in eastern North Carolina, and decided to turn many of them into jam. This version is an adaptation of a recipe in Southern Living's Little Jars, Big Flavors, and it turned out very well. It made a little more than 9 half-pint jars.
4-1/2 cups roughly chopped peeled and pitted peaches (~3 lbs.)
7 cups sugar
¼ cup lemon juice
¼ cup bourbon
2 Tbs. finely chopped candied ginger
3 oz. liquid pectin
Sterile and prepare the jars and lids and keep them warm.
Put the roughly chopped peaches in a non-reactive Dutch oven, and mash thoroughly. Add the sugar, lemon juice, bourbon, and candied ginger, and mix together well. Bring to a rolling boil, and boil for a minute. Remove from the heat and stir in the pectin. Allow the mixture to rest a minute to settle the foam, and then spoon off any remaining foam.
While the peach mixture is hot and using a canning funnel, remove the hot jars from the water bath, drain them, and fill them to within an ½ inch of the rim. Clean off the rim with a paper towel dampened with hot water. Put on the lids and the rims, and screw the rims to hand tight.
Put the filled jars back in the water bath using caning tongs ensuring that they are upright. Bring the pot back to a boil. Once it has reached a boil, boil the jars for 5 minutes. Remove the jars from the water bath with canning tongs and place them on a kitchen towel lined tray in an out of the way part of the kitchen where they can rest undisturbed for 24 hours. You should hear the various lids popping as they cool, contract, and seal. After 24 hours check whether the lids sealed by removing the rims and pressing on the lid. If the lid depresses and pops back up, the jar is not properly sealed and should be refrigerated for consumption in the near future. Store the properly sealed jars in a cool, dark pantry for up to a year. Refrigerate after opening.