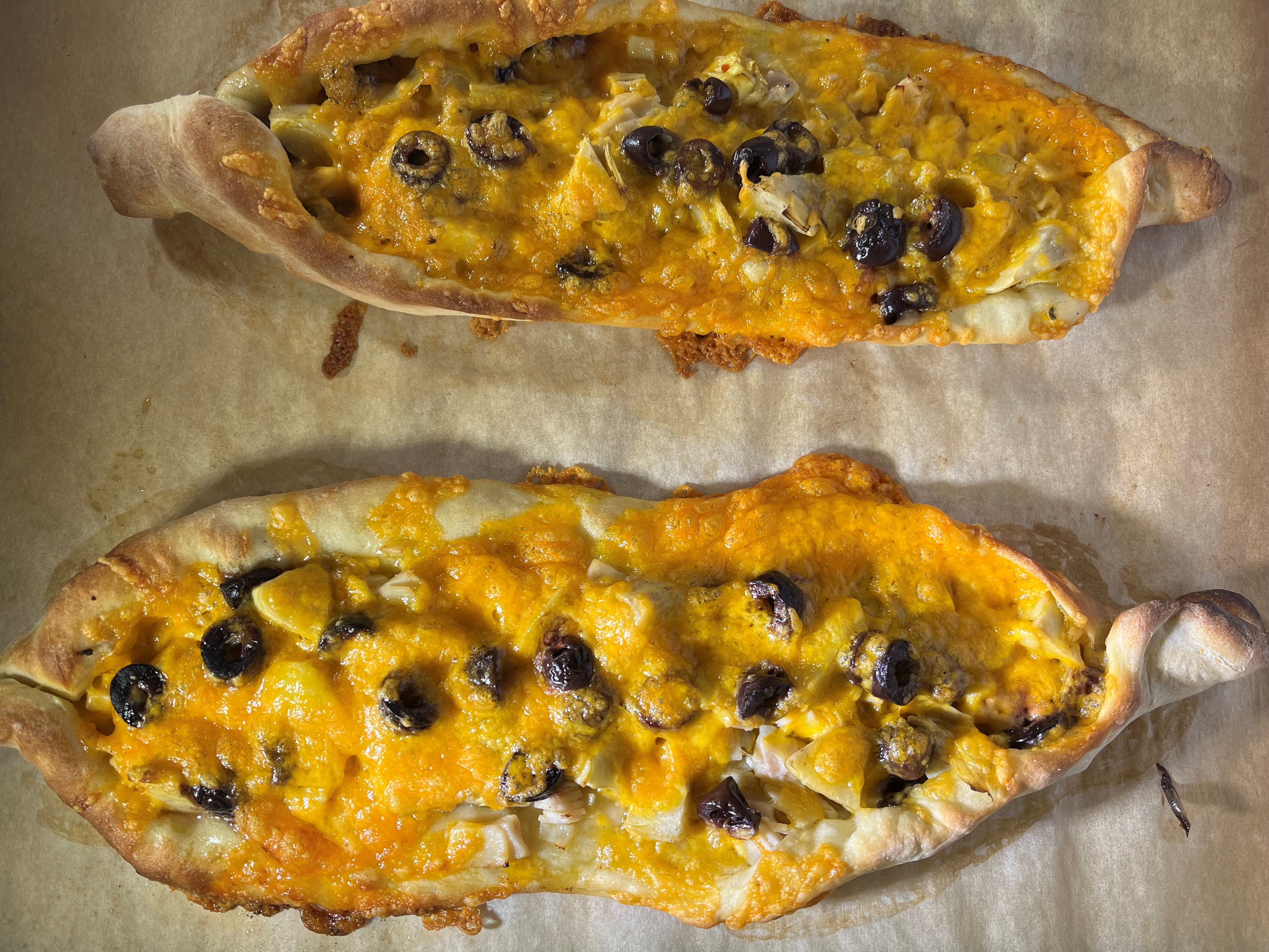 Pide is the Turkish version of pizza. They have a distinctive shape, which is long and narrow with twisted ends, and look vaguely like a boat. They can have fillings similar to pizza as well as very different fillings. The recipe below is the quantity of dough to make 4 individual pides, each of which is a serving. It is adapted from Eat Istanbul: A Journey to the Heart of Turkish Cuisine. I used the dough to make Chicken, Artichoke and Olive Pide
2 tsp. dry yeast
1 tsp. sugar
200 ml lukewarm water
300 g. all-purpose flour
1.5 tsp. salt
In a small bowl, mix together the yeast, sugar, and water. Let it rest until it becomes frothy, about 15 minutes.
In the bowl of a stand mixer, whisk together the all-purpose flour and salt. When the yeast mixture is frothy, add it to the flour and mix with a dough whisk. Cover and allow to rest for 15 minutes (auto-lyse). Then knead with a dough hook until smooth, about 5 minutes. Put the dough into a doubling container and coat it lightly with olive oil. Cover and let it rise until double, about an hour.
To make the individual pide, cut the dough into 4 pieces. Roll each piece into an oval about 6 inches wide and about 16 inches long. (When I did this, there was enough oil on the dough to allow me to roll it out without needing to flour the top and bottom surfaces.) Put the filling on the dough avoiding the edges, and then twist the two ends together and roll in the sides to give it a boat shape. Then bake in a 475 degree oven until the dough is browned and the filling is fully cooked.