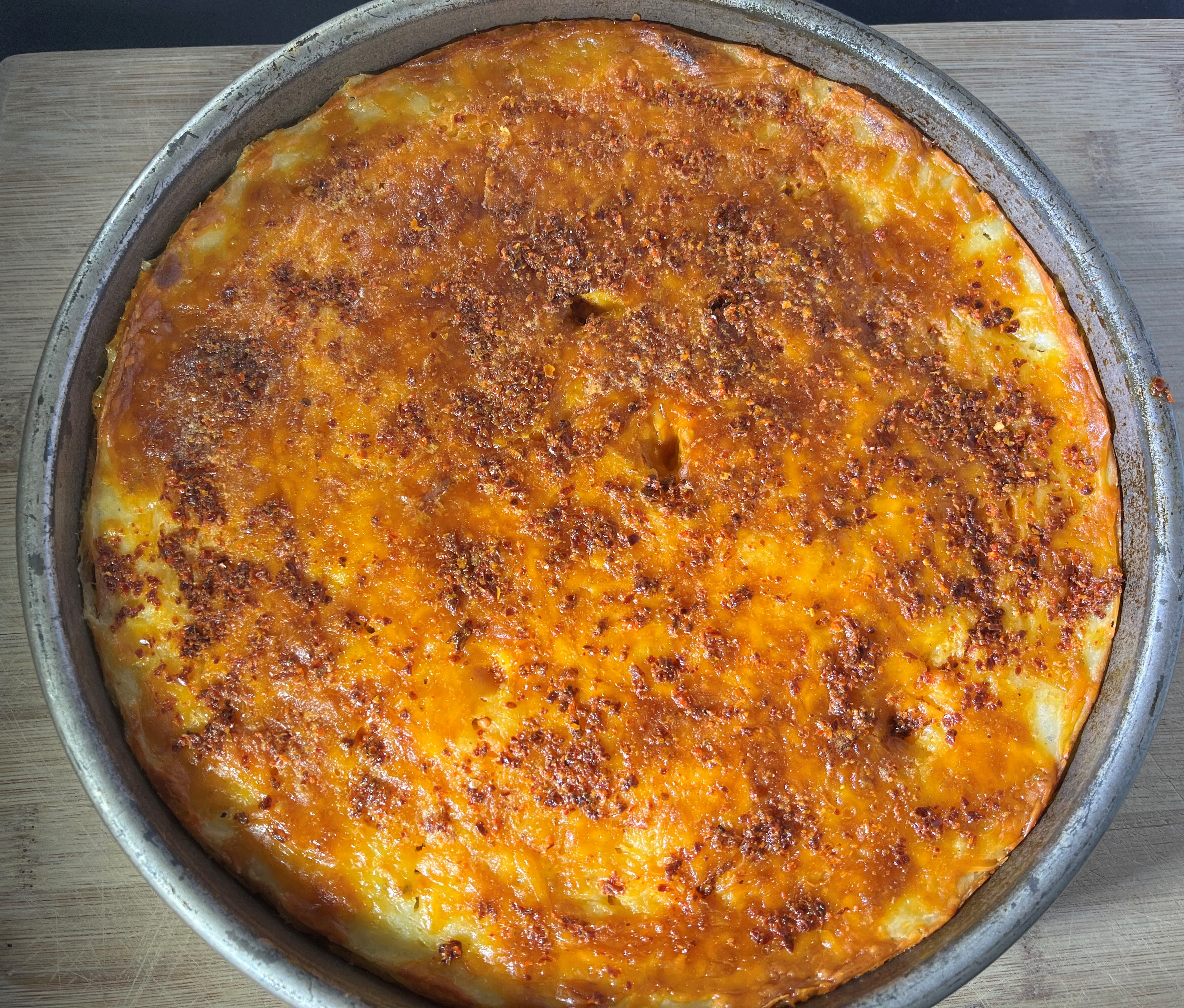 Since we visited Turkey last month, I have been looking for Turkish recipes to try and I spotted one at www.177milkstreet.com which looked interesting. Essentially it is a form of grantinéed potatoes including yogurt, cheese, and garlic. This recipe will make 6-8 servings and will take about 2 hours to prepare. It was very good. We served it with Adana Kebabs
2 lbs. russet potatoes, peeled and cut into 1-inch chunks
Kosher salt and black pepper
1 cup plain whole-milk yogurt
0.5 cups half-and-half
4 Tbs. unsalted butter, divided
4 medium garlic cloves, crushed
2 large eggs, beaten
2 Tbs. extra virgin olive oil
1 cup (4 oz.) shredded cheddar, mozzarella, or gruyere cheese
1.5 tsp. Aleppo pepper (or 1.25 tsp. sweet paprika plus 0.25 tsp. cayenne pepper)
Flaky sea salt to serve, optional
Preheat the oven to 350 degrees with a rack in the lower middle position.
Put in a large saucepan the potato chunks with a cup of water and 0.5 tsp. of the kosher salt. Bring to a boil and reduce to an active simmer. Cover and cook for 15-20 minutes until the potatoes fall apart. Stir occasionally. When the potatoes are completely softened, take off the lid and cook, stirring frequently until there is no moisture left.
Remove the pot from the heat. Add the yogurt, half-and-half and 2 Tbs. of butter and mash with a potato masher until well combined. There should be no lumps. Stir in the garlic, eggs, oil, 0.75 tsp. of kosher salt and 0.25 tsp. black pepper.
Coat an 8-inch square or 9-inch round baking pan with cooking spray and add the potatoes to the pan. Smooth them out to evenly cover the area of the pan. Top with the shredded cheese and cover with aluminum foil. Bake for 45 minutes. Remove the foil and bake for another 20-25 minutes, until golden brown. When finished put the pan on a cake rack and poke holes in the top of the potatoes. In a small saucepan, melt the remaining 2 Tbs. of butter and mix well with the Aleppo pepper to get a nice red color. Drizzle evenly over the potatoes. Sprinkle with flaky salt and serve.